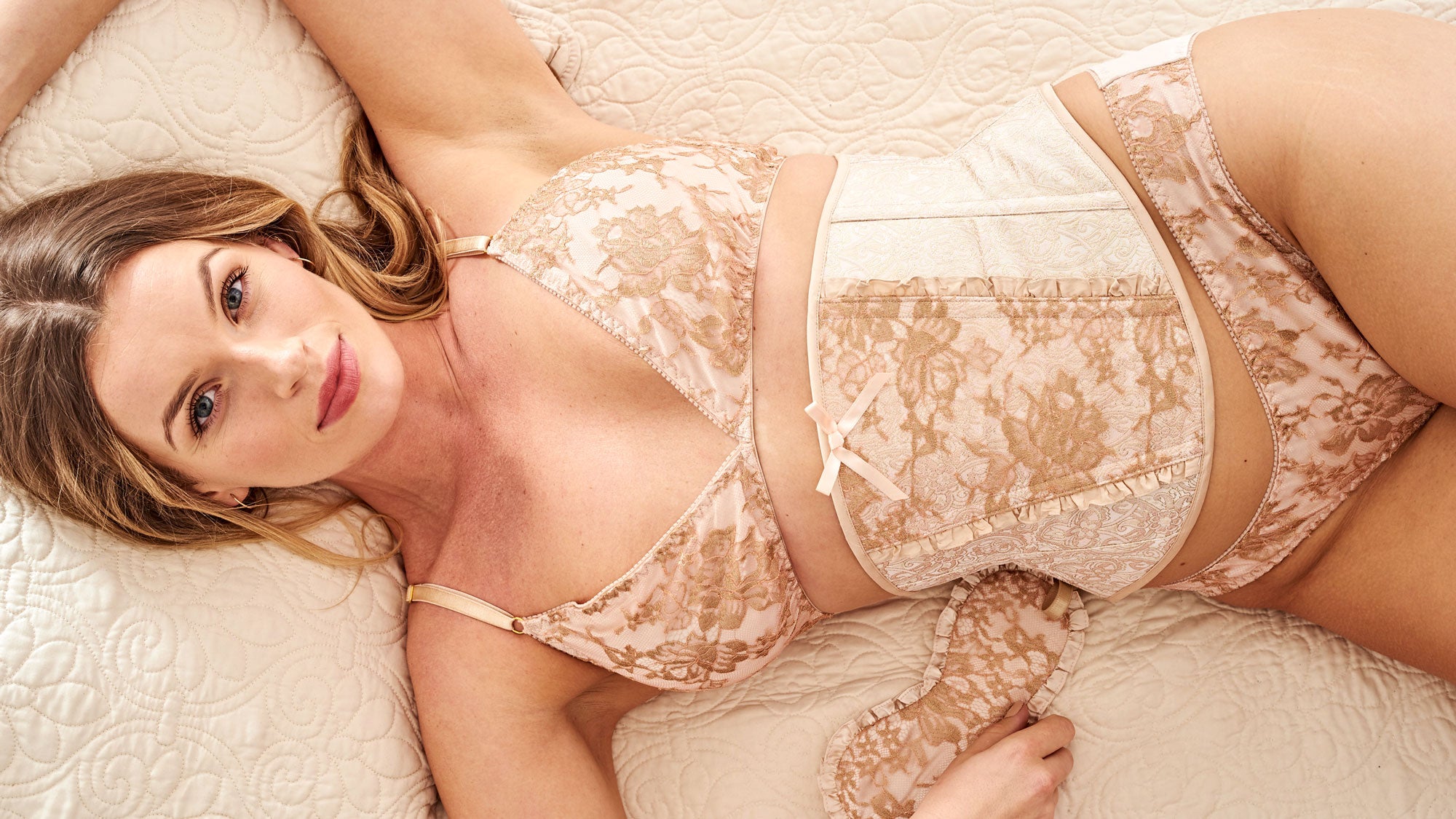 Bridal Corsets Q&A
Lingerie isn't the only undergarment-related consideration when planning your wedding - many brides also reach out to us wondering about corsets for their big day. We've rounded up some of your most common inquiries about bridal corsets to help guide you through making the best choice. If you have any other questions, just contact us for additional help.
If you're looking for advice on wedding lingerie in general, visit our Bridal Lingerie Q&A first. Or if you're curious about which pieces a lingerie designer herself would choose for her bridal trousseau, you can also read about Angela's personal recommendations from her own wedding for more inspiration.
For now, onto corsets!
Can I wear a corset as the top of my wedding dress?
It's your big day, and you can wear whatever your heart desires. However, if you're not accustomed to wearing a corset for long periods of time, there are a few important considerations in making your decision. While wearing corsets shouldn't be uncomfortable, they are still structured and tightly-fitted garments, so you may love occasionally wearing a corset… But do you want to wear one from morning till night, eating, drinking and doing a conga line with your guests?
The very nature of corsets also means that they will dramatically alter your silhouette, and not just your waistline. Corsets also redistribute any squishiness (yes, on all different body types) – which can create more cleavage or flesh on display than you might prefer at a formal event. It's something to keep in mind if you're imagining a completely smooth transition between corset and skin, especially at the neckline edge. 
Many wedding dresses also incorporate corset styling in the bodice, but with more flexible support and even stretch panels, if you like the look of corsetry but still want to be able to move and dance freely. You could also opt for a bespoke corset, customized to your precise measurements, for the optimum fit and coverage. You can also read a little more about the process, and her experience with ordering a full-bust corset, from the blogger Sweet Nothings.
If you decide on an alternative option for the gown itself, why not choose a corset as a honeymoon treat instead? A romantic evening at the hotel, lounging about with champagne, would provide the perfect setting for a glamorous bridal corset but without having to plan for practicality – the perfect solution!
Can I wear a corset under my wedding dress?
With most wedding dress styles nowadays, this is actually not something we recommend. Structured gowns tend to have bustiers or inner support already built in, and unstructured dresses like slinky, satin gowns can't be worn with corsets at all (because their boning and lacing strings would show through the fabric). Our guide on what to wear under your wedding dress has some great tips for the best undergarments for different dresses. If you're looking for a general smoothing effect underneath your gown, often the best solution is stretch shapewear or a bustier. Practical shapewear and seamless knickers may not seem the most glamorous, but they're much less likely to show through.
What's the difference between a bustier and a corset?
Often these 2 terms are used interchangeably, but although they cover the same parts of the body, they are very different garments. A bustier is made with stretch fabrics with light, limited boning (usually plastic). Although bustiers may smooth out any bumps in your silhouette, they're not designed to drastically reduce the waist, but rather to hold and support the bust. On the other hand, a corset is made with non-stretch, specialty fabrics (in our case, silk satin and English coutil), many sturdy steel bones, and grommets with lacing strings up the back, allowing a much more dramatic change to the shape of your entire torso. Where a bustier might only smooth your silhouette, a corset can take several inches off of your waist measurement instantly.  
How do I put on my corset?
If you're new to corset wearing, one of the biggest questions you might have is how to actually put it on! Especially if you'll be putting it on by yourself as a honeymoon surprise for your sweetie, you might be feeling unsure as to how to tackle the lacing without assistance. Our in-depth guide to putting on and lacing your corset, complete with videos, will show you how to put your corset on, all by yourself in just a few minutes. With a little practice before your wedding day, you'll be a pro!
How do I choose the right corset size?
Our corset sizes are listed with both a dress size and inch measurement, such as S - 23" waist, M - 25" waist, etc. However, these measurements are the size of the corset itself - not your waist measurement - and should be 4-6" smaller than the circumference of your natural waist. Our full guide to corset fitting will help explain how to measure yourself and which size to choose. If you still have questions, we're always happy to help with personalized corset sizing recommendations.
What do I wear with a corset for my honeymoon?
Corsets make ideal honeymoon attire, or as a statement look for boudoir photos to present to your sweetheart before the big day. There are so many ways to style them to create an outfit that makes you feel spectacular!
Our luscious, silk ruffled panties are the perfect pairing for a corset. They even have fully-functional side ties, especially suited to a burlesque-style striptease in the privacy of your honeymoon suite.
Go with traditional bridal white and try the Veronique ivory underbust corset, or add a little "something blue" with the Orchid overbust or underbust corsets. Both look fantastic with our off-white silk ruffled knickers!
Alternatively, bring out your inner Old Hollywood star with the Isabel range, available in both overbust and waspie options, in decadent ivory and gold brocade with highlights of blush pink. Consider adding a full matching lingerie set or even a pink sleep mask for a coordinated look.
If you're looking for either a more covered-up option or a grand reveal, consider adding a luxurious dressing gown to your trousseau. The sheer Lillie robe adds extra drama on top of an ivory corset set, or opt for the flowing floor-length silk of the almond shade of the Simone robe to coordinate with the Isabel or Brigitte corsets.
For an unusual twist on "something blue," the William Morris inspired Nouveau waspie corset can be worn with our teal silk ruffled panties. This creates an unexpected and elegant look, and they can be easily styled afterwards with a dress or skirt for a sweet reminder of your honeymoon wherever you go.
Edit:
Please note that as of September 2021, we have phased out all of our corset designs and are no longer offering custom corsetry. Thank you to all of our wonderful customers who have purchased our corsets throughout the years! However, now we are only producing lingerie and lounge wear items.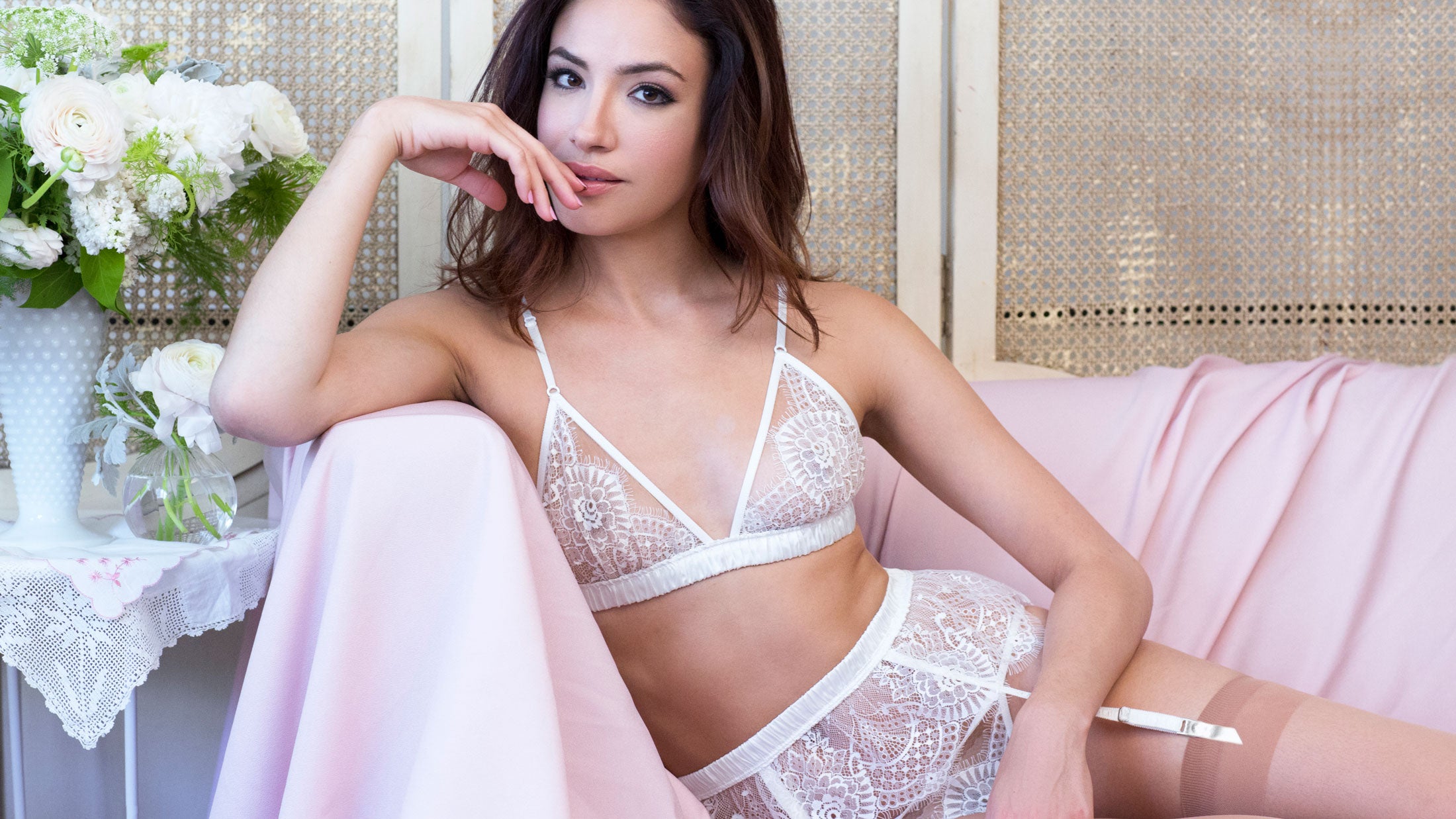 Our bridal lingerie guide will help you decide everything from a wedding morning robe to luxurious honeymoon lingerie.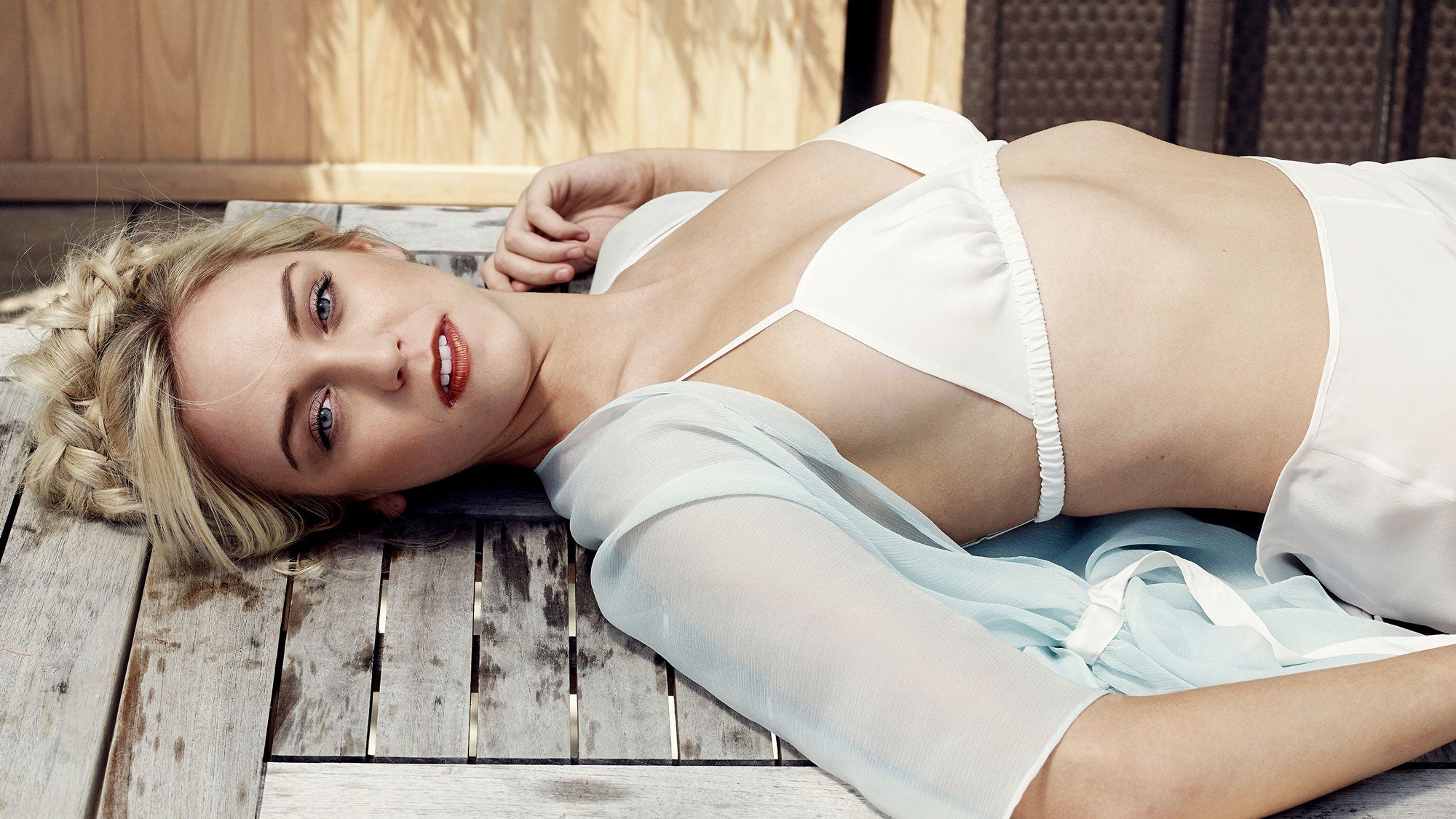 From natural breathability to moisture-wicking coolness, silk lingerie feels and looks beautiful in the heat, but is also so practical!