A custom corset journey with Sweet Nothings NYC
If you're curious about bespoke corsetry, you might feel overwhelmed about where to begin. How do you find a reputable corsetmaker, schedule fittings or take your measurements, know which style to order, or know what to expect throughout the process? Well, we have the perfect guide for you! This article follows the full process of a custom corset order with Angela Friedman, from design through fittings to final photographs. Below we'll link to all of the relevant details from one of our favourite lingerie bloggers in her 3-part series called My Custom Corset Journey.
Sweet Nothings NYC is a brilliant blog resource, particularly for full bust women who don't want to sacrifice support for beautiful lingerie. She's recently focused more on corsets, with wonderful insights into buying, wearing, and styling corsets. In Part 1 of her series on her custom corset journey with Angela Friedman, she starts by explaining her own, very common, hesitations: "Compared to bras and panties, however, corsets can be both intimidating and cost-prohibitive: from a fit, comfort, and price tag point of view, shopping for corsets and figuring out your fit requires a much larger investment of time, energy, and money than almost any other piece of lingerie (except maybe latex?)."
Part 1: Deciding to go bespoke
She's absolutely right. If you want to purchase a custom corset, you need to be prepared to invest some time and money into the process. The amount of either can vary wildly, so keep in mind this general rule: The more specialty asks you make, the more of your money and time (primarily for fittings and communications) will be required. So if you need to carefully budget either time or money or both, consider paring down your wish list. Is your main priority to get the perfect fit? Then maybe you can do without adding custom colours or other bells and whistles. Or if your priority is a dream corset in a specific textile with specific surface embellishments, can you possibly go with a ready-to-wear size?
How do you know if a custom corset is right for you? What are the choices you'll need to make?
What general style do you want? Should it be an underbust or overbust style? Very tightly fitted or more focused on smoothing/shaping?
How will you wear the corset? Is it a boudoir piece only? Something that needs to fit under a wedding dress? Does it need to be modest enough to suit for outerwear? Does it need to coordinate with a bra or other garment?
What are your sizing needs? Do you fit within our ready-to-wear size chart? Do you need extra room for a full bust size, are you very tall or petite, or any other specific fitting needs?
How much time can you give this project? Can you travel to our London studio for fittings, or does it need to be done remotely? Do you want to make quick decisions, pay, and be done, or do you want to be more involved with details throughout the process?
What is your budget? Custom corsets will always cost more than their ready-to-wear alternatives. Every additional specialization will add to the price. We're happy to give you a cost breakdown, though, to help you pare down the cost if needed.
What colours, trims, and design details do you like? Do you want something similar to one of our existing styles, or a brand new colour? Do you like lace applique, bows, stripes or external bone casings, or detachable garters or matching lingerie sets? For some gorgeous inspiration to get you started, take a look at our Pinterest board on Corsets and Lingerie.
If, based on the above questions, you think that our ready-to-wear selection of corsets won't suit... Then bespoke is for you! Whether you need a custom size of one of our regular styles or whether you're dreaming of something completely different, we can make it happen. For Miss Sweets, she knew almost right away that she wanted a fully bespoke corset: "While I adore [Angela Friedman's] RTW corset styles, they are designed for much smaller busts than mine, and generally for shorter statures. Though Angela has created corsets for full-bust clients before, we quickly determined that between my height and my bust size, the best thing to do would be to create a brand-new pattern, rather than customize an existing one. I decided to invest in a fully bespoke corset– brand-new patterns and designs would be created just for me, and I could pick any fabrics, trims, and embellishments I wanted (as far as my budget allowed)." Read the full article about Sweet Nothings' Custom Corset Journey in Part 1 of her series.
Part II: Talking with Angela Friedman
In the second installment of her custom corset journey, Sweets offers a lovely interview with designer Angela Friedman. Together they explore her history as a designer, starting with her background in historical, theatrical, and dance costumes - including her most recent work as the Head of the Ladies' Department of the New York City Ballet costume shop. It was that very job that ultimately led Angela to run her own business and develop a line of lingerie and corsetry: "There's also something innately theatrical about lingerie… I think because it's so private and personal, fabulous lingerie can make a woman feel like she's the star, glimmering in beautiful silks and lace under the spotlight."
Onto the fittings! In Part 2 of A Custom Corset Journey, we delve into the multiple fittings required for a fully custom sized corset for a client who has both a large cup size and is quite tall. (It required a special order of extra-long boning and a busk, the front closure, as we didn't stock a long enough size for ready to wear corsets.) Because the client's size was somewhat in-flux throughout the process, we did 1 measurement fitting and 3 mock up toile fittings prior to making the final corset. Many corsets can be made effectively with only 1 mock up fitting, but with the client's weight loss, we determined the extra fittings were worth it.
During corset mock up fittings, we use a quickly made toile (a cheap, quick, unlined garment) to test-fit the garment. We use that information to change the paper pattern that will guide cutting the actual fabric panels later on. This can be done remotely through the mail, but we prefer to have in-person fittings when possible. The toile fittings help us to establish sizing details such as how tight to make the waist, how much bust support and lift is needed, and whether the wearer might need more breathing room, etc. We then use the remaining time to discuss design details like lace placement, the shape of the neckline, where the seam lines hit, etc. You can read the full account of Sweets' experience with custom corset fittings in Part 2.
Part III: Ordering, Fitting, Seasoning, Loving
After the fittings have concluded, it's finally time to start to actually make the corset. (Typically the actual corsetmaking takes up less than half of the time of the full process - most of it goes into fittings, patternmaking, and design decisions.) Whilst I moved on to the cutting-and-sewing stage of the order, Sweet Nothings summed up her experience in working with us on this project in Part 3 of her custom corset review. She begins by detailing the various costs associated with a bespoke corset order:
Base price, which is equivalent to the cost of a ready-to-wear corset. This price includes the labour (cutting fabric and sewing) and the materials: exterior fabrics and coutil lining, steel boning, busk (front closure), waist tape, grommets and lacing strings, modesty placket (fabric under the lacing strings to protect your skin), trimmings... As Sweets puts it, "using Angela's RTW collections as a starting point in, we're already at around $500 for a corset, even before we begin customizations and upgrades." The base price may even be higher than ready-to-wear styles if the design differs, such as having extra seams or a different neckline.
Patterning fees, which cover the labour and expertise the corsetmaker uses to create a paper pattern based on the client's measurements and body type. The paper pattern is what guides the cutting of the final corset to the correct specifications and size, and it must be accurate within a tiny fraction of an inch! (Many years of practice guide this part - over 15 years of experience for designer Angela Friedman).
Measurement fittings and mock up fittings, which include time in the fitting room, as well as the prep time before to create the toile garment to fit. The number of fittings depends on size and the client's time availability. We generally suggest 1 measurement and 1 mock up fitting, with more scheduled if needed for specific reasons. If that isn't possible, we can do remote fittings via the mail, but in-person is much preferred for accuracy.
Fabrics and trims, which can be considered "upgrades" if they differ from that of our ready-to-wear styles, like fancy brocades or custom colour silks.
Embellishments, like French lace trims, bows and appliques, contrast fabrics.
Add-ons, such as matching silk garter straps, a lingerie set to coordinate, or gift boxes.
Shipping fees and taxes (for EU residents).
As you may guess, these costs do add up. We never said that a custom corset would be inexpensive, but we do think it's well-worth it! :) After all of the design details were determined, we moved on to the actual creation of this special corset for Sweets. You can see some of the progress here, where the designer has constructed the basic shell of the corset and is placing the French lace appliqués:
Once the lace trims are sewn down, the casing strips that hold steel bones are added to the inside, along with a twill waist tape to prevent stretching and a busk front-closure. Then we bind the top and bottom edges in silk and add grommets, lacing strings, and a modesty placket to the centre back. Then it's time to admire the final product and ship it off to its happy, new home!
What exactly do you do with a brand new corset? As Sweets explains, it's time then to "season" it - a term we don't love, mostly because it sounds like cooking, but it is the preferred terminology in the world of corsets. "Some people get very precious about the exact right way to "season" a corset, but it basically refers to the breaking-in process. In a nutshell, when you get a new corset it's better for both you and the garment to spend some time getting to know each other before you put it on and try to lace yourself up as tight as humanly possible. Angela gives all of her corset customers a helpful guide to caring for, lacing, and getting used to your corset." Of course if you're still confused after reading our corset-lacing guide and how-to steps, you can always email our team with your specific corset care and wearing questions.
And her review of the final garment? Was it worth it? In Part 3 of this custom corset journey, we're happy to report that Sweets is absolutely delighted. "Now that a few months have passed since my corset was finished and I've had time to process the whole experience (and I have the beautiful final images from the shoot to look at), I'm starting to think of my corset not as "oh-god-this-was-really-expensive-and-I-can't-even-wear-it-to-work-what-was-I-thinking", but as something really special, like a collector's item or an heirloom. "
And her final takeaway from the project? "It's a beautiful piece that stands on its own as an example of a friend and artisan's skill and talent. It doesn't have to be "practical" or useful. It will be a little treasure: a marker of this time in my life, a souvenir from this special project that meant so much to me, and an object of beauty that's mine to keep forever. Also, if anyone needs to invite me to a masquerade ball, I am READY."
Special thanks to...
We would like to extend special thanks to the blog Sweet Nothings NYC for sharing her custom corset journey with us and all of you. To read her full bespoke corset review and thoughts along the process, you can see Part I, Part II, Part III, and the final photoshoot here.
Edit:
Please note that as of September 2021, we have phased out all of our corset designs and are no longer offering custom corsetry. Thank you to all of our wonderful customers who have purchased our corsets throughout the years! However, now we are only producing lingerie and lounge wear items.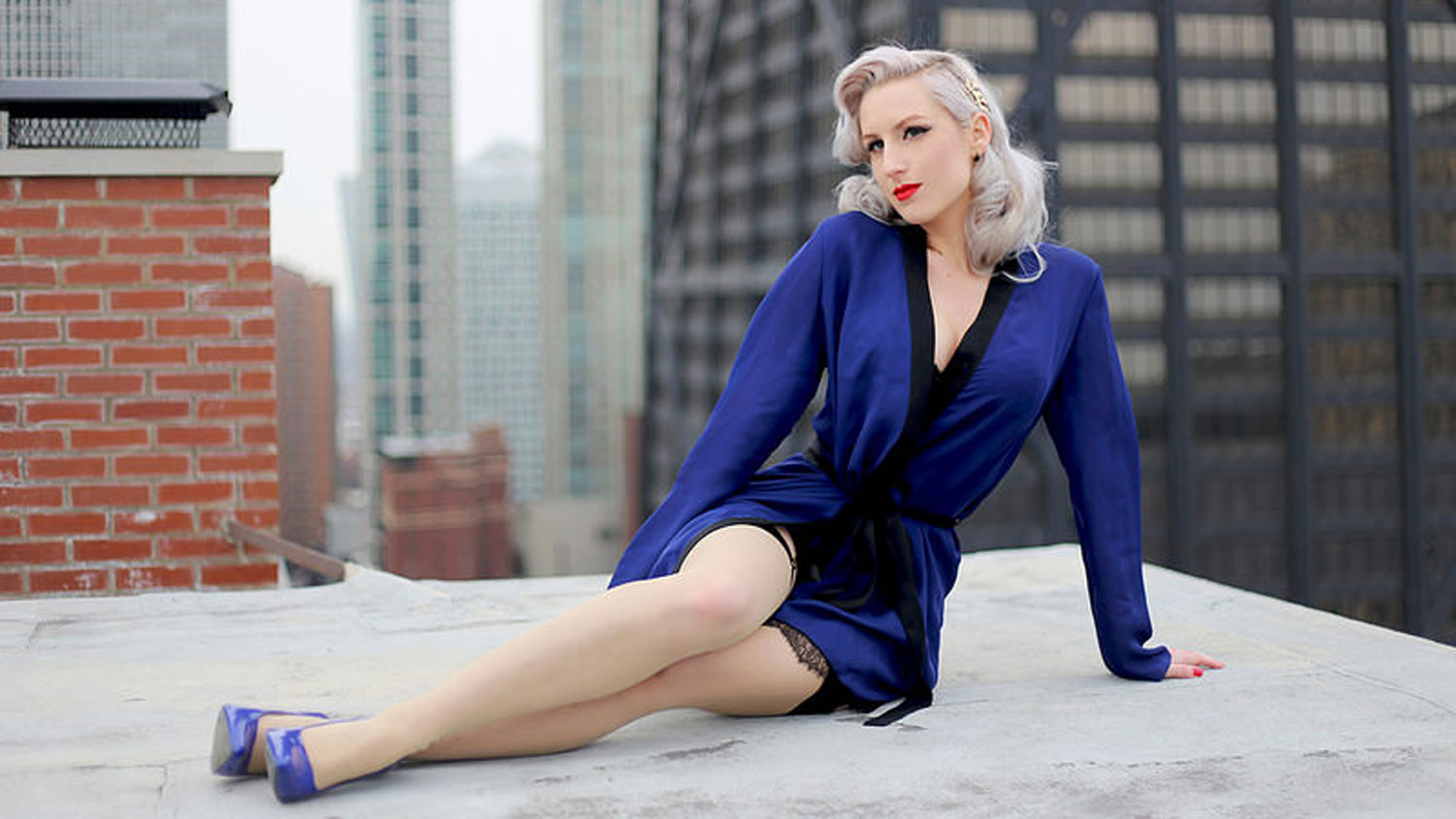 Chicago Chic x Angela Friedman
If you're a vintage style lover, then you must already know pinup model Rachel Ann Jensen! See her style our silk and tulle robes like no other.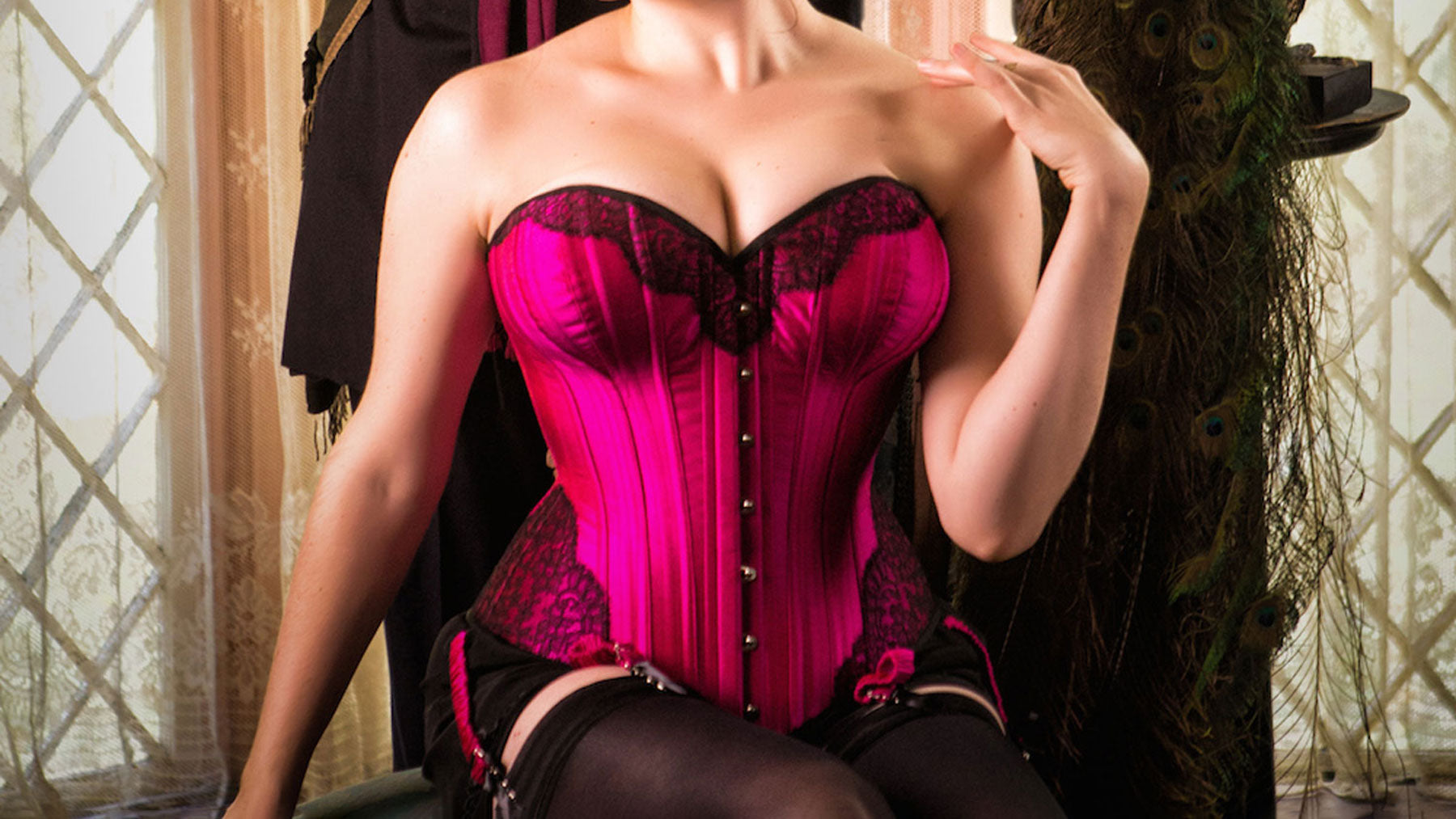 See the exquisite results of ordering a fully-bespoke Angela Friedman corset in this Victorian style photoshoot.