Ethical and eco-friendly manufacturing
With the start of the COP26 UN Climate Change Conference, it seems an ideal time to highlight our ethical and eco-friendly business practices at Angela Friedman. Although fashion businesses are notorious for disastrous environmental impact, we have focused on limiting our carbon footprint from Day 1.
From the very start, we have designed our luxury lingerie and loungewear sets with natural fibers like 100% silk, used recycled and recyclable packaging, and created all of our garments locally. In addition, we've always been committed to putting people and our local community first. From the moment Angela Friedman launched in 2012, we've used ethical manufacturing practices, paid living wages, and helped customers feel good about themselves rather than resorting to marketing so-called body image problems.
We also focus on giving back, like during our March 2022 when we donated 10% of the month's sales to the Disaster Emergency Committee's Ukraine Appeal, or April 2020 when we devoted the entire month to manufacturing scrubs for NHS staff free of charge. Our Aurelia Collection includes donations to Butterfly Conservation with the Papillon range, and in the past, we've partnered with other organizations such as the RSPCA and breast cancer research.
We're constantly looking at new ways to improve our impact on the world around us, especially when it comes to eco-friendly products. On the whole, the fashion industry severely lags behind when it comes to the environment, infamous for massive amounts of landfill waste, outsourcing production to countries with abysmal environmental records, and by encouraging the overconsumption of clothes that people don't need. Well, not at Angela Friedman! You can learn more about our commitment to ethical business practices here.
We'll go into much more detail below, but to start, our primary methods for increasing the environmental sustainability of our products are these:
Maintaining local production in the UK, using 100% renewable energy sources and remote work when possible
Creating high-quality and long-lasting products that transcend seasonality in order to reduce overconsumption and waste
Manufacturing in small batches, often made-to-order, from primarily natural fiber textiles that are GOTS Organic and Oeko-Tex certified
Educating customers on the benefits of silk, and how to properly care for their garments to make them last longer
Reusing and recycling as much as possible, including recycling all textile off-cuts and packaging
Offsetting carbon emissions for all deliveries, with no extra charge to customers for this service
On to the nitty-gritty details! We recognize that lists and statements like the above don't mean much if they aren't backed by real actions and quantifiable data. We want to share with you exactly how we're reducing our impact, so that you can be confident that this isn't just another case of clever marketing or greenwashing.
Overhead
All of our beautiful lingerie and lounge wear is created in a small workshop in England, where we do every part of the process in-house, from design to manufacturing to packing and shipping all of our garments. We are committed to never outsourcing production to large factories with questionable business practices. Because the entire process is done under one roof, we can absolutely guarantee that every part of the production supply chain is ethical. This stands in stark contrast to other brands that produce garments in dangerous sweatshops and evade environmental protection laws in their own countries by manufacturing in regions with few or no enforced laws on health, safety, or the environment.
The Angela Friedman atelier runs on 100% renewable power. We utilize low-power LED lighting, and our sewing machines run on special, high-efficiency motors that reduce "vampire" power (when a motor pulls electricity even when not in active use.) We also use a work-from-home schedule as much as possible, depending on the role. For tasks like digital marketing, graphic design, bookkeeping, and copywriting, remote work helps to reduce commute times, energy consumption, and gives staff more flexible working hours. This is a change that we will definitely carry into the future, even in a post-Covid world.
Products
The easiest way for a clothing consumer to be more eco-friendly is to buy fewer garments and wear them for a longer time. Our high-quality lingerie and loungewear designs provide the perfect way to do just that! We want to help fight that vicious fast-fashion cycle of constant overconsumption. Unfortunately, donating your used clothes to justify purchasing more doesn't always help either! As much as 57% of clothing ends up in landfills due to the low value of used clothes, poor recycling and distribution practices, and low demand. So we all need to buy more intentionally, to select clothes that are long-lasting, and to take better care of those clothes.
That's why our garments are expertly handcrafted to last for years, not just a season, and our focus on timeless styles means that they won't quickly become passé. We also help with garment care education, emphasizing proper lingerie hand washing techniques to help customers prolong the life of their entire wardrobe, not only their Angela Friedman pieces.
In order to limit unnecessary overproduction, we cut and sew small, limited runs of each new collection. While mass market brands overproduce apparel up front, leading to clearance sales and even burning excess merchandise, we focus on small batch production. Many of our styles are even made-to-order, further reducing the risk of waste. Any items that can't be sold as regular merchandise, like fitting samples or worn garments, are sold on at sample sales, so that we never send garments to the landfill.
From the start, Angela Friedman has focused primarily on natural fibers, especially 100% pure silk for all of our loungewear pieces like slips and robes. Silk production requires little land to cultivate (especially compared to alternatives like rayon, cotton, or linen) and it uses much less water for production than cotton or bamboo, both of which are notoriously "thirsty." Silk mulberry trees require little to no pesticides, as well. Perhaps most importantly, unlike synthetics like polyester or nylon, even discarded silk will eventually biodegrade, and it certainly won't leave a trail of micro-plastics in the ocean.
We source our raw materials from local, small businesses wherever possible, building close relationships with local vendors who are also operating ethically. Most of the silk we use is GOTS organic certified for social and environmental responsibility; and all of our silks, laces, and other trimmings are Oeko-Tex certified for product safety. If you're looking for the most eco-friendly textile option, browse our selection of undyed silk and lace lingerie, all in a lovely off-white tint that's free of chemical dyes.
During the actual production process, we reduce direct waste as much as possible. When cutting out the fabric pieces that make up our products, we save all larger off-cuts to reuse for smaller pattern pieces or to sample new styles. Pieces that can't be re-used, such as tiny scraps or trimmed threads, are set aside for textile recycling, so that even the smallest off-cuts will have a second life as insulation or furniture padding.
Packaging
No fashion business can completely avoid an environmental impact when it comes to packaging and shipping, but we try to mitigate the carbon footprint of our shipments where possible. By shipping directly to customers from our atelier, we avoid the multiple steps required by the wholesale-to-retail-to-customer chain. We don't individually seal our garments in plastic bags as many fashion retailers do, but instead wrap them in recycled and recyclable tissue.
The first and most important part of our shipments' eco-friendly credentials is that we off-set the carbon emissions for every single delivery by partnering with Shopify's Planet app. With this service, for every shipment we send to customers, we pay to remove the carbon that would otherwise become released in the atmosphere due to its transit. The organizations we fund (such as Climeworks, Carbon Industrial, Running Tide, and Grassroot Carbon) are involved in direct air capture, mineralization, and nature-based carbon removal. Customers don't pay anything extra for this service - it's our gift to you and the planet!
All of our packaging is manufactured here in the UK, and it's all recyclable. Any paper products are FSC certified for sustainable forestry practices, and many of our materials like postcards, packing slips, and catalogs are printed on recycled paper. At the time of this writing, we're also changing over the last parts of our plastic packaging to paper and recycled/recyclable options.
Maybe most importantly, we avoid the need to ship, return, and reship by communicating as much information as possible to our customers up-front! We provide a high degree of customer service from the start of every transaction, including personalized fitting help via email and our many helpful articles like our Guide on How to Measure Yourself and our Lingerie Gift Guide. This personal touch helps ensure that our customers will love their purchase the first time around and not need to frequently exchange it for other sizes or styles.
Of course we acknowledge that there is more work to be done! Fortunately, as a small business, we're highly adaptable and don't have to pander to shareholders' demands or a constant need for exponential profit growth. We're also lucky to have incredibly supportive clients whose values align with our designer's and her dreams of creating a more ethical, more inclusive, and more sustainable lingerie brand. While we don't claim to have it all figured out, we hope that this is a solid foundation for future growth. If you have any suggestions on how we can fulfill that vision better, please don't hesitate to reach out!
New in: The Aurelia Collection
This campaign features a lovely garden picnic, with lavish floral displays, stunning new colors, and fanciful embroideries to tempt you.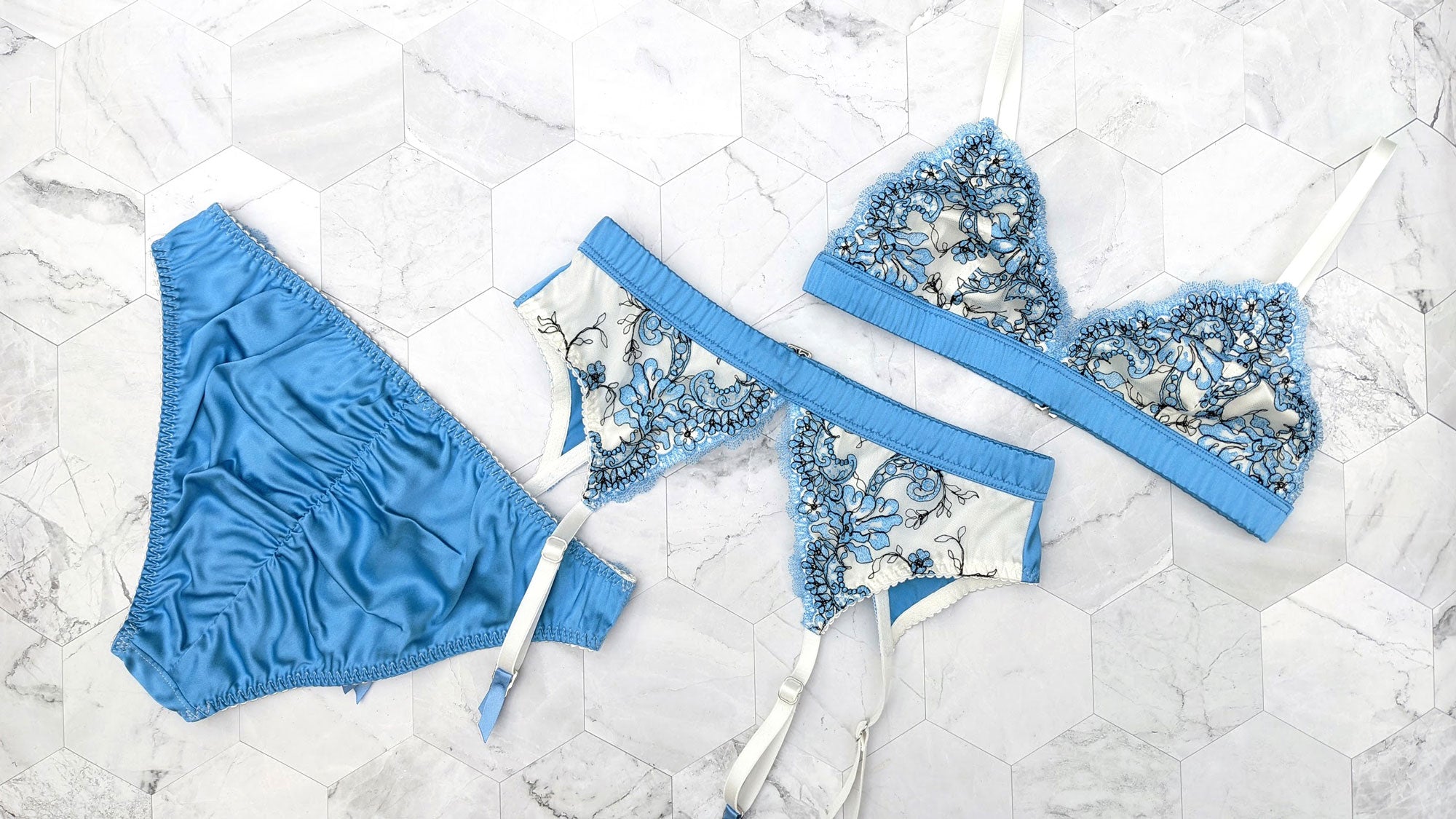 Lingerie terminology: A glossary
What's the difference between a bustier and corset, or a thong and g-string? How many types of underwear are there? Your answers here!