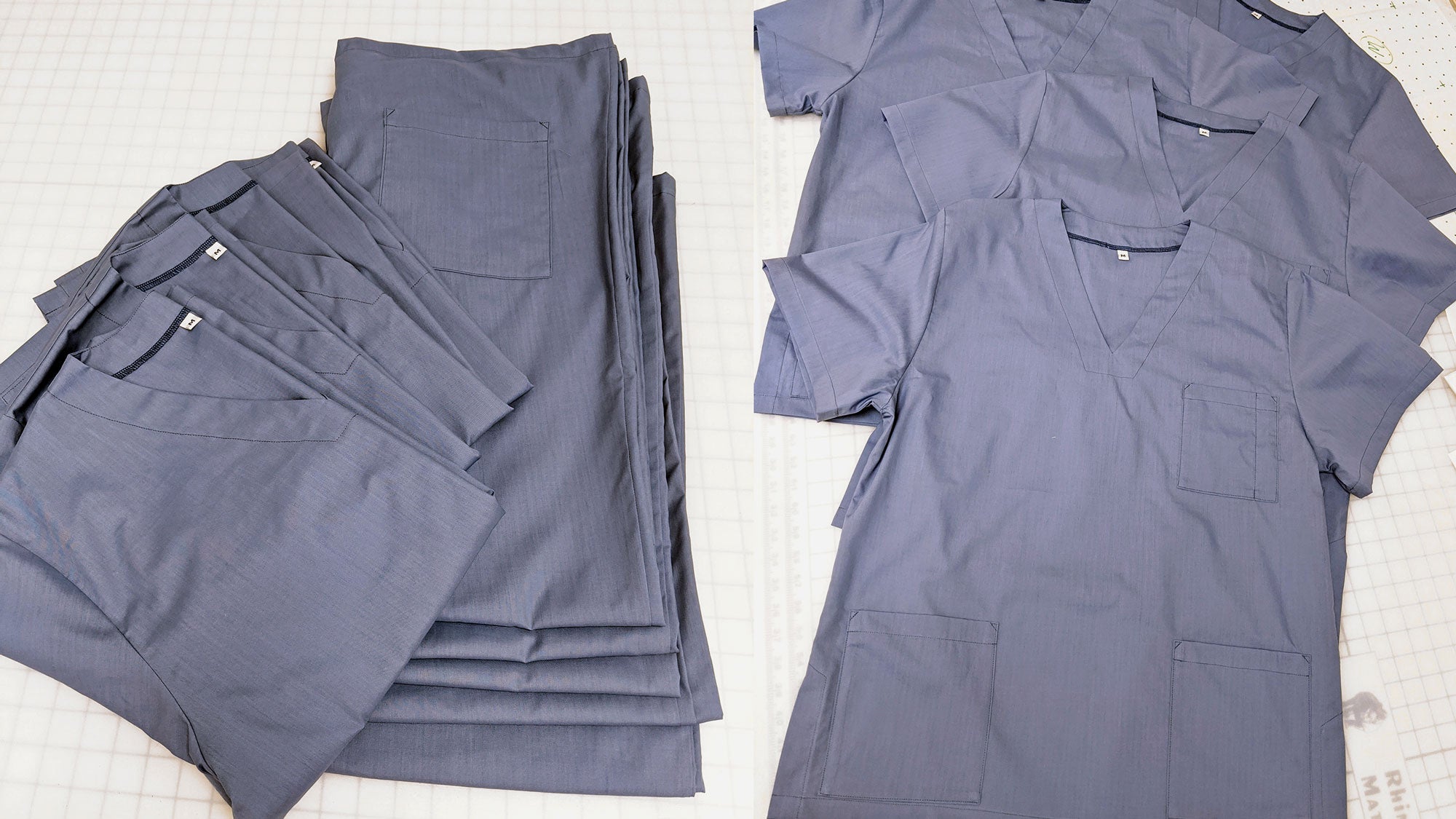 Our Covid-19 response
A message from the designer:
In these wild and uncertain times, the pandemic has permeated into every facet of our lives. In the UK, we are still permitted to work throughout the lockdown, so I've chosen to keep my business open so that we can continue to serve our wonderful customers. In addition, we've shifted our focus this month to sewing scrubs for the NHS, to help the community around us.
Here is a brief update on what we're doing to help. Our primary goals are:
To keep ourselves and our customers safe
To support the other small businesses and independent contractors we work with regularly
To help the community at large by volunteering  production to manufacture PPE.
Regarding health and safety, we have taken all necessary measures in the workspace to protect ourselves and our customers. This includes changing transportation to and from the office (avoiding public transport entirely), social distancing within the office building, stringent cleaning measures, and reduced trips to the post office. We continue to ship orders as usual, but please understand that shipping times may be increased. We do offer rush DHL shipments upon request, but please understand that all transit times may vary based on your location.
Rest assured that your safety is our #1 priority, and if anyone were to come into contact with a possible infection, we would shut down the business temporarily in order to properly self-isolate. Unfortunately due to travel restrictions and social distancing measures, we are no longer able to hold our April or May shopping events in Paris and San Francisco as originally planned. But as soon as it is safe to do so, we will begin hosting trunk shows again.
This is an exceptionally difficult time for small businesses locally, including not just ourselves, but all of the other companies we work with regularly. I'm proud to say that we have not cancelled any current projects, but rather have paid all outstanding invoices in full, giving our vendors the security of knowing that they won't face damaging cancellations. This goes for fabric mills, trim and elastic suppliers, accountants, developers, etc. Unfortunately I've had to pause work on the new collection, but I've only postponed and not cancelled the photo shoots. Once it's safe to do so, we'll still hire on the team of photographers and models, as originally planned. To further support other small businesses, we've offered to our existing wholesale accounts to do free cancellations and/or alterations to current orders. I understand that brick-and-mortar shops are potentially facing closures right now, and allowing them to change outstanding orders with us will hopefully give them a much-needed boost.
Last, but certainly not least, I wanted to directly help the community right now. Taking my personal skills and workroom capacity into account, sewing seemed the natural idea to offer! I'm happy to announce that I have dedicated nearly the entire month of April to manufacturing scrubs for the NHS, care workers, and paramedics. As in many other countries, we are facing an unprecedented shortage of PPE in England, including cotton scrubs that nurses and doctors must change multiple times per day as they enter in and out of Covid wards. Since this type of PPE is not as highly-regulated as, say, surgical gowns or masks, it's something that we were easily able to convert to producing.
Within 2 days of discovering the need, our workroom shifted over to scrubs production. I was able to directly contact the nurses and staff in need, bypassing the time and red tape of governmental procurement. (Due to the shortage, many nurses are being asked to provide their own work uniforms, and to pay for them out of pocket, which is plainly unacceptable.) Since the end of March, here at the Angela Friedman office, I've personally been cutting, sewing, pressing, and shipping dozens of sets of scrubs tops and bottoms. These will aid healthcare workers in doing their extremely important work around London and the whole of the UK.
It may be a drop in the ocean, and surely it shouldn't fall on small businesses to donate their time and resources to produce PPE where the government hasn't done so, but I simply couldn't stand by and do nothing. I'm so proud to have been able to do my own part, to support those who are putting their lives on the line for the whole general public. If you are a healthcare worker in the UK who needs scrubs, in any size or colour, please contact us directly to be added to our queue. If we are unable to meet the demand, we will personally direct you to another business, group, or individual stitchers who can help.
Looking forward into May, we will return to more normal production schedules. We've simply been receiving too many orders to not do so! My plan is to first catch up on sewing for the business, and then strike a balance between sewing donations of scrubs and your orders. We will not ask you to wait longer than 1 extra week for your orders to be processed, so please continue to shop normally, knowing that your items will ship soon. At the same time, we'll continue to fit in batches of scrubs between made-to-order items, for as long as scrubs are still needed in our local hospitals.
I can't say it enough, to any healthcare workers reading this: THANK YOU. As an American living in London, I have a special gratitude for the access to healthcare that we enjoy here. As flawed as any system may be in a pandemic like this, it's extraordinary to me to be so well protected and cared-for by the NHS. I would also like to extend a big thank you to our customers for their patience as our world has turned upside-down! We've been working hard to get your orders out to you as quickly as possible in between batches of scrubs, and we're so grateful for your continued support or this and other small businesses right now.
Wishing you much health and safety - and perhaps a little bit of silk and lace,
Angela Friedman