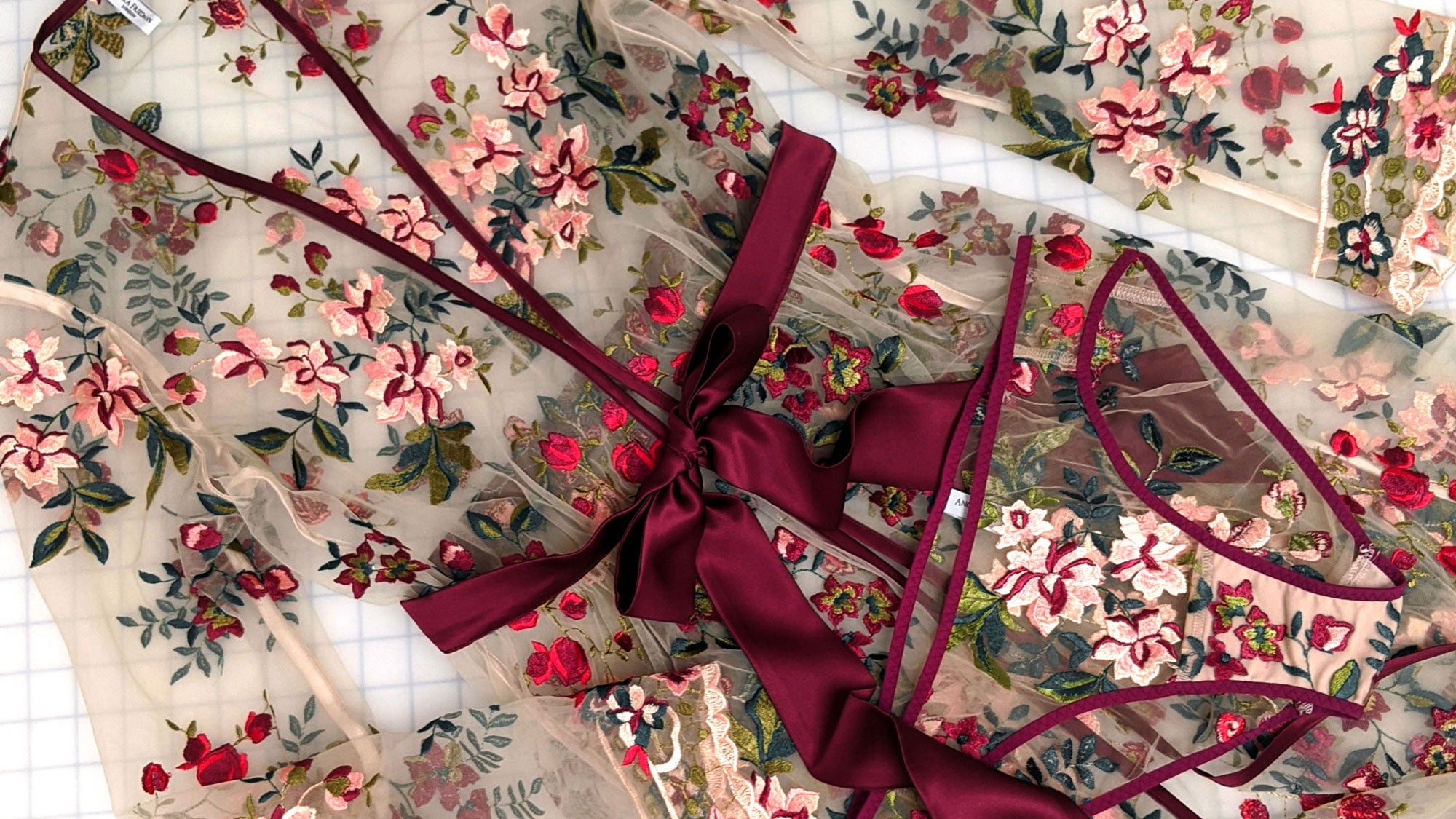 Is luxury lingerie really worth it?
If you've already discovered the delights of fine lingerie, you'll know what a world of difference it makes in how you feel; both beneath your clothes as you carry yourself through your day, and as the simple joy of unwinding in the evening in a butter-soft silk satin robe.
But what if you're new to the world of lingerie? Surely it's just a small amount of fabric, right? What could possibly make some underwear so much more expensive than your usual department store finds, and what could make it worth it? Even aside from the reasons why costs are higher for luxury pieces, you may be surprised at how that price difference evens out over time; both from having items you love to wear over and over, and from choosing well-made pieces that are designed to last season after season instead of being replaced with the next fast fashion cycle.
We strongly believe that feeling your best self starts from the inside out, but just what is it that makes luxury pieces so special?
1. Timelessness
Investment pieces for outerwear are a regular part of most shoppers' mindsets: a tailored wool coat that you'll wear for many winters ahead, or a little black dress that works for the office or for cocktails and never goes out of style. But have you ever thought about investment in your underwear drawer? While trends are part of the lingerie industry as a whole, classics will always have a more important part to play. A beautifully elegant silk lingerie set isn't going out of fashion anytime soon, and a chic black lace bralette is a go-to, no matter what the season. It's always fun to introduce a splash of color with a new fashion style (and we love updating our collections with new ranges in fresh embroideries and silk shades!) but by creating a solid foundation of high quality, timeless pieces, you'll create a lingerie wardrobe that will feel just as contemporary in several years' time as it does today.

Our Tenth Anniversary Collection includes timeless classics like almond silk and black lace for the Amandine lingerie set, as well as new trending colors and embroideries.
2. Longevity
You know the saying "buy cheap, buy twice"? Certainly a well-made silk lingerie set will cost more upfront, but with the right care, it can last many years to come. Ultimately this will save you money in the long run, as you can continue to wear these luxury pieces rather than constantly replacing worn-out pieces - as well as being more environmentally friendly.

Follow our detailed guide to hand washing your delicates to ensure your pieces are well cared-for. (Trust us, it's much quicker than you think. And you get to have a cup of tea partway through!) Once you've felt the difference of quality construction and materials, it's hard to go back to buying cheap underwear knowing that it might fall apart within a few months of regular wear and tear.
3. Ethical manufacturing
All of our lingerie is handcrafted in-house at our private atelier, sometimes even being made especially for your order. Our ethical manufacturing guarantee ensures you know that the person making your clothing is paid a living wage and working in safe conditions; there's no exploitation of the skilled labor of garment workers and no outsourcing to conditions we can't be sure of.

By paying a fair wage, we know we're getting the very best skills to produce garments of a quality we can be proud of, without pressuring our staff to rush through every item and cut corners just to keep up with volume and targets. This is a key component of our business model and one that we promise never to change. Furthermore, we're committed to environmentally-friendly business practices like recycling textile off-cuts and manufacturing with 100% renewable energy. You can learn more about what makes our lingerie sustainable and ethical here.
There are some larger brands that are beginning to catch up with more sustainable and ethical practices, but often they lack transparency, or worse, are found to be hiding worker exploitation behind a facade of publicity. But when you support a small, independent brand like ours, you can speak to our staff directly, peek behind the scenes into the workroom, and know that your purchase is directly supporting a small business, contributing to the local economy, and avoiding the problematic conditions of a fast fashion cycle.

All of our designs, like the Giselle lingerie sets in process above, are ethically manufactured in the UK.
4. Slow fashion, without artificially inflated prices
The fast fashion industry is one of the worst offenders in creating needless waste, in an endless cycle of poor quality, throwaway garments only designed to last a few wears before being replaced by something new and shiny that will also soon end up in a landfill. Choosing fewer purchases, but choosing well, means fewer cast off garments and an environmentally-friendly commitment to stopping the needless cycle of buy and replace.
Did you know this is also one of the reasons we don't run sales? Though we would never destroy unsold garments as some brands do, by only making the garments we need to sell, we avoid creating surplus stock that has to be dramatically cut in price to clear at the end of a season... Thereby also avoiding the typical practice of artificially inflating regular prices to cover losses on cut-price sales. This means you'll only ever pay one fair, consistent price for your order, year-round, instead of overcompensating for other sale shoppers.
5. Knowing the story behind your garments
Sometimes, a bra is just a bra. But isn't it nice to know a little about the real person behind what you're wearing? All lingerie is handmade in the sense of being sewn by a person, but knowing the story of who made it adds something unique to the experience. Most luxury lingerie brands feature only a handful of staff at most, so with your purchase you also get that special one-on-one attention, something that just can't be replicated on a larger scale. Did you know, for example, that brand founder Angela was once the Head of the ladies' costume department at the New York City Ballet? Not many mass market brands could boast a glamorous history or inspiration like that! While not every item in your closet needs to have a story, there is something so lovely about having that personal touch to what you're wearing.

Designer Angela Friedman, above, started her business from a New York showroom and later moved it to London
6. Quality materials: silk
Silk is usually the first material anyone would think of when they imagine luxury lingerie – it just feels fancy, right? Though of course, yes, you are going to feel like your Most Fancy Self wearing it (see Reason No. 8!) there's more to silk than just its reputation for fanciness.
Silk is a natural fiber and is highly breathable. It wicks moisture away from the skin, allowing it to evaporate, instead of trapping it like synthetics do. If you've ever spent a hot summer's day feeling like an uncomfortable and sweaty mess, you'll appreciate how your everyday underwear has a big part to play in how you're feeling!
While pure silk lingerie is ideal for feeling extravagant, you also get a whole host of added practical perks along with it. We love silk so much, in fact, that we've also written an entire article on the hidden benefits of wearing silk! There are some benefits that may even surprise you, so definitely have a look if you're thinking about taking the plunge and joining our world of luxurious lingerie.
Looking for as much silk as you can possibly get in a lingerie set? Our Louisa collection in black, navy, pink and violet are the perfect choices if you have sensitive skin or simply want to make the most of the benefits of silk. The Louisa bralette is self-lined in silk, and has flowy, vintage-style tap pants to match for extra breathability – or why not add a pair of our silk ruffled panties for living your very best froufrou life?

The Willow and Marianne lingerie sets both contain 100% pure silk satin for the ultimate in luxurious wearing.
7. Quality materials: lace
Not all laces are created equal – and that's ok, because being able to have pretty, lacy things at different price points is a good thing! But if you're looking to step up your lingerie game with some luxury pieces, and are wondering what's adding to the price, the manufacturing of the lace itself has a big part to play. Creating "Leavers" lace for example, named after the complex machines it's produced on, is a time-intensive process, involving up to 32 steps to set up, on machines with up to 40,000 moving parts, often still on original machines from the 1800s. The end result is an incredibly detailed, intricate textile, involving great traditional skill and craft.
One of our favorite parts of the design process is sourcing just the right lace for a new garment, and we always carefully select our laces (and all of our materials, in fact!) not only for their delicacy and beauty, but also for their softness and wearability. If your lovely lace bra or knicker is pretty to look at but feels rough and scratchy, you're not going to feel your best anyway, so that's simply not good enough for us. This particularity means that we go through many samples and much time-consuming research to ensure that every material used in your lingerie is perfect, utterly gorgeous, soft against the skin, and durable for longterm wearing.
If you want to wear as much lace as you can possibly can, then the Dentelle slip ("dentelle" is the French word for lace!) is crafted entirely from a sheer, delicate allover lace with a beautifully intricate scalloped floral hem. It's perfect for an elegant boudoir piece that just drips with glamor. And if you prefer to browse our lace offerings, shop our complete collection of lace lingerie for all the lace you could ever want!

An assortment of our bestselling lingerie designs, crafted in exquisite pure silk and lace
8. Feeling your best
Finally, our favorite reason of all! Think of lingerie as your soft (yet strong!) armor against the world – nobody else knows what you're wearing, but all day long you can sense it next to your skin, making you feel like the ultimate version of yourself. It's the most delightful little secret, and one that's all your own to either share with another person, or not! There's just as much value in gorgeous underwear that's only for your own eyes to enjoy.
The very word "luxury" suggests something extra special, that should be saved for "best" – but why shouldn't any day be your "best" day? The world is tough and we all deserve a little reason to smile. Your undergarments are literally the foundation on which your outfits are built and the first things you put on in the morning, setting your tone for the whole day. Do you really want to walk out the door with that underwire poking you, or a scratchy lace brief riding up or digging in or continually reminding you that it needs replacing as it has acquired another hole in the wash, just like the last pair!?
It may sound like a small thing, but that feeling of comfort and celebrating of yourself is a powerful thing! Why shouldn't a Tuesday full of meetings and running errands be just as worthy of feeling good for as an "occasion"? Maybe with a little boost of silk, you'll feel more confident and prepared to take on whatever the world throws at you. Enjoying that feeling of the softest fabrics and finishings while you go about your daily tasks? That goes beyond any price tag.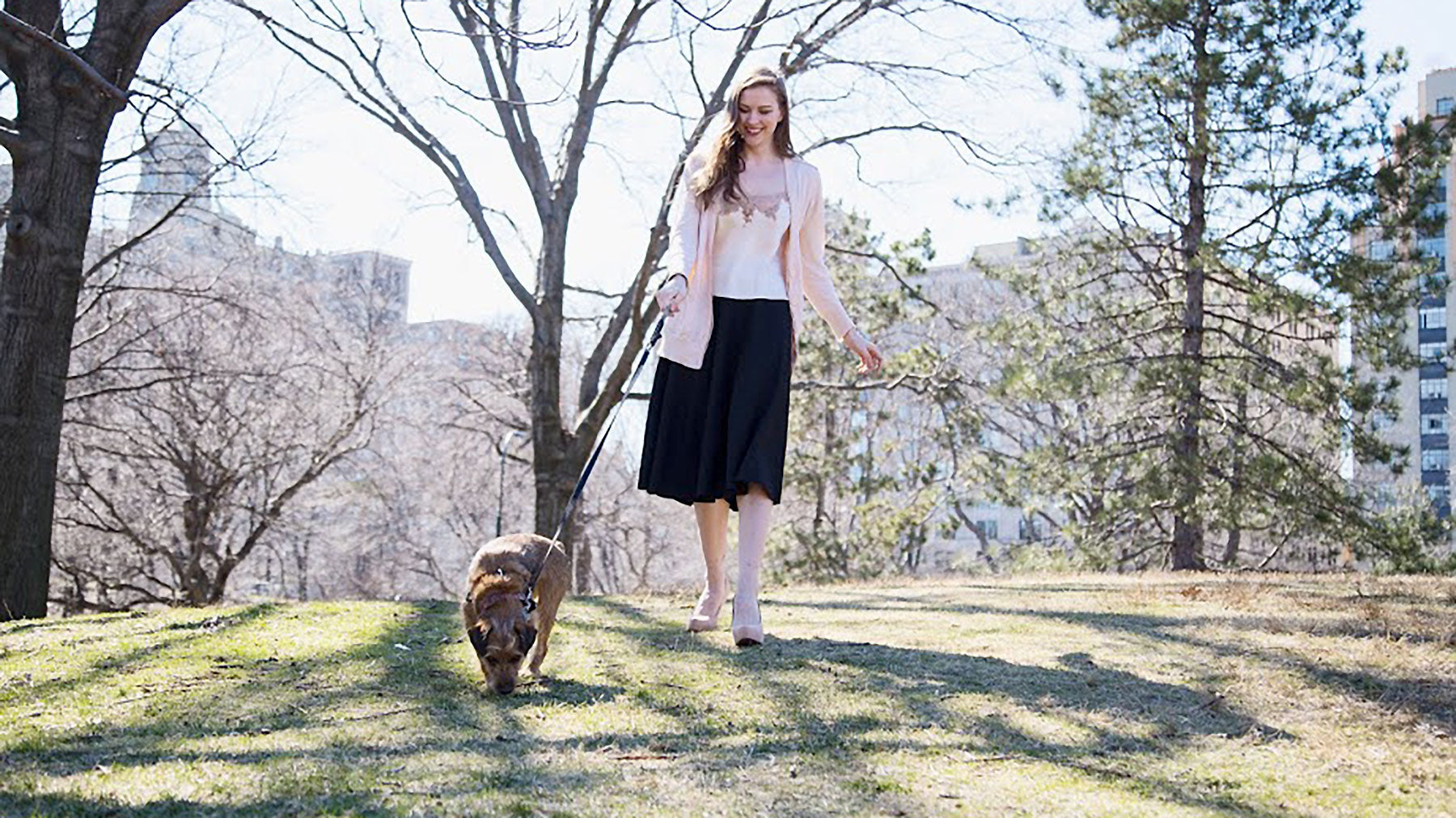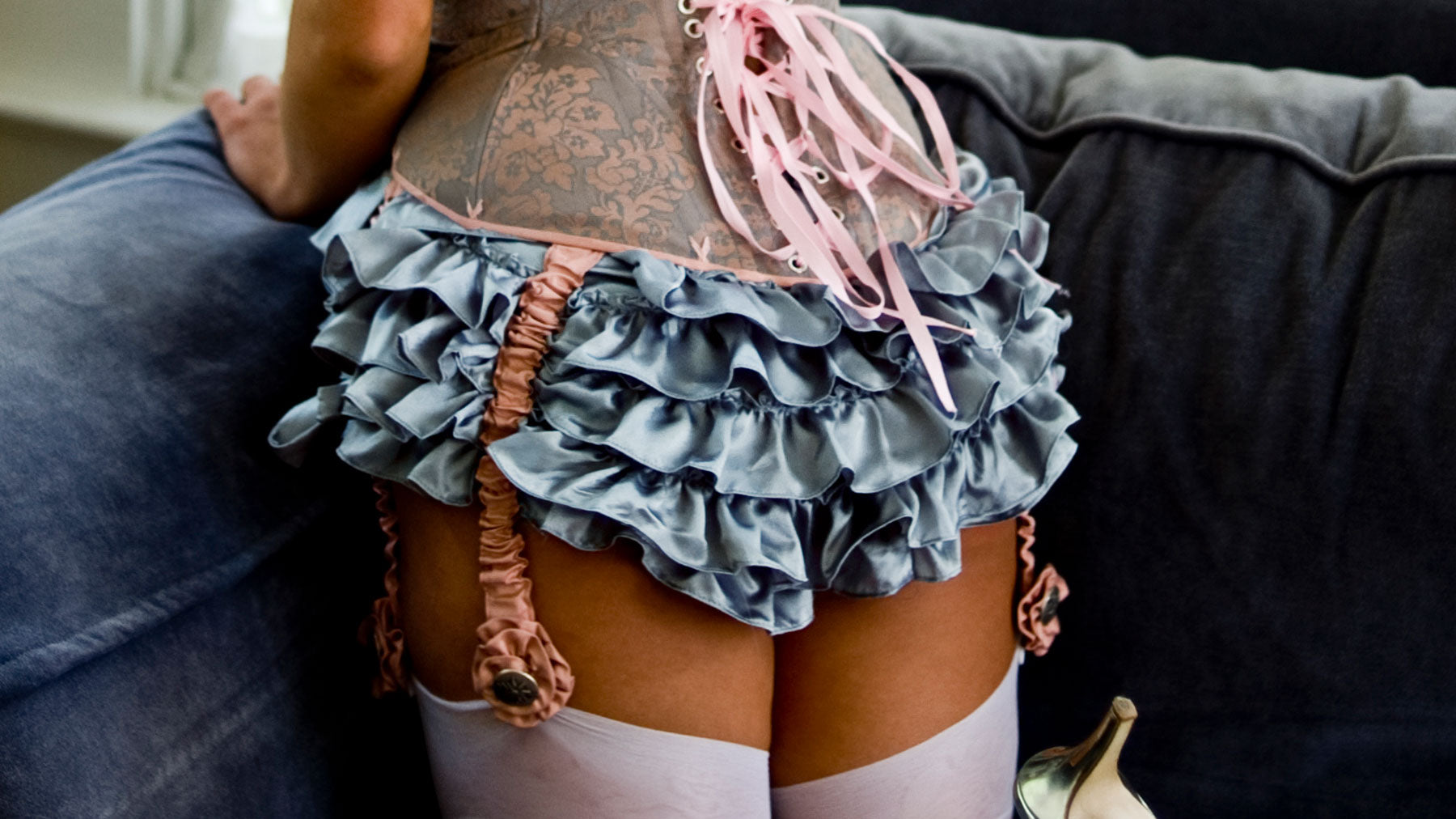 Love our frilly knickers but can't decide how to wear them or whether they'll fit into your existing wardrobe? Find our style tips here!