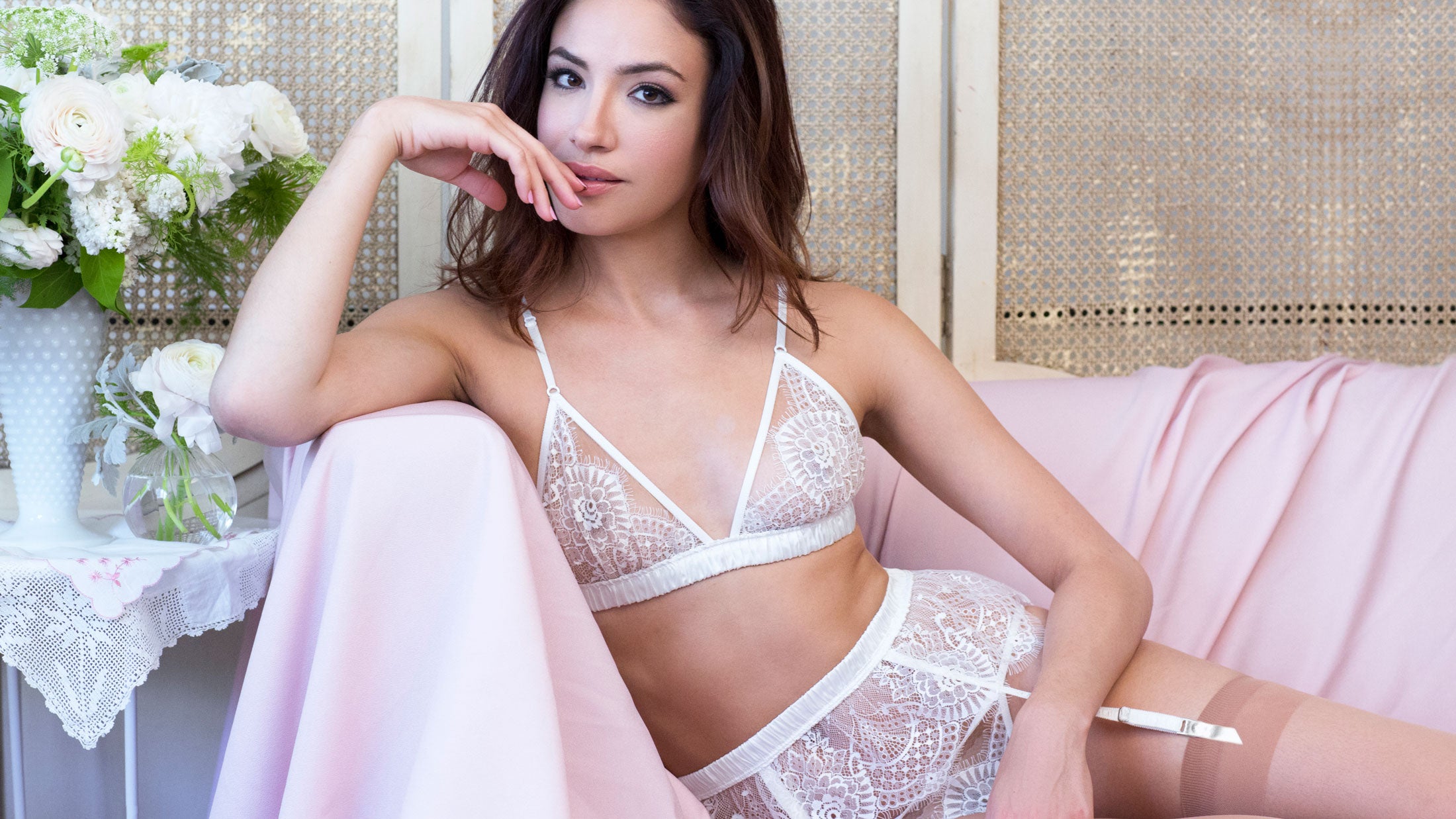 Bridal Lingerie Q&A
Whether you've only just said yes or you're already fully immersed in Pinterest boards and finalizing the guest list, at some point in your wedding planning, you'll be wondering what you need to do about bridal lingerie. 
We've rounded up some of the most frequent questions we receive from brides, as well as sharing tips on the different types of bridal lingerie you'll want to consider. What you wear during your morning getting-ready process will be different from undergarments for wearing under your gown, which will be different again from wedding night or honeymoon options. Do you have a question not covered here? Simply contact us with your inquiry and we'll respond within 24 hours with personalized recommendations. Additionally, if you're looking to learn more about corsets for your wedding, we've also got a dedicated Bridal Corset Q&A just for that.
Do I have to wear white?
Not at all! This is your big day, and you get to choose how to celebrate it. White, cream and ivory are traditional wedding lingerie colours in many cultures, but nowadays, you can wear anything you like that makes you feel special. What about gold for a touch of sparkle? Or blush pink, for a vintage Hollywood feel? If you'd like pieces that you'll continue to wear long after your wedding, think about the colors you would enjoy wearing in your new married life. If your dress requires specific lingerie, follow our advice below for finding undergarments to wear beneath your gown, but if you're looking for honeymoon or other options, the world is your oyster! 
For more traditional bridal shades of white, ivory, and "something blue," visit our wedding lingerie edit. For everything else, explore all of our lingerie collections to find the perfect set for you.
What should I wear while getting ready the morning of my wedding?
This is your special day, so why not spend every single moment of it feeling like your most luxurious self? A silk robe is the ideal garment to have on during hair and makeup styling, as it can easily be slipped off without needing to go over your head. Plus, with many wedding photographers now including more candid shots of every part of the day (including precious moments of getting ready beforehand)... Maybe your regular terry cloth robe just isn't going to cut it!
Designer Angela wore the Simone robe on her own wedding morning, and there's nothing quite like being draped in yards of butter-soft silk, champagne in hand, to start the rest of your life off right!
What kinds of lingerie are you supposed to wear under a wedding dress?
The necessary underpinnings will depend on the style of your gown. We highly recommended sourcing your under-the-dress lingerie at the same time as your wedding dress, so you can wear them together for fittings. Clingy slip dresses will need smooth lines, and unusual necklines will need to be considered if you're planning to wear a bra underneath. Many gowns have bust support built into the structure of the bodice, so you may not need a separate bra – in which case, it's the perfect opportunity to go all-out on the fanciest and most luxurious panties! How about the Yvette knicker gift set for a touch of "something blue" with tis luxury storage box? Or the double-lined silk of the Lillie knickers to enjoy the softness of satin next to your skin all day long?
What about lingerie under a very slinky or translucent dress?
If your gown is more fitted and requires minimal visible lines, the Giselle lace thong is ideal for feeling extra-special while still being streamlined. Alternatively, if the material is translucent and would benefit from an opaque lining, a custom shade of the Lavinia long silk slip makes the perfect solution. Whether in ivory, cream, or a silk shade to match your skin tone, this piece creates a beautifully luxe yet practical base layer for lace gowns. Wearing a shade closest to your complexion (rather than another layer of white) is the best option for lingerie under translucent fabrics. Many mass market lingerie brands offer seamless microfiber styles in beige for lighter skin tones, and Nubian Skin carries an array of shades designed specifically for women of color. While a seamless thong isn't the most exciting piece of lingerie, it can definitely be the most effective and invisible solution with a slinky dress!
What is a bridal garter set, and do I really need one? 
Like all wedding traditions, it's up to you whether you want to incorporate it as part of your day. The tradition dates back to medieval England, where having a scrap of the bridal gown was considered to be good luck, but nowadays brides can choose to have two garters (one to wear, one to toss), or none at all, or (our favorite option!) one very special one to wear and treasure as a keepsake. We don't offer garter sets at Angela Friedman, but there are many specialist bridal boutiques that sell them - or have a look on Etsy for something handmade. You might even consider incorporating materials from a meaningful family heirloom, such as your mother's wedding gown or grandmother's veil, or if you're very crafty, you might create a bridal garter yourself!
What kinds of lingerie make the best bridal shower gifts?
Lingerie is the perfect present for a bridal shower, but it can be hard to choose when there are so many styles and sizes available. Our guide to buying lingerie as a gift is a great start, or consider joining together with a group of friends to choose a gift card for the lucky bride-to-be. Our boxed gift sets make it easy to give a pre-selected assortment of knickers, or for something a bit smaller, try a silk sleep mask to offer some well-earned beauty sleep on the honeymoon flight. Alternatively, create your own gift set by choosing one of our darling pink or white gift boxes and filling them with a selection of silk and lace knickers from our main collections.
Can you make a bespoke bridal trousseau? 
Of course! Traditionally, a "trousseau" was a collection of linens given to the bride to begin her married life, but in the modern sense, it's a wonderful excuse to build a collection of exquisite lingerie to take forward into a new life chapter. You can build your own trousseau by selecting one of our large gift boxes and adding up to 15 different lingerie items - our wedding lingerie selections are a great place to start. (Think about pieces both for wearing on the big day itself and for the honeymoon.)
If you don't usually wear fancy underthings and are feeling a bit lost, we can help with advice with our articles on how to wear ruffled panties, or everything you need to know about garter belts. For bespoke options, we can create custom sizes, different robe lengths, new colours and an array of other options to bring your dream trousseau to life. You can read more about this on our Bespoke page. Looking for the royal treatment? Email us with your requirements of size, style preferences, and budget, and designer Angela will curate a personalized assortment of bridal lingerie just for you.
What should I wear for my honeymoon?
After the joyful frenzy of the big day is over, your wedding night and honeymoon are the perfect opportunity to indulge yourself in something really special. The dramatic ivory lace of the Dentelle slip makes for a breathtaking, sheer boudoir look, or you can opt for the Giselle range with sheer lace bralette, garter belt and thong or briefs. Other popular choices for a romantic honeymoon are the French lace Amandine lingerie set (it's very sheer!) or our famous ivory silk ruffled panties for luxurious undressing with functional silk bows.
Do I have to wear skimpy lingerie for my wedding night?
The sexiest thing is when you feel the most comfortable and confident - that might be in sheer lace and a garter belt, or it might be in a luxurious silk robe and slip that cover a bit more skin. Either way, let your radiant self shine through! If you're looking for something that's more elegant rather than exposed, consider a 100% pure silk robe like our Simone or Victoria ranges, each sure to make you feel like a vintage Hollywood star! For something more form-fitting, try the Nicole slip, simply dripping with glamor with its classic pink silk satin and delicate lace appliquéd edges.
As with all wedding lingerie, choose pieces that will make you feel the best, throughout the day and into the night - and then every time you wear them again in your new married life, you can be reminded of this special moment!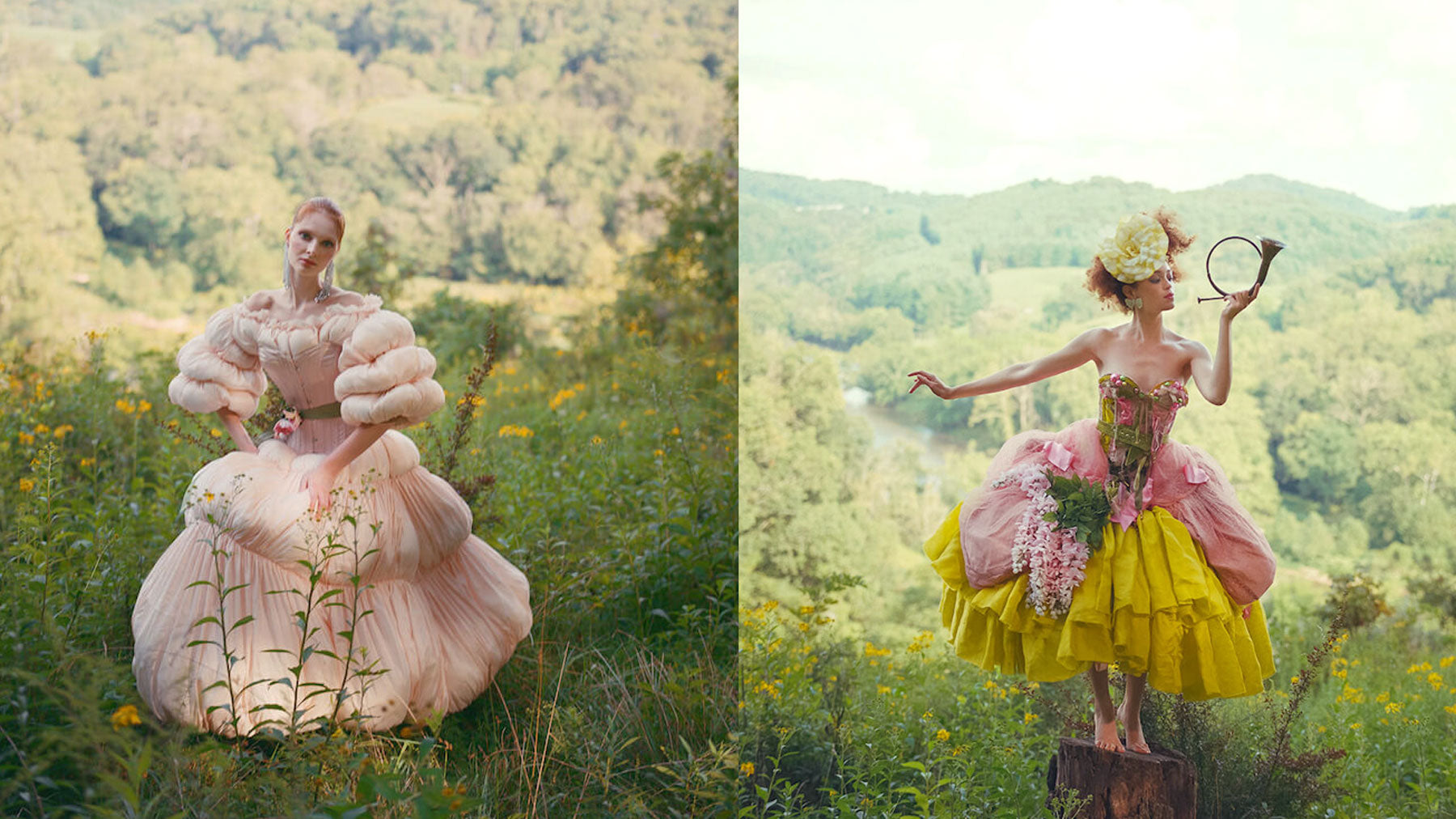 Drink in the inspiration of decadent picnics in corsets, gowns and ruffles in this exquisite fashion film featuring our designs.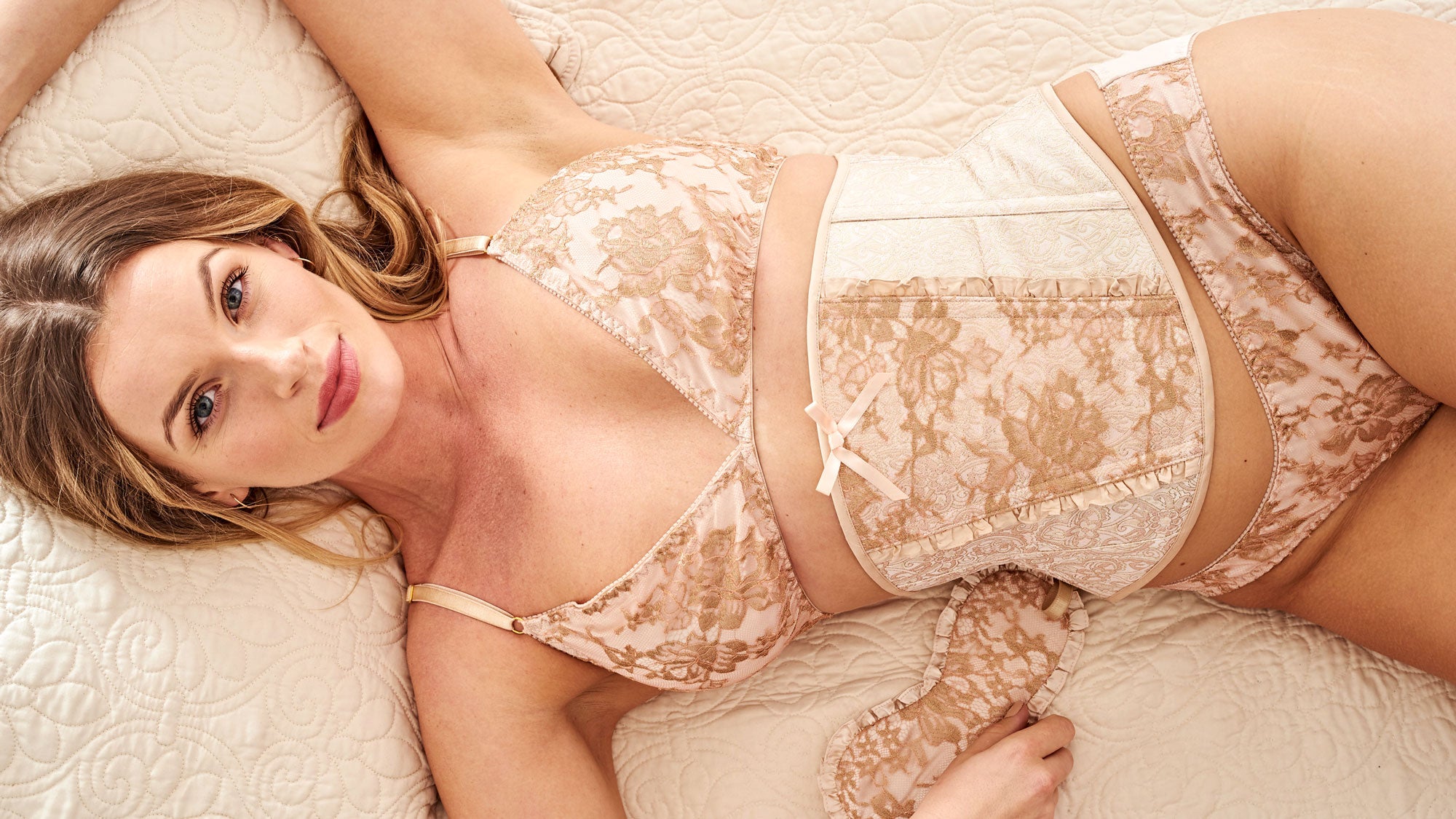 Looking for a corset for your wedding? Read our top tips, from corsets for under your wedding dress to honeymoon lingerie looks.