24 holiday gift ideas
Are you looking for the perfect lingerie gift for the holidays or Valentine's Day? Whether you'd like to indulge a friend with a silk robe to warm the winter mornings, give your partner an enticing red lingerie set to spice things up, or even treat yourself to something a little glitzy for New Year's Eve, we have 24 ideas for all of your winter holiday gifts! Angela Friedman's exclusive and handcrafted designs make excellent presents for any lingerie-lover on your shopping list.
Our garments contain fine materials such as 100% silk satin and French lace - Only the best for your gift recipient! Pro tip: consider one of our ready-made boxed gift sets, or simply add one of our luxury gift boxes to any order for the loveliest unboxing experience.
Gifts for everyone
Lingerie and lounge wear gifts aren't only for romance! Think outside the proscriptive gift box: Treat your sister to an indulgent silk robe or a new mother to a silk sleep mask to help with some much-needed rest. Why not give some beautiful lace knickers to your best friends, and upgrade their lingerie drawer with something more comfortable?
While you're at it, throw a little Galentine's Day party with a bottle of champagne and boxes of chocolates, too. Why should partnered folks get all of the best gifts anyway? We believe in indulging all of the people you love, regardless of relationship status... Especially with silk lingerie! For even more ideas, browse all of our bestselling lingerie sets.
Our picks for gifts suitable for everyone:
Gifts for significant others
Of course, there's still plenty of romance in store for those of you who are partnered. Spoil your sweetheart with a gift that has a little sex appeal and a lot of comfort. Remember, if your present doesn't feel nice against the skin or if it makes the recipient feel self-conscious, it won't be very well-received, so stick to underwear ideas that you know your sweetie already loves.
We recommend considering textures (like soft, smooth pure silk) and comfort (like the amount of coverage that your partner usually enjoys), as much as considering what makes your heart race. After all, this romantic gift is for them, not for you! Some of our top picks for the holidays and Valentine's Day are red lingerie sets, big showstoppers like our floor-length silk robes, and if the giftee likes to show off some skin, our collection of thongs and cheeky knickers.
Take a peek into their lingerie chest for an idea of sizing and general styles, and then let us help you with the rest. Visit our complete Lingerie Gift Guide for more in-depth recommendations.
Our picks for gifts for significant others:
Gifts to treat yourself
Amid the frenzied shopping of the winter season, don't forget to treat yourself! Lingerie is the perfect thing for that, because it's small, wearable every day, and gives you a hidden boost of confidence under your clothing.
We believe in little treats year round, but if you're indulging yourself in some lovely lace lingerie around the holidays, why not opt for a little extra pizzaz? Try a little something metallic and sparkly for a New Year's gift to yourself, or an intricately embroidered lingerie set that's your secret to keep on Valentine's Day.
It doesn't matter if anyone else gets to see it: The whole point of luxury lingerie is to feel good in your own skin with fancy silk fabrics that breathe and feel oh-so-luscious. Whether you'd like to dress up in pearls and a tiara like an Old Hollywood starlet or just take 5 minutes to rest by yourself, Angela Friedman lingerie has just what you needed.
Our picks for gifts for yourself:
Final recommendations
We hope this year's winter holiday gift guide was helpful in your search for the perfect lingerie and loungewear gifts.
For deadline-conscious shoppers, please ensure a little extra shipping time this year. If you're cutting it too close to the big day, consider buying a digital gift card for immediate delivery, and then allow your gift recipient to choose their own lingerie adventure!
If you'd like more suggestions, visit our complete Lingerie Gift Guide for extra tips on sizing, ideas for our best selling lingerie gifts, and more. You can also contact us via email for personalized advice - We're always here to help.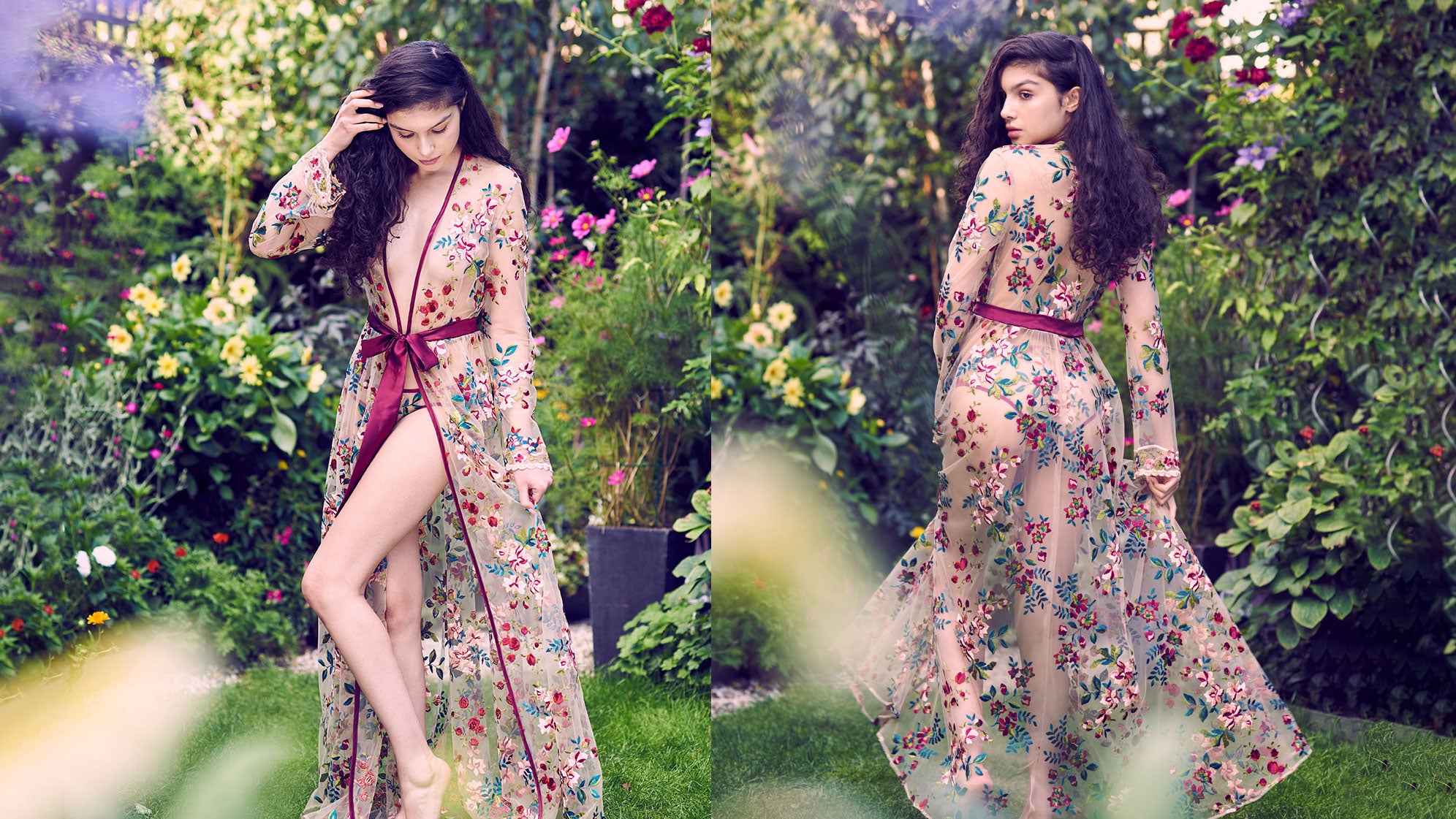 This luxury lingerie range has been newly redesigned and released, including the iconic Camellia robe that everyone's talking about.