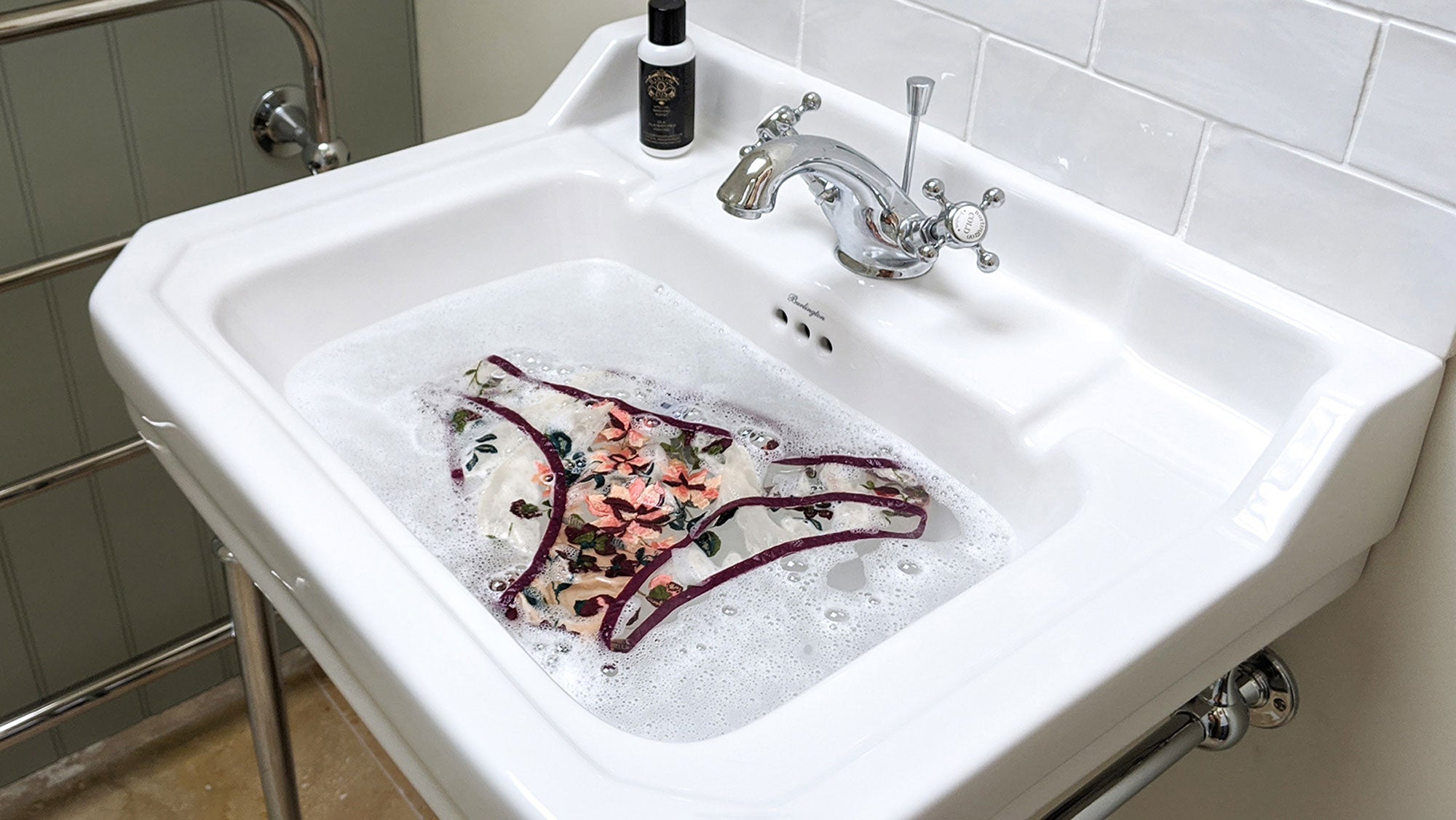 Tips and tricks for hand washing your silks
Don't you want to take better care of your delicates? You really need to start hand washing them. Before you dismiss hand washing as too time-consuming, hear me out! With a little bit of practice, you'll be able to hand wash your underwear in no more time than it takes to throw a load into the washing machine. Considering how much better your skivvies will fare in the long term with a little TLC, we think it's well worth learning how to do.
Do you know how damaging it is to machine wash or tumble dry your delicates? Not only are your intimates often snagged in the wash, but the excessive agitation (and especially the heat from the dryer) will absolutely wreck your fine fabrics and laces. With machine washing and drying, your stretch fabrics will sag and eventually tear, the elastics will stretch out of shape and lose their "memory," the colours may bleed into each other... and to what end? They certainly don't end up any cleaner in the machine than with hand washing. If you follow our instructions, you'll find that it only takes a couple of minutes of active time to properly hand wash your delicates!
Hand wash your underwear in 4 easy steps:
Step 1. Run your sink full of cool, soapy water and submerge your undies. I recommend using just a small squirt of a specially-formulated delicates or silk wash.
Step 2. Swish around to loosen any dirt or stains, and give the gusset a gentle scrub. Let them soak - a few minutes is plenty of time.
Step 3. Remove from the water, pat dry, and roll up into a clean, dry towel. Rolling up the towel through the garments and pressing firmly is a great way to remove any excess moisture. (Only rinse your undies if your detergent requires it - many silk washes are no-rinse formulas!)
Step 4. Hang to dry or lay flat on a second, dry towel. That's really it! If you have any persistent wrinkles afterwards, you can iron on the reverse of the garment with low heat after.
(If you're wondering which of our gorgeous, handcrafted undies we've used in this guide, they're the Camellia knickers.)
Again, the 4 steps all in one place:
Run your sink full of soapy water and submerge your undies.
Swish around to loosen any dirt, and let soak for a few minutes.
Roll up into a clean, dry towel to remove excess moisture.
Hang or lay flat to dry on a second, dry towel.
Extra tips and answers to your top questions:
How can I get rid of stains on the gusset? Honestly, we don't worry much about a little staining. The extra layer inside the gusset is specifically there for you hygienically, and yes, it's probably going to become marked over time. You can rub a little extra detergent there to pre-treat if it really bothers you. But don't let a small gusset stain keep you from feeling fabulous in your lingerie!
What about blood stains? It's true: sometimes life happens and you get your period or spotting on your Very Favourite Knickers. But I have a pro-tip to share for blood stains! Your unique saliva has enzymes in it which can help to break down your own blood. I know it sounds funny, but this really does work: a bit of spit on the affected area can help keep the stain from setting.
Can I hand wash my silk robe? You can technically hand wash any silk garments, including robes with metres of material... However, we actually recommend dry cleaning for those. The reason is that with large expanses of silk, you'll have a lot of ironing to do after a wash. Most people don't want to take the time to iron (and/or don't have enough experience with ironing silks to do it nicely), so it's simply easier to take those to the cleaner. That said, make sure it's a reputable cleaner that you know and trust before handing over your fanciest, floor-length silk robe!
Will my silks change texture with washing? Yes, this is the one downside of repeated hand washing over time. Silks do lose a little bit of lustre with hand washing. This doesn't mean there is anything wrong with the material - it just won't be quite as shiny a year down the line. It's perfectly normal. But if you are very averse to that effect, you can always have your special items dry cleaned instead of washing.
Can I really do it that quickly? YES. Once you've done it a few times, you'll find that it takes no more than 1-2 minutes of active time to wash your underwear by hand. Yes, there's a bit of inactive time involved while you're waiting for them to soak or dry... So take that time to pour yourself a cup of tea (or maybe something stronger?) and pat yourself on the back for taking such good care of your clothes!
Looking for some pretty new undies to add to your collection?
Try the very best! Angela Friedman underwear is exquisitely handmade and crafted from the most luxurious materials: 100% silk satin, French lace, soft plush elastics, and cotton-lined gussets. We handcraft each piece here in England and ship worldwide - giving you many more pretty knickers to fall in love with and practice your hand washing skills on!
Have more specific tastes? Browse our collections of classic low-rise briefs, full coverage high-waisted knickers, or beautiful thongs. We're convinced that once you try our gorgeous underwear selections, you'll never go back to those scratchy old pairs in the back of the drawer again. Happy washing!
New in: The Nouvelle Collection
Our 14th collection, Nouvelle is a celebration of the simple things in daily life, inspired by the Arts and Crafts movement.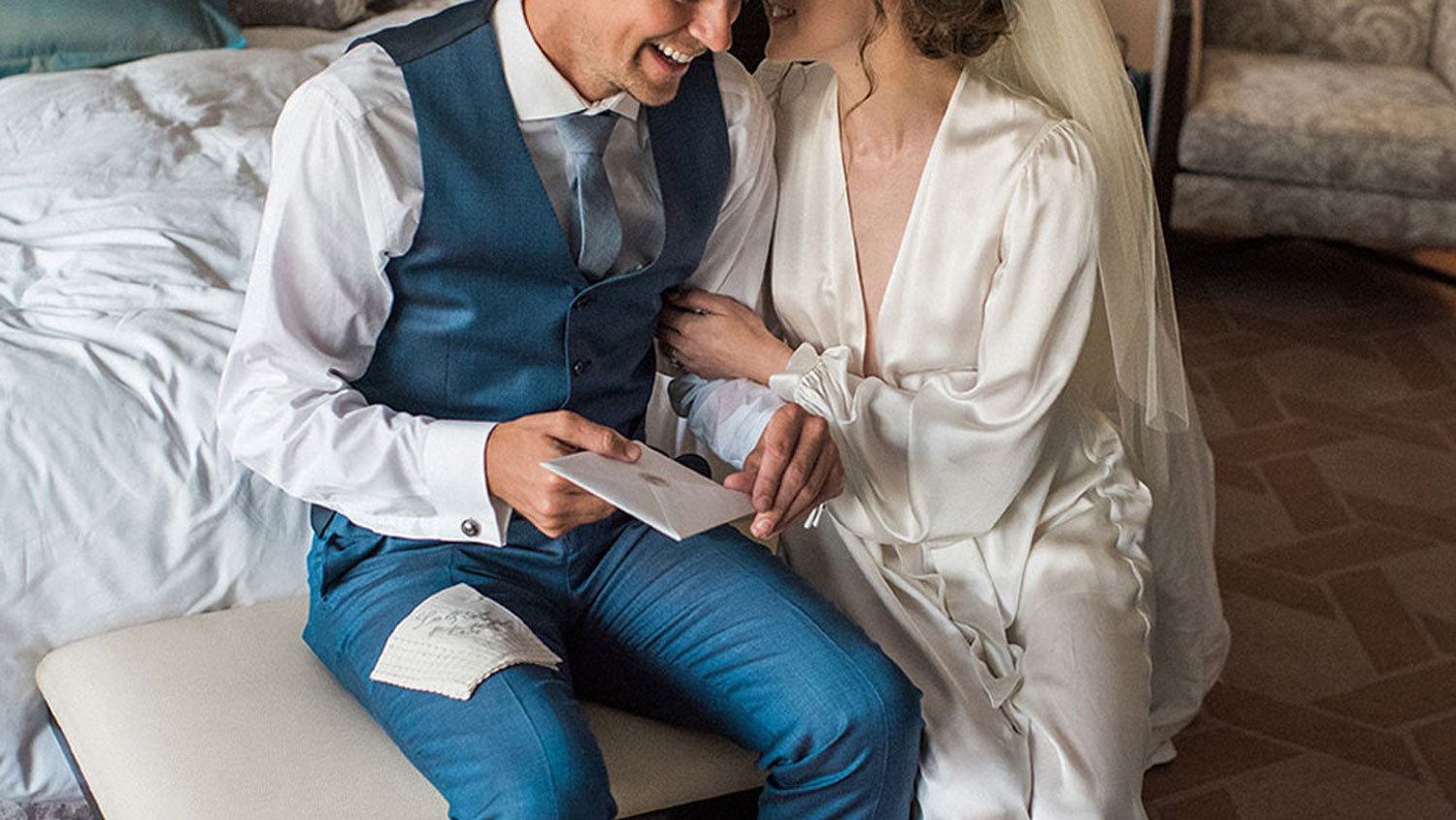 What lingerie would a designer choose for her own wedding trousseau? Peek into Angela's personal wardrobe to find out.