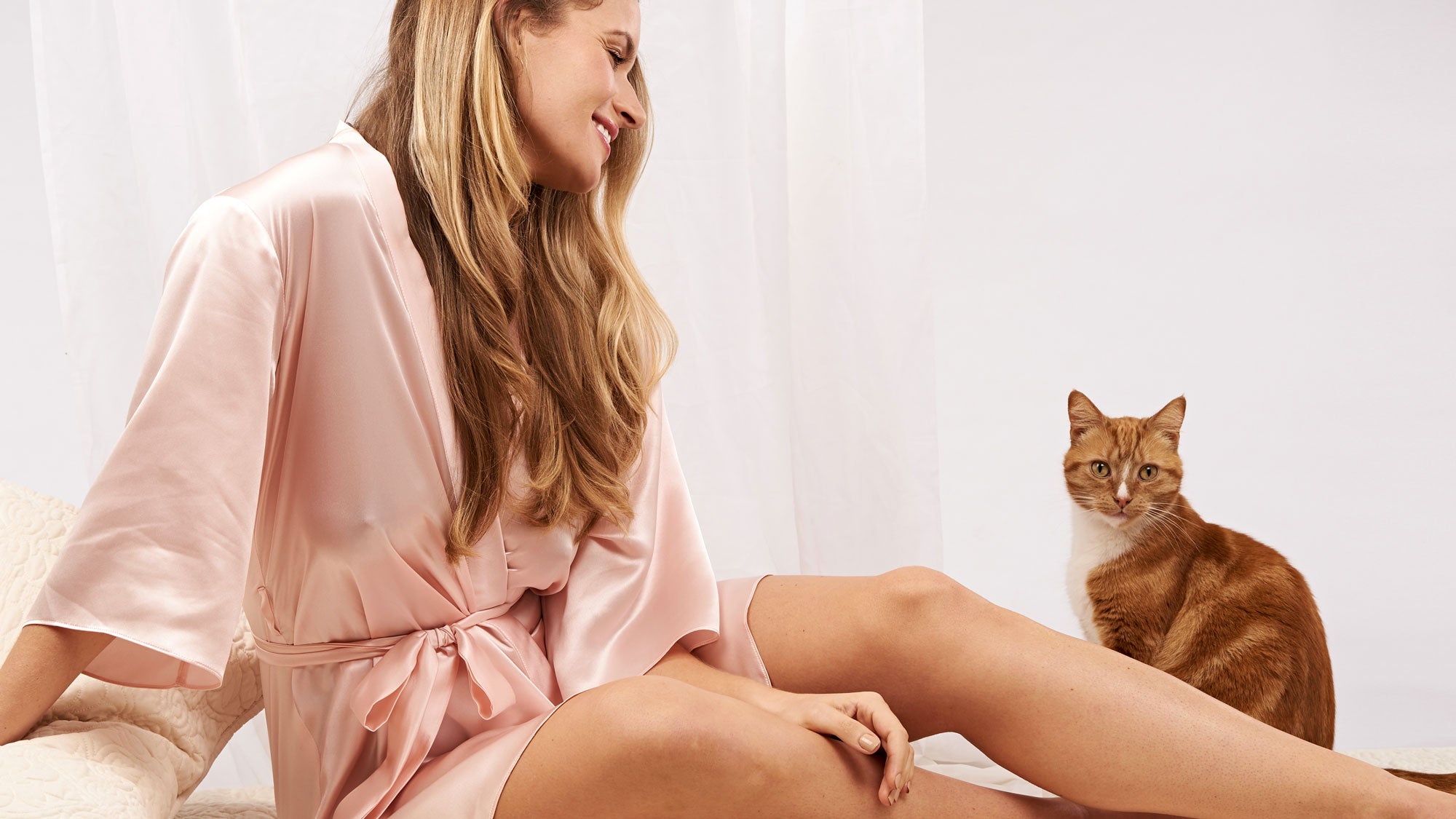 Throw the best Galentine's Day party ever
Surely, you've heard of Galentine's Day by now: it's a way to reclaim February 14th as a celebration of all kinds of love, including friendships and self-love! The purpose isn't to disparage those who enjoy a romantic date night with their partners on the 14th, but rather to include everyone who wants to be included! It's also a nice opportunity for those who are partnered to take the pressure off of their significant others and plan something for themselves. Rather than expecting your other half to deliver on a picture-perfect, Hallmark-inspired, fantasy romance (that probably isn't even possible), you can embrace Galentine's Day and plan an event that you actually will enjoy!
So here it is: the Angela Friedman definitive guide to hosting the best Galentine's Day party ever. Invite the gals over, pop a bottle (or 3), don your best silk robes, and remind each other how beautiful you are! We've curated a list of activities, organized our favourite innerwear-as-outerwear looks to inspire you, and even created a Spotify playlist to get the party started. So what are you waiting for? Get those invitations out!

Don a luxe dressing gown with your best gal pals this Galentine's Day!
Do your research
Step one for the perfect Galentine's Day party? Do your research! Remember, though, that this event should be centered around actually enjoying yourselves. So if too much planning and prep-work is going to give you a headache, then don't do it! Keep it simple: Ask your friends to help by bringing their fave drinks or some snacks. Definitely set out your prettiest champagne flutes and best teas, but go easy on yourself and enjoy a nice soak in the bath before the party starts.

What's the perfect mood for your event, a black lace gala, sweater weather coziness, or glittering and colorful festivities?
Set the mood
A great event, whether an all-night rager or a quiet dinner party, always starts with the host creating the perfect party vibe. A Galentine's Day party is no exception! Start by setting aside some time to pop on your favourite music (like our Galentine's Day playlist), organize your living room furniture to allow some room for relaxation and also a little dance space, and get the food and drinks made ahead of time. (You won't want to still be rushing around when your guests arrive, so start early and give yourself the chance for a chill pill and maybe a face mask before the doorbell rings!)
Might we suggest some easy, crowd-pleasing drinks and snacks?
Wine and cheese are an eternal classic, but also easy to prep for those of you who can't be bothered with a full meal or complicated cocktail recipes.
Go for take-away meals and leave the cooking to someone else! Galentine's Day should be about taking care of yourself - and maybe that means sparing yourself the pile of dishes at the end of the night.
Treat your gals to good chocolate. But not the bland, drugstore heart-shaped boxes that your exes used to buy you for Valentine's Day... Get the good stuff! We're talking Bettys (like these

 

Cru Savage chocolate truffles) or Ocelot Chocolate.
Don't forget to offer non-alcoholic treats for your non-drinking friends (and for drinkers alike - stay hydrated, gals!). A selection of ginger beers and fresh squeezed juices will help keep the party going without the threat of nasty hangovers.
No time to plan the tunes? We've already curated the perfect Spotify playlist, ready to go with all the girl power and self-love jams you'll need!
Prepare your wardrobe
One of the best parts of Galentine's Day is that it's the perfect excuse to dress up in a fabulous lingerie-inspired outfit. Since you and your guests will remain indoors, you can wear as much or as little as you like. And with the added-bonus of no creepy onlookers, you can feel free to wear your favourite lace corset, sexiest fishnet stockings, or a glamorous silk dressing gown without worry! Encourage your besties to arrive in their finest innerwear-as-outerwear looks, and you can enjoy spending the evening complimenting each other's rockin' hot bodies and classic, good taste. You might even stage a lingerie fashion show, complete with impromptu catwalk, an announcer to detail all each look, and of course, a champagne toast at the end! (Bonus idea: Set out fountain pens and pretty paper so that you can each write anonymous love letters to each other.)
Not sure where to begin, or can't decide which of your extensive collection of silk robes to select? Here are some of our favourite slips, silk dressing gowns, and luxury lounge wear pieces you'll need for the perfect grown-up pajama party with the gals:

(From left to right, top to bottom): 1. Angela Friedman silk Victoria robe 2. Evgenia Rouge short gown 3. Harlow & Fox beaded Cassiopeia robe 4. Angela Friedman silk Victoria robe 5. StockinGirl nylon stockings 6. Angela Friedman silk Simone robe 7. Harlow & Fox feathered Juliette robe 8. Angela Friedman silk Clair de Lune corset 9. Harlow & Fox silk face mask 10. Céleste glitter black mules 11. Evgenia silk Deco Camisole
Get more ideas on Pinterest
And if all of that wasn't enough to help you plan the very best Galentine's Day party ever... We have even more pretty things for your perusal! Our best inspiration for this blog post is all up on Pinterest, including lingerie-inspired outfit ideas, pink cocktail and mocktail recipes, beautiful bath products, and self-care tips. Follow our boards for plenty of ideas on how to decorate your home (and yourself!) for the perfect party.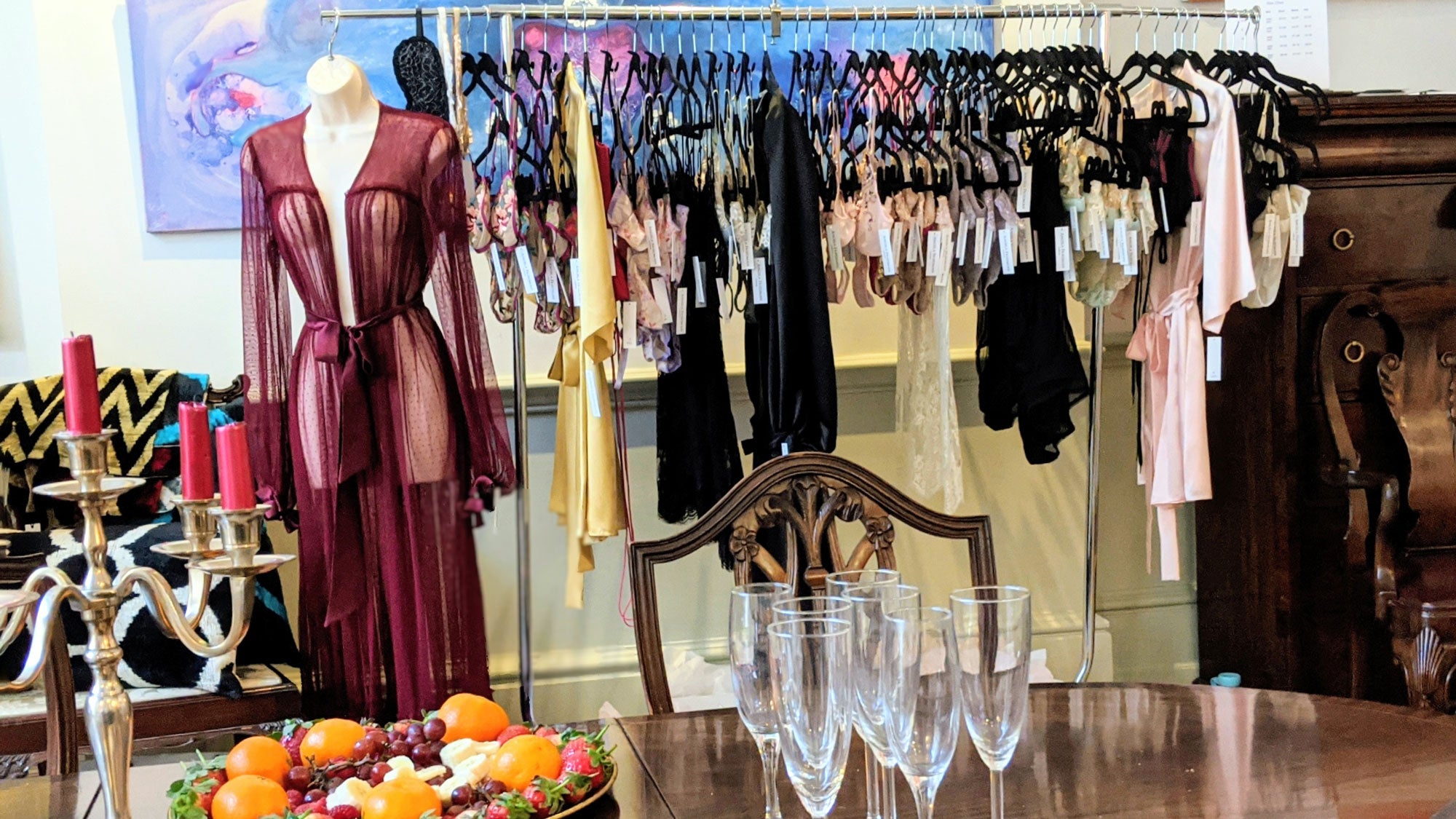 A review and behind the scenes photos of this year's holiday shopping event in Mayfair, London.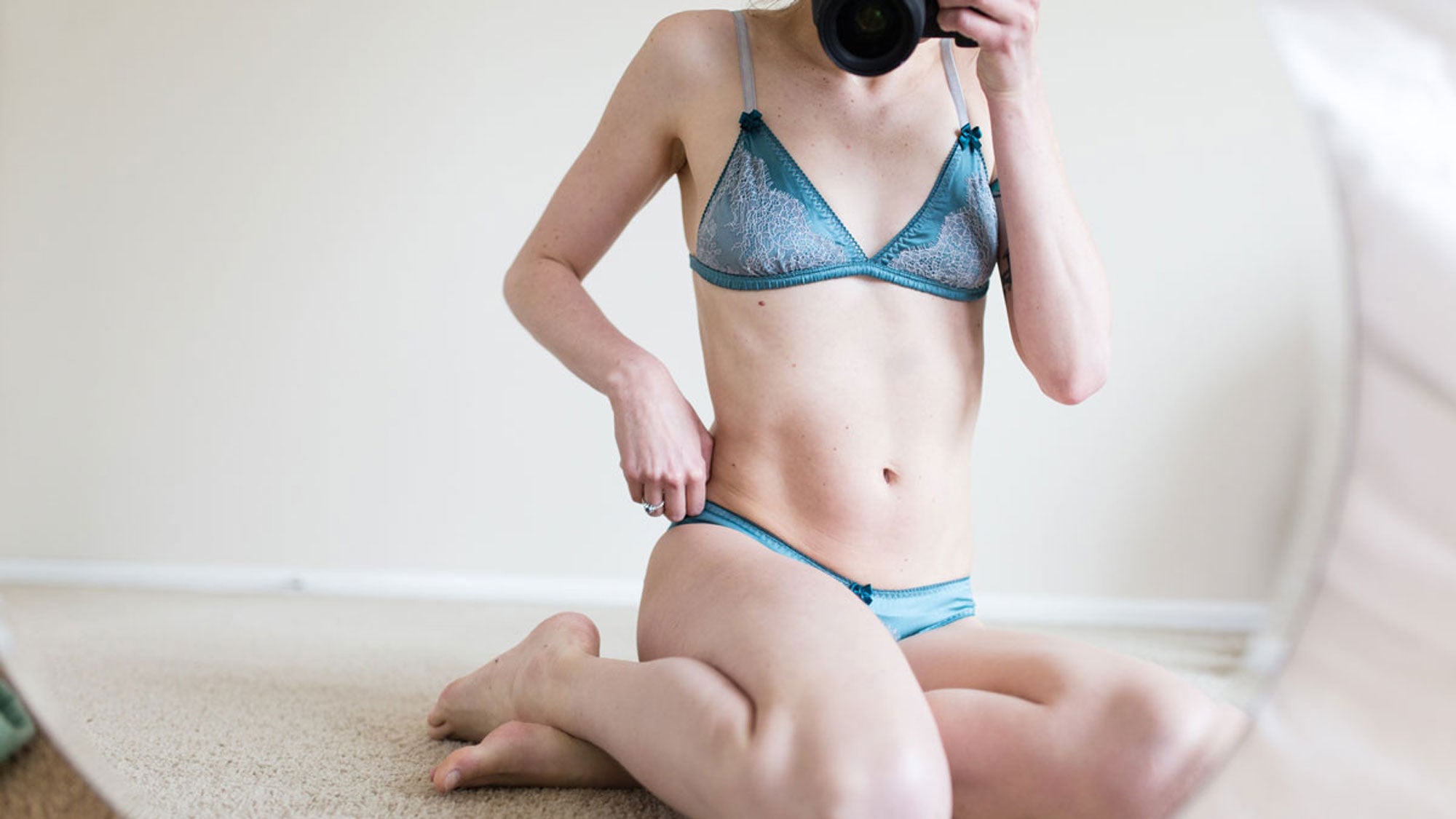 You can now visit these new wholesale stockists to shop luxury lingerie and lounge wear designs in person.