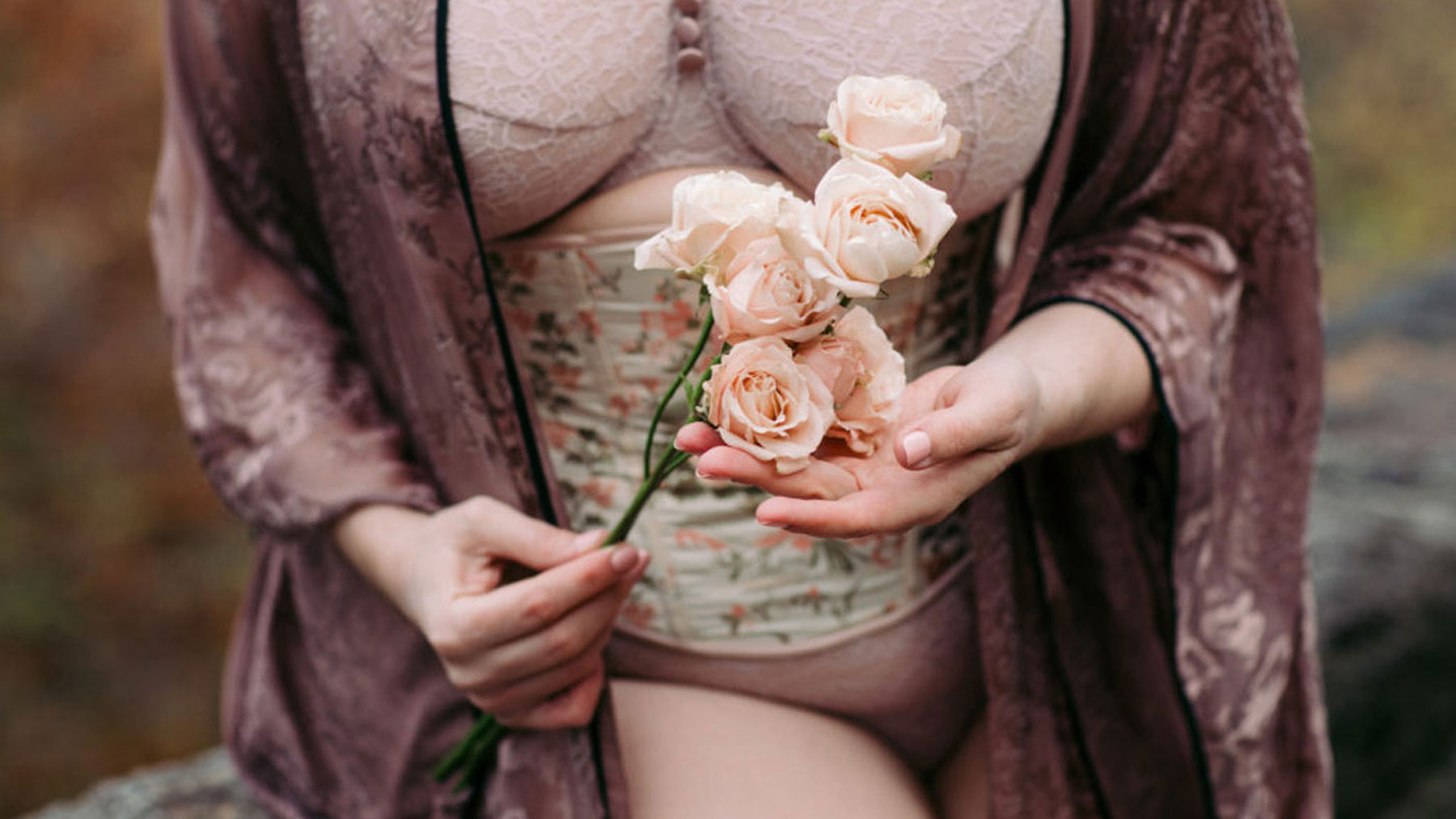 Women of prophecy: Cassandra
We're so delighted to have been featured again by one of our favourite style bloggers, Sweet Nothings NYC, in this year's holiday editorial. Sweets is a leading figure in the online lingerie community, primarily focusing on full bust garments, but that hasn't stopped her from enjoying Angela Friedman lingerie: Although we don't specialize in larger cup sizes, she's found many creative ways to incorporate our designs into her extensive, exquisite lingerie wardrobe.
We've made bespoke pieces for her, but this particular article is all about one of our waspie corsets! (Update: now discontinued.) Our underbust corsets and waist cinchers are the perfect idea for customers who have larger bustlines and perhaps wouldn't fit into our overbust corsets. Since they only cover the midsection, you can pair them with any of your well-fitting bras, and you won't have to worry about spillover. (Sweets is an expert at styling intimates with an elegant, vintage twist, so you'll definitely want to read more of the Sweet Nothings Blog if that's your personal aesthetic, too!)
Onto the blog post: For this year's lingerie holiday editorials, Sweets has featured Women of Prophecy including the prophetess Cassandra (which is quite timely, we think.) We're so flattered that she chose to include our Antoinette corset from the At First Blush collection in her beautifully styled outfit for this photoshoot. Many of you may know the haunting story of Cassandra, but you've never heard it like this. Sweets is an exquisite storyteller, and we think the full article on lingerie and prophecy is well worth a read. (Full credits below.)
We'll share an excerpt from the blog post here, but it's only just the start of a beautiful and tragic story. You really should read the full piece, in all of its heart-achingly appropriate and feminist fury.
A Trojan priestess lies sleeping in a temple dedicated to Apollo. Apollo sees her lying there, desires her, and assaults her. She awakens and cries out, pushing him off of her. He grants her the gift of prophecy, hoping she'll accept his advances in return. She resists him still, and he rapes her. Afterwards he curses her: she will keep her gift, and she will prophesy only the truth, but no one will believe her. She will be dismissed as crazy and a liar, even as she's trying to save her family and her country. 

Her prophecies are indeed all true. She foretells the abduction of Helen. The Trojan War. The threat of the Trojan Horse. The fall of Troy. The deaths of her father and brothers. No one believes her. After the fall of Troy, the Greek soldiers rape her and enslave her. She's sent to Greece as a concubine, and eventually Queen Clytemnestra murders her.
Photo and garment credits:
Blog post feature and photos copyright Sweet Nothings NYC, 2018.
Bra and brief: Abbie by Katherine Hamilton Intimates
Waspie corset: Antoinette by Angela Friedman
Robe: Andromeda by Harlow & Fox
Photography: Sylvie Rosokoff
Special thanks to Mary Davenport Davis, Anna Sampson, Quinne Myers, and Mimosa Floral Design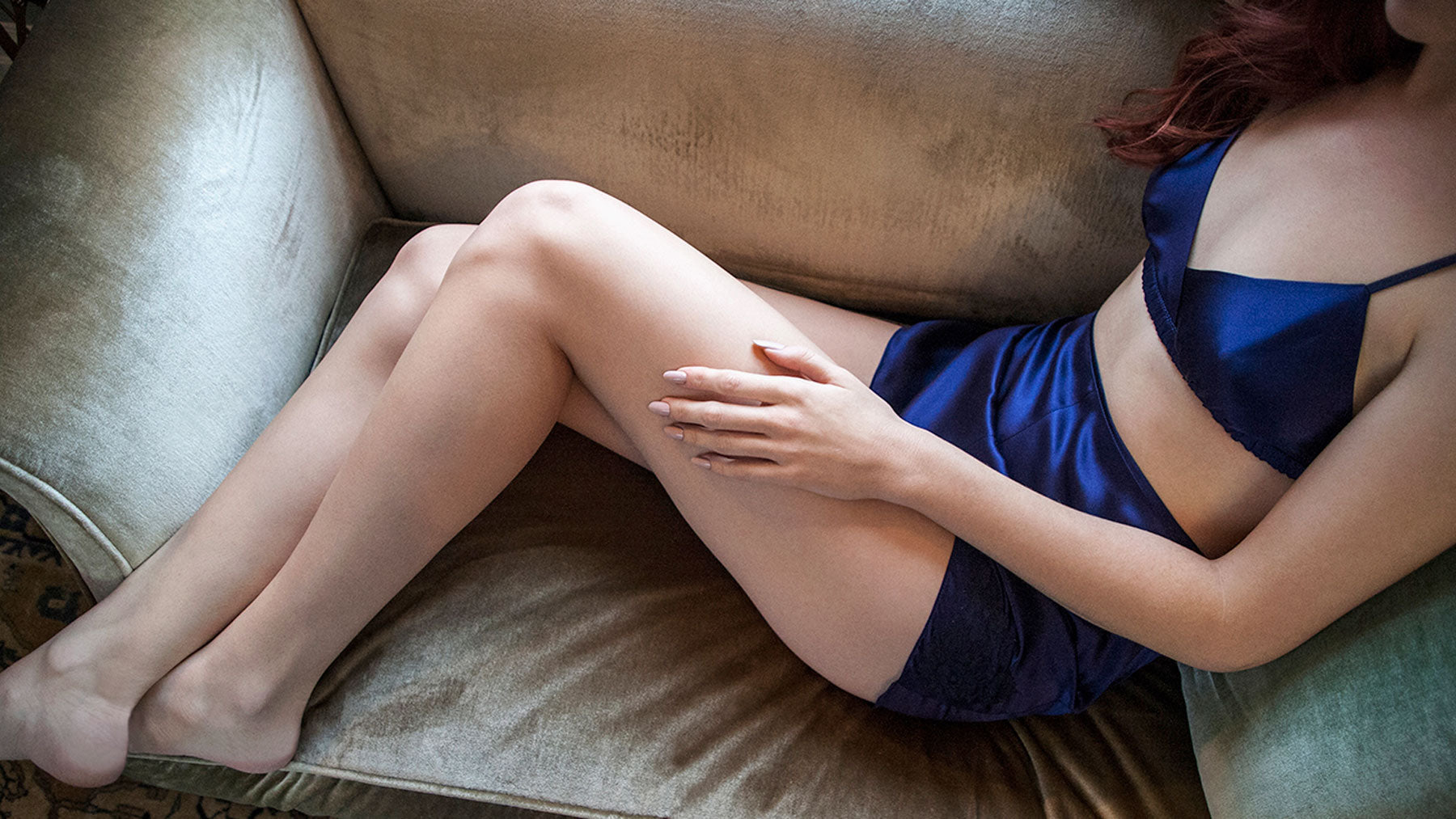 Forbes just released their Valentine's Day shopping guide for the best lingerie designs, including one of our French lace slips.