Make a small gift have a big impact
Hey there, lingerie enthusiasts! Today, we're diving into the art of giving and receiving intimate gifts that will thrill and indulge - even if you're on a tight budget. Lingerie really has the power to transform special occasions into unforgettable moments, so why not try some of our tips and give your sweetheart a lingerie themed gift this holiday season? We'll teach you how to shop for lingerie gifts, choose the best options, and make them feel extra special. If you're on the hunt for that perfect, petite present, we have some extra advice on how to make a small gift have a big impact.
1. The power of luxury and quality
When it comes to giving lingerie gifts, the first priority should always be high quality. There's something undeniably enchanting about luxury lingerie, with fine materials like real silk and imported French lace, even down to the small details like plush elastics that don't dig in and soft tags and labels. Even if it means choosing a smaller gift, like just a pair of panties instead of a full set, we highly recommend choosing a fine designer brand rather than something of lesser quality. After all, you definitely don't want to give a gift that won't last past the first washing!
Our beloved brand Angela Friedman is your go-to destination for silk lingerie and loungewear, with exquisite handcrafted construction and attention to detail. If your gift recipient doesn't usually splurge on themselves, a luxury underwear gift will feel like an even bigger treat!
2. How to shop for lingerie gifts
Choosing the perfect lingerie gift is not a one-size-fits-all affair. You want your gift to be a thoughtful and personalized token of affection, and you definitely don't want it to be returned! Here are some quick tips on how to do it right - or for a more in-depth explanation, read our guide on lingerie gift giving.
Size: Start by discreetly checking the recipient's size by sneaking a peek in their lingerie drawer (if you know them well enough!) or casually asking them or their friends to ensure a perfect fit. If you aren't 100% sure, a size-flexible gift like adjustable strappy knickers or a wrapped silk robe would be a safer bet.
Consider their personal style: Pay attention to their style preferences. Do they prefer classic elegance and more skin covered, or something sexier and more adventurous? What colors do they wear a lot of, or which do they shy away from? Angela Friedman offers a wide range of styles to cater to every taste, so we've got you covered either way!
Select versatile pieces: Opt for lingerie pieces that can be incorporated into their existing wardrobe, like black lace which easily can be mixed and matched with other black lace items. Versatility is key if you want your gift to be worn frequently!
3. How to dress up a small gift
Small gestures can turn a lingerie gift into a truly memorable experience. Even if the physical item you're giving is small, you can still have an outsized impact by dressing it up in some different way! Here are some ideas to make your small gift feel much bigger.
Gift boxes: Presentation is everything! A beautiful, luxury gift box adds an element of anticipation and excitement to your gift. Angela Friedman offers exquisite, magnetic gift boxes that really enhance the unwrapping experience. Later, these boxes can be repurposed for storage of lingerie, jewelry, love letters, or cosmetics.
Include a card: Add a heartfelt message in a handwritten card or even a gift card so that your recipient can shop for some extra pieces on their own. This kind of double gift will continue to thrill long after they open the physical gift.
Give multiple, smaller gifts: If you don't have the budget for a large gift, consider a series of smaller ones, so your sweetheart will have the joy of opening multiple pieces. A boxed gift set of Angela Friedman knickers is a great way to present more for less!
Add a small extra piece: It doesn't cost much to add on something small to your gift. Maybe that's a bottle of fancy lingerie washing liquid for laundry day, a silk sleep mask for extra beauty sleep, a tester bottle of perfume, or a sachet of dried lavender to sweeten their underwear drawer. Remember, it's not the size that counts, but rather the intention and thoughtfulness behind the gift!
4. Where to buy luxury lingerie gifts
If you aren't used to buying lingerie for your partner, you may be wondering how on earth you're going to find the right thing! If you're able to sneak a peek into their lingerie drawers, you might be clued in to some of their favorite brands. You may also be able to visit a local department store that has a nice selection of lingerie on display and speak to the sales staff for recommendations.
Of course we may be just a tad biased, but we think that shopping for lingerie online is the easiest! It's nice to be able to browse on your own time and to not feel rushed to decide, especially under bright fluorescent lighting. Well, when it comes to luxury lingerie shopping online, Angela Friedman stands head and shoulders above the rest. Our commitment to using the finest materials, exquisite and ethical manufacturing, and a diverse range of styles all ensure that you'll find the perfect lingerie gift for your partner, spouse, or friend. So, whether you're considering a silk slip dress, a French lace bralette, or a pair of comfortable but oh-so-stylish knickers, you'll find the ideal option in our many collections.
5. Gift giving etiquette for lingerie
We've gone through all of our tips for how to choose a gift, where to buy the gift, and even how to dress it up into something extra special. But at the end of it all, you still need to do the gifting! There's more to presents than just handing over a box, and we have some great last tips for you. Here's how to make the gift giving experience as lovely as possible:
Choose the right occasion: Many people like to mark a special occasion, like an anniversary or a romantic weekend getaway, to present a lingerie gift. But you can really think outside the box when it comes to timing! It doesn't have to be Christmas or someone's birthday to warrant a special gift. Maybe the perfect time is a regular Tuesday or right after an especially long, hard week. Sometimes we all need a surprise pick-me-up, and your lingerie gift could be just that.
Create a lovely atmosphere: Set the mood with soft lighting, music, and a beautifully laid out room to make the gift-giving experience unforgettable. Remember, with a more intimate gift, your recipient might not feel comfortable opening it up in a public space like a restaurant, so keeping it at home will be a more discreet choice. Make sure you've tidied your space and hidden away any reminders of the mundane (like overflowing laundry baskets or piles of dishes) to help keep focus on what really matters!
Communication is key: If you're embarking on lingerie gift giving for the first time with your partner, encourage an open and honest discussion about their likes and dislikes! You can't always get it exactly right, so be openminded if they suggest that something different would suit them better - you can even offer to return and exchange it for something they really truly love if you haven't quite hit the mark. Or you can offer a gift card to choose what they really want!
Similarly, if they're really excited about this new world you've opened up, maybe you can offer to shop together the next time for even more special lingerie pieces! This kind of honesty and communication will ensure that your gift will be appreciated and well-received, and that they feel like it's truly a gift for them and not just for you to enjoy them wearing.
6. Final thoughts
In the realm of intimate gifting, it's not the size of the package that matters but the thought, care, and attention to detail you put into it. Remember, it's often the little finishing touches, like a beautifully wrapped package or a heartfelt message, that can turn a small gift into a big moment.
So the next time you want to make a big impression and leave a lasting memory, Angela Friedman is your trusted partner in giving the gift of luxury lingerie. Shop now and experience the joy of making a small gift have a big impact. Our luxury lingerie collections provide a wide array of options, making it easier than ever to choose the perfect lingerie gift. If you're still looking for the best place to begin, start with our lingerie bestsellers for luxury garments that other clients have bought over and over again.

Happy gifting!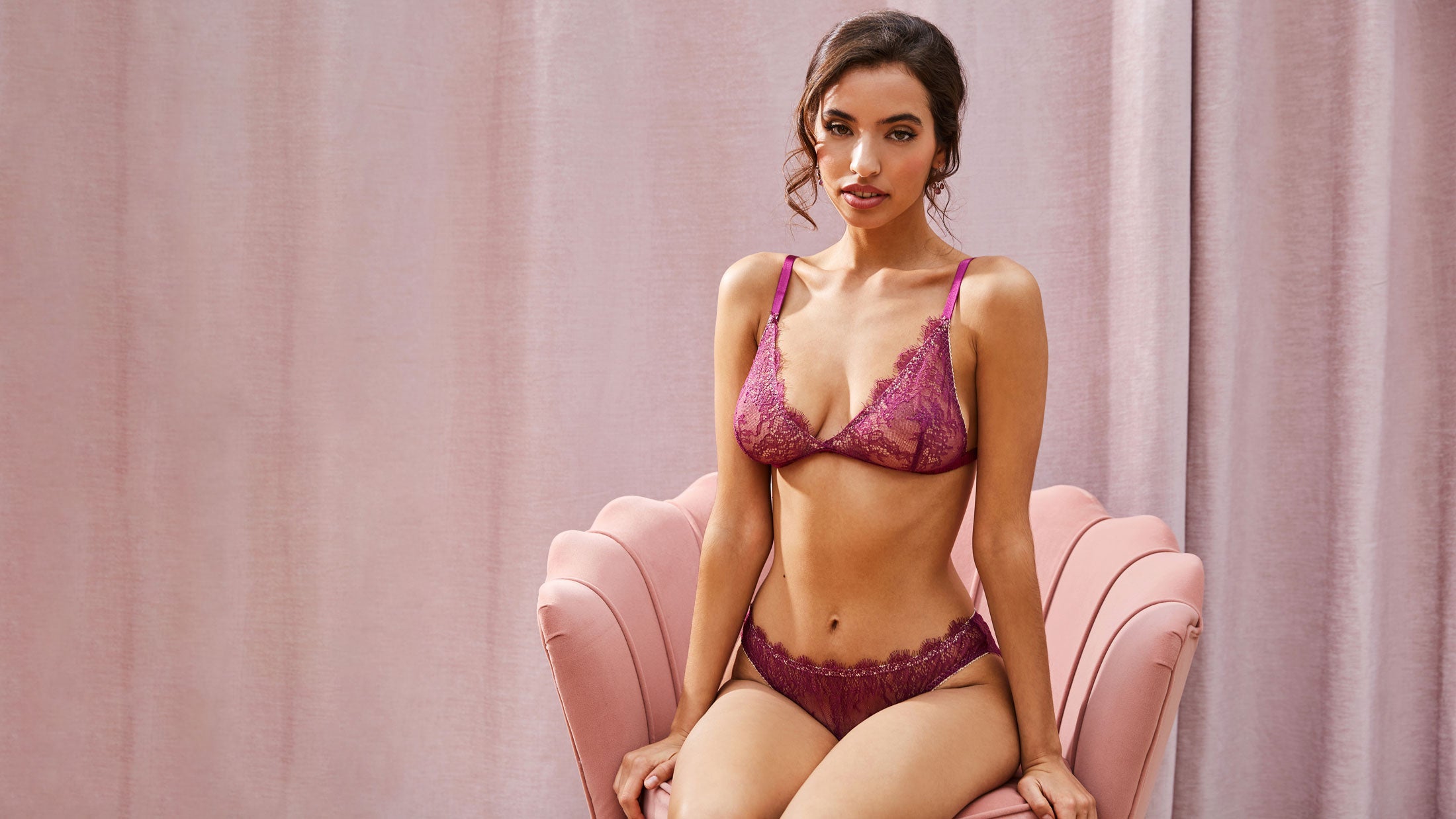 Browse our 2023 guide to lingerie gift recommendations, including expert ideas for everyone on your holiday shopping list.