Article: How to choose the right lingerie for every occasion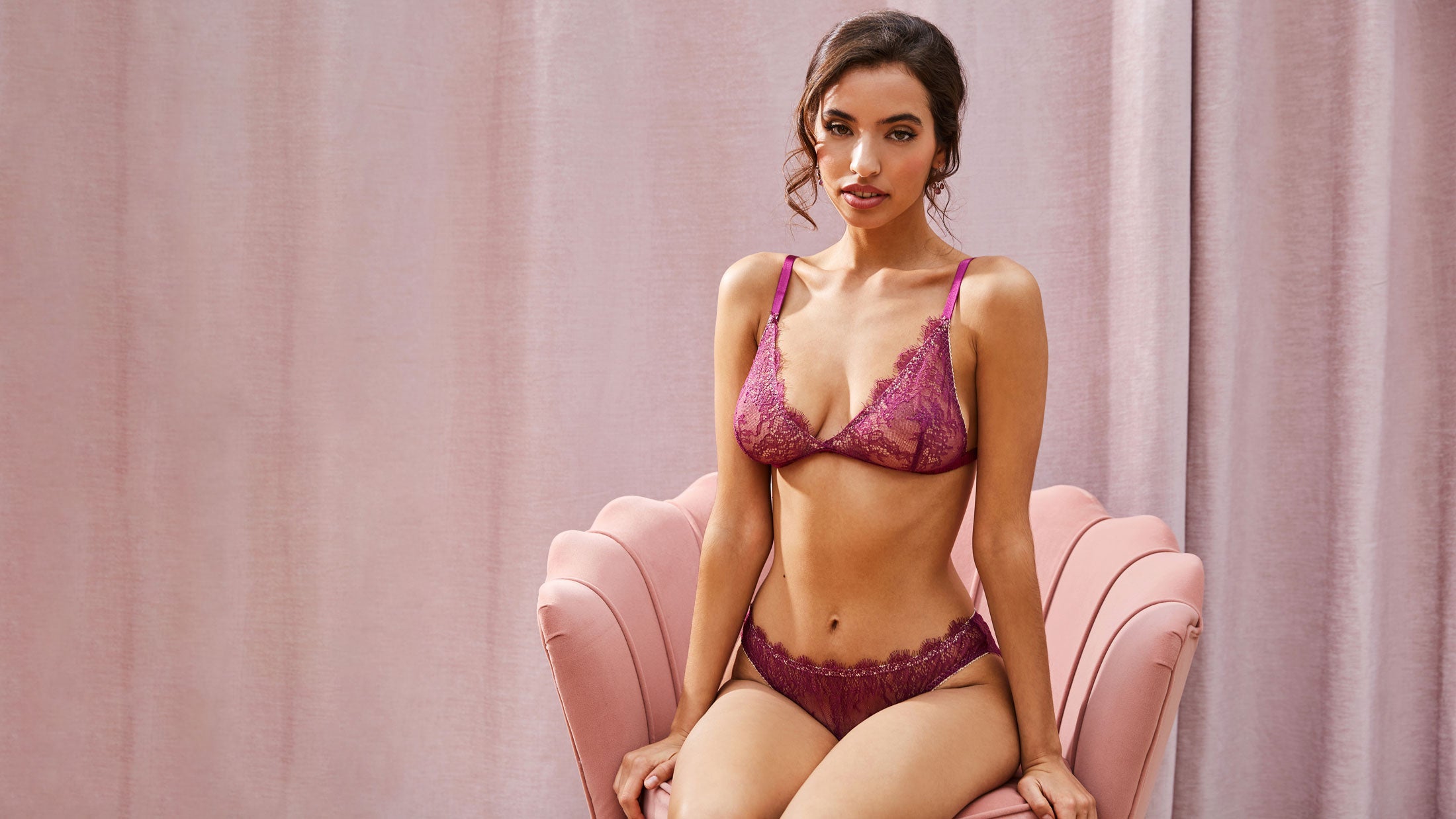 How to choose the right lingerie for every occasion
There are so many different styles of lingerie out there, from organic cotton basics to strappy, sexy glam wear… So how do you choose the right underwear for the right occasion? Today we're diving into the world of lingerie style and teaching you how to select the best pieces for every occasion. Whether you're looking for silk loungewear for the perfect cozy night in, extravagant wedding lingerie, or just everyday luxury to make you feel great, Angela Friedman has got you covered. (Or uncovered!) Let's explore how to shop for the right lingerie that suits your unique needs for every single occasion.

Vintage inspired lingerie sets from Angela Friedman's 10th anniversary collection
Everyday luxury lingerie
When it comes to everyday wear, comfort is key, so focus on long-wearing softness as the first priority. Opt for bras and panties made from breathable, high-quality materials like 100% silk or gentle bamboo jersey. Angela Friedman offers an exquisite range of silk lingerie that combines both comfort and luxury so that you don't have to sacrifice either. Our silk bras and panties are perfect for daily wear, providing you with the utmost softness, plus a touch of elegance.
When shopping for everyday lingerie sets, first prioritize a selection of neutral colors that won't show under your work clothes, like ivory, black, and complexion-matching hues in browns or beiges. Natural fibers like silk, cotton, bamboo, and rayon will help keep you cool and wick moisture away from your body - even through a stressful meeting!
And lastly, remember to consider the practicality of your undies in combination with clothes you're wearing on top of them. Do you need VPL-free, seamless thongs to wear under snug clothing? Or are you craving underwire-free bras that offer support but without the pinching of metal edges for long days? Or extra layers like camisoles and slips to hide any show-through from your bra? Remember, the more comfortable your everyday lingerie is, the more likely you are to choose it again and again - so it's worth investing in the best quality you can afford, and the cost per wear will still be lower than cheap, scratchy things that you dread wearing.

Adding a suspender belt can elevate your everyday lingerie into date night chic
Special occasion lingerie
For those unforgettable moments, special occasion lingerie is a must. Whether it's a birthday, anniversary, date night, or holiday, the right lingerie can really help set the mood! We don't just mean that for the times when your lingerie is on display to others, either. Even when no one else sees what you have on underneath, your lingerie can give you an extra boost of confidence when you need to feel your best.
When it comes to fancy things, Angela Friedman has an array of exquisite options, like French lace and silk underwear for a romantic and luxurious feeling. Our luxury lingerie collections are designed to make you feel fabulous in your own skin, ensuring that your special occasion becomes even more memorable. Here are some classic styles that work exceptionally well for romance and other special occasions:
Black lace lingerie: It's a classic for a reason! Anything with black lace will make you look and feel special, and it's universally flattering. A peek of lace below a low-cut blouse is a great signal of more excitement to come, and shopping for black lingerie makes it even easier to mix and match with other sets in your wardrobe.
Corsets and bustiers: For the ultimate glamorous aesthetic, corsets and bustiers are ideal. They both cinch your waist for a beautiful hourglass shape and offer a firm, hugging feeling for a tantalizing sensory experience. Look for high-quality designs with real steel boning for structure that will last for years, and closures at both the front and back for easy dressing and undressing. Pair them with matching panties or a garter belt for an irresistibly sexy look.
Slips and babydolls: These classic loungewear pieces are perfect to wear for an extra layer over your bra and underwear (striptease, anyone?) or for anyone who wants to cover a bit more skin. Opt for a nightgown in pure silk fabric or a slip with sheer lace details to feel even more glamorous.
Bodysuits: Bodysuits are a versatile date-night choice that hug your curves in all the right places, emphasizing your silhouette and covering just enough skin to leave them wanting more. Choose one with intricate lace details or high-cut leg lines for an added bit of intrigue.

The Evelyn bodysuit features a French lace back for added charm
Lounging at home
Loungewear isn't just for bedtime anymore; it's a lifestyle! Cozy lounging at home is one of our favorite occasions to indulge in really special clothing. Whether you're unwinding after a long workday or enjoying a lazy weekend at home with your feline best friend, silk loungewear from Angela Friedman is the perfect way to treat yourself to the luxury you deserve.
Real silk loungewear not only feels amazing against your skin, but it also elevates your relaxation game. When you don a flowing silk robe or a cozy pajama set, you can't help but feel more calm and indulgent! Pour a cup of tea, cozy up with a good book, and shop for some fabulous and beautifully-crafted lingerie and loungewear.

A pink silk nightgown like the Nicole slip is ideal for comfy lounging at home
Wedding lingerie
Your wedding day is one of the most significant events of your life, so choosing the right lingerie is essential. Angela Friedman's wedding lingerie collection is beautifully curated for brides who want to feel 100% luxurious on their big day. When shopping for your wedding trousseau, remember to look for multiple looks that you can wear both under your wedding dress and for your wedding night and honeymoon.
We have a fantastic Bridal lingerie Q&A with even more suggestions on what to look for in wedding underwear shopping. But here are some quick options to consider:
1. Getting ready looks: A special look for getting your hair and makeup done is a must-have for the modern bride. Try layering a pure silk robe on top of your lingerie to be photo-ready (and family friendly!) while you're getting ready. Make sure you wear something that can easily open in the front, as opposed to going over the head, so that you don't risk messing up that beautiful hairdo. Our floor-length Simone silk robe is an especially glamorous option for a vintage aesthetic.
2. Under the dress: Strapless bras or bustiers can often be built into your wedding dress for cohesive support that won't slip around during the excitement of the day. Make sure your undies are comfortable as well as pretty, and you may want to consider a simple seamless thong or brief if you have a very snug dress. As boring as it may sound, complexion-matching nudes are the best colors to wear under your wedding gown to avoid show-through!
3. Wedding night: Here's where you'll really get to express yourself! Treat yourself to a 3 piece bridal lingerie set, including a matching bra, panty, and a garter belt with stockings. (See our guide to garter belts for more information on how to wear them.) Look for sets adorned with delicate lace, embroidery, and pearl details. Of course, white lace is the traditional choice, but you can also explore pastels or even bold colors that resonate with your personality.
4. Honeymoon trousseau: When packing for your honeymoon, consider a mix of sexy and comfortable lingerie. Include a variety of styles catering to different moods, from sultry nights (strappy, minimal, sheer lace, tulle) to relaxing mornings (soft fabrics like silk or bamboo, wrap robes, silk knickers). Chemises, luxurious silk pajama sets, and even a new bikini for sunny beach days should all be part of your trousseau.

White lace lingerie is a bridal classic and looks gorgeous on everyone
Tips on how to shop for luxury lingerie
Underwear shopping can be a delightful experience, but it requires some know-how to do it well and to ensure that you have the right looks for each occasion. Here are some of our top tips to make your lingerie shopping journey a breeze:
Know your size: Invest in a proper fitting or measure yourself at home with our expert guide. Our bodies change, so it's essential to know your current measurements, especially considering how much sizing from different brands can vary. Plus, our measuring guide will work when shopping for any type of clothing, not just lingerie!
Quality matters: Luxury lingerie is an investment, so prioritize quality materials like silk, French lace, and fine embroidery. These materials not only feel heavenly, but they also stand the test of time. Remember that when you break it down to cost-per-wear, luxury brands offer better value because their garments will last so much longer and continue to be your first choice when getting dressed.
Versatile colors: First choose a selection of neutral colors like white, black, brown, and pink for everyday wear and practicality. Once you have the basics sorted out, splash out for some more fun colors and styles that make you feel fabulous!
Explore styles: Try different styles and cuts to find what suits your body shape and personal style best. There is no one-style-fits-all when it comes to underwear, so find brands and sizing that works on you. No one else gets to dictate what you should be wearing, so trust your instincts and wear what makes you feel both comfortable and happy.

How to measure yourself at home using our handy guide
Where to buy luxury lingerie
Now that you know how to choose the best lingerie, the next last question is where to find it. We might be a little biased, but Angela Friedman truly is the ultimate destination for luxury lingerie and silk loungewear. Our brand is synonymous with quality, craftsmanship, and timeless elegance. Explore our extensive collections online, and when it comes to the next special occasion, drop a hint to that someone special that you would love an Angela Friedman gift or gift card!
Remember, confidence is the key to feeling fabulous in your lingerie, so choose pieces that make you feel your best. Whether it's a date night, wedding night, holiday getaway, or quiet evening on the sofa, embrace the world of exquisite lingerie and make every moment special. Happy shopping, and here's to embracing the everyday luxury you deserve!