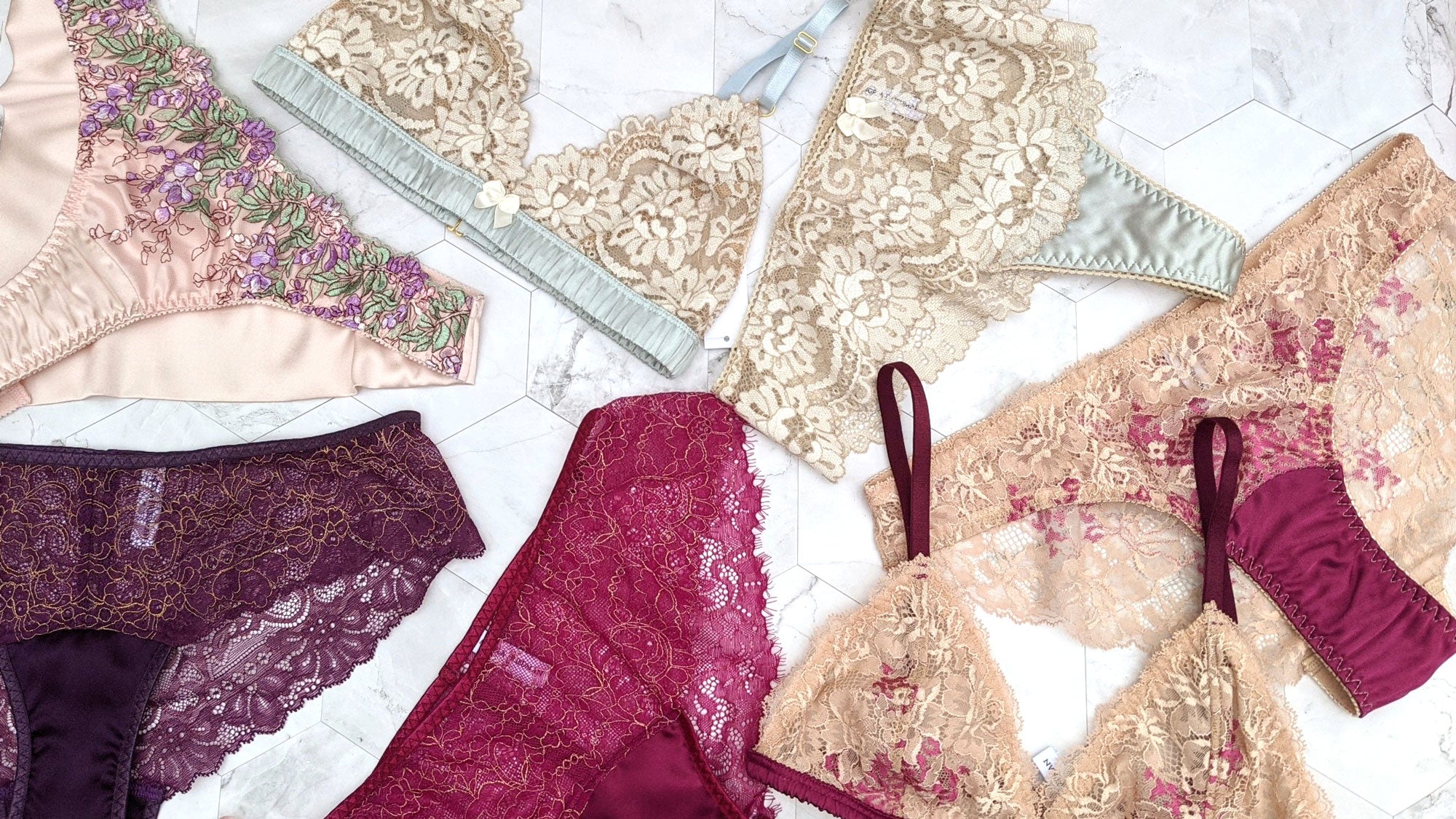 6 ways to mix and match your lingerie
How can you make your lingerie chest stretch further? By learning how to mix and match the pieces you already have. Once you learn how to do this, it'll double or even triple your wearing options!
This is especially useful if you're just beginning your luxury lingerie collection and have a limited budget for fancy new undies, or if you've just been putting off laundry day for a bit longer than usual... (Pro tip: We always recommend adding at least 2 pairs of underwear to every bra you buy, to help avoid the laundry day blues.)
We have 6 different ways to mix and match, along with expert tips on how to practically apply these design principles to the wardrobe you already have. We'll teach you how to effectively mix different elements, what to look for when adding new pieces to your existing collection, and how to have more fun with your lingerie in the process.
1. Color
Color is probably the most obvious way to mix and match bras and panties, like creating a new all-black look using underwear from different brands. This is one of the reasons why black always tops our list of bestselling lingerie sets! Choose just one color and stick with it, and you'll have an easy time creating new looks.
But don't stop at that simplistic level! Try matching more interesting colors rather than just black lace. Add a little subtlety in your choices: Pair 2 items that have the same color lace but different shades of trimmings. Or select a more varied monochrome look by using multiple shades of the same color family, like indigo blue and navy blue, or lilac and aubergine.

Mix and match 2 sets that contain the same light pink silk color, like our Flora and Faye ranges.
2. Textural elements
Upgrade your mixing and matching game by working with similar textures top and bottom. Think about the different sorts of textiles that would help tie together your look, like pairing a satin bralette in one color with satin knickers in another. The sheen of the satin fabric will be the glue that holds the look together! You can also try this with other textural elements like mixing sheer meshes, geometric laces, or floral embroideries.
The key to successful texture matching lies in the details: Are the fabrics shiny or matte? Sheer or opaque? Variegated or solid? Printed with fanciful patterns or very simple? Since you may not have the help of color here, consider also whether the garments share any other design qualities like a similar retro feel, or a skimpier strappy aesthetic, or a floaty and romantic vibe.

Although the colors of the Dahlia and Ruby sets differ, their corded lace textures bring them together.
3. Pattern matching
Prints, embroideries, laces, and other patterns offer unique (and wonderful!) mixing options. Start with a patterned item in your wardrobe, and decide which is its most prominent design feature. Maybe it's a bright neon trim that jumps out at you, or your favorite color flower in the printed fabric. That's your key to matching! Search your wardrobe for its other half by thinking about that particular feature: Do the flower patterns on a lace bra coordinate with the rosette on an otherwise plain pair of underwear? Can you search for some bright pink knickers that will bring out the elastic trims on that bra?
Prints and solids are especially easy to coordinate once you find that key feature they have in common. But you can find more advanced level pairings with multiple printed items if they share features as well, like with 2 different ditsy prints, or by focusing on only geometric laces, or matching a bold stripe with a bold floral.

The floral Camellia robe pairs with a green Shannon bra that highlights its embroidered leaves
4. Brand loyalty
Lingerie brands are known for leaning heavily into one particular style. Whether classic, vintage style pieces like Angela Friedman or strappy bondage-inspired Bordelle, each brand has a look! Even from one season to the next, or amongst different color palettes, you can often find similarities between multiple lingerie sets by the same brand.
To effectively mix and match, look for specific design similarities within different seasons of your favorite lingerie company. A good example is how at Angela Friedman, we often use the same solid silk colors through different collections. This makes it easy to pair your favorite Simone robe with any other designs from our 100% silk collections for a stunning effect! Another great idea would be to match any of our ruffled panties with a triangle bralette. Because our designs tend towards a frilly aesthetic, the laces, embroideries, and bows on our bras will only be enhanced by ruffled knickers.

These Angela Friedman bestsellers show how easily you can mix different pieces from the same brand
5. Custom options
Sometimes the perfect mix-and-match option doesn't exist... Yet! That's when it's time to seek out a custom option, working with a small business to create the bespoke lingerie of your dreams. Of course not every brand (especially the big ones) can offer custom options, but many of the smaller ones like Angela Friedman can.
Maybe you have a vintage nylon slip that you absolutely treasure, but no knickers that match the faded color perfectly. Or maybe you're looking for the perfect thong to coordinate with one of our lace bras, but we only have briefs on the website. Visit our Bespoke orders page to learn more about ordering something one-of-a-kind. Although there are some limitations to what we can accomplish, (we're not magicians!) we absolutely love helping you to solve your wardrobe problems. Just reach out via email, and we'll make it happen.

Bespoke colors, like this stunning dill green silk for robes, are our specialty!
6. Go bold!
If fortune favors the brave, then why not live a little and go rogue? Make big choices! Forget convention! Have a little fun! We hope you'll take all of our above recommendations with a grain of salt, because at the end of the day, your underwear doesn't need to match your bra. Of course it's lovely if they do, but it can also be wonderful if they don't.
Your opinion is the only one that matters here, so wear what you like and make the choices that bring you joy. If that means that you want to wear a zany, polka dotted sports bra with your favorite, fancy, floral lace knickers... Then go for it! Besides, sometimes you might even surprise yourself and find that haphazardly dressing in the dark yields a gorgeous result. You won't know until you give it a try!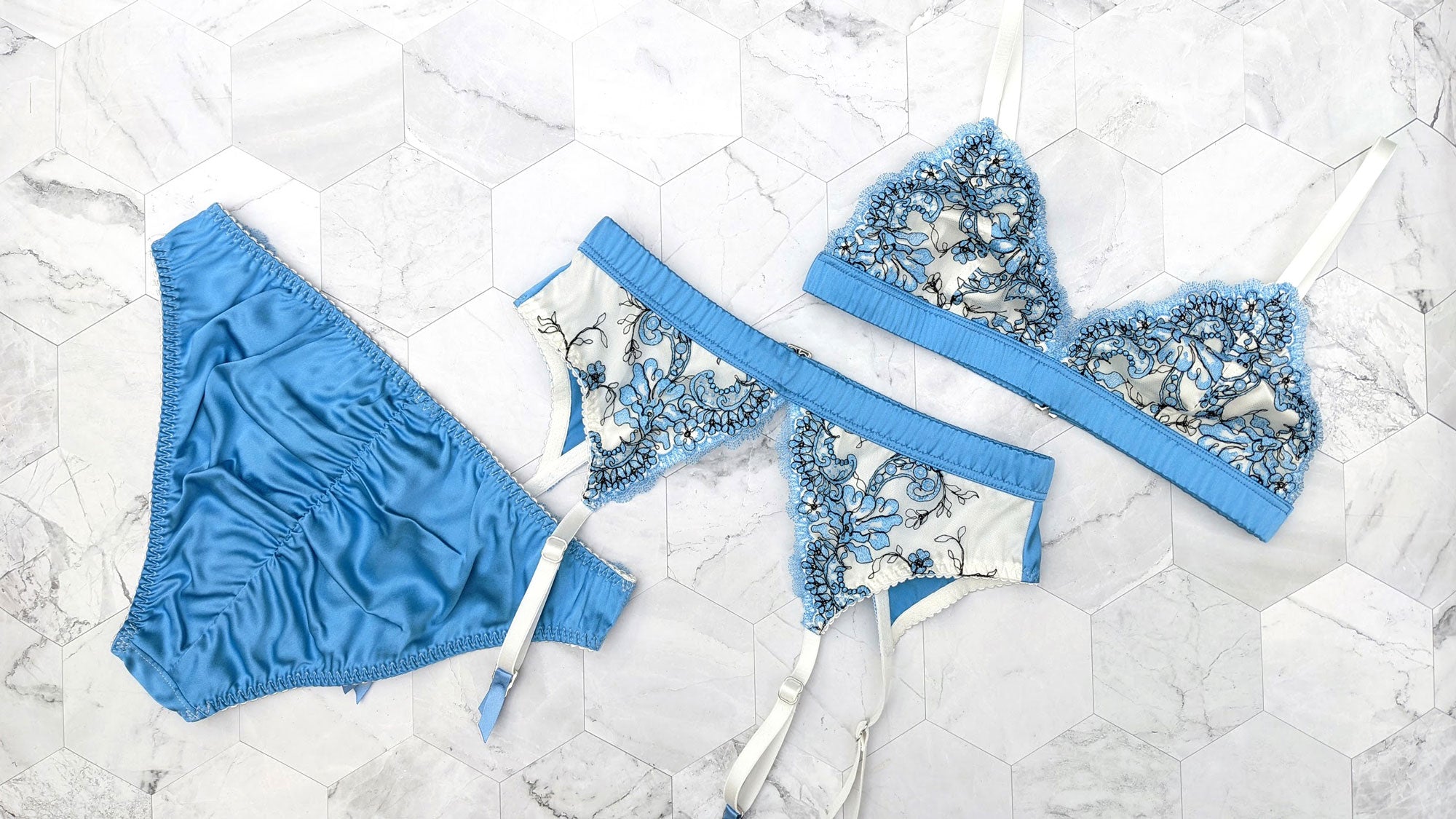 Lingerie terminology: A glossary
What's the difference between a bustier and corset, or a thong and g-string? How many types of underwear are there? Your answers here!