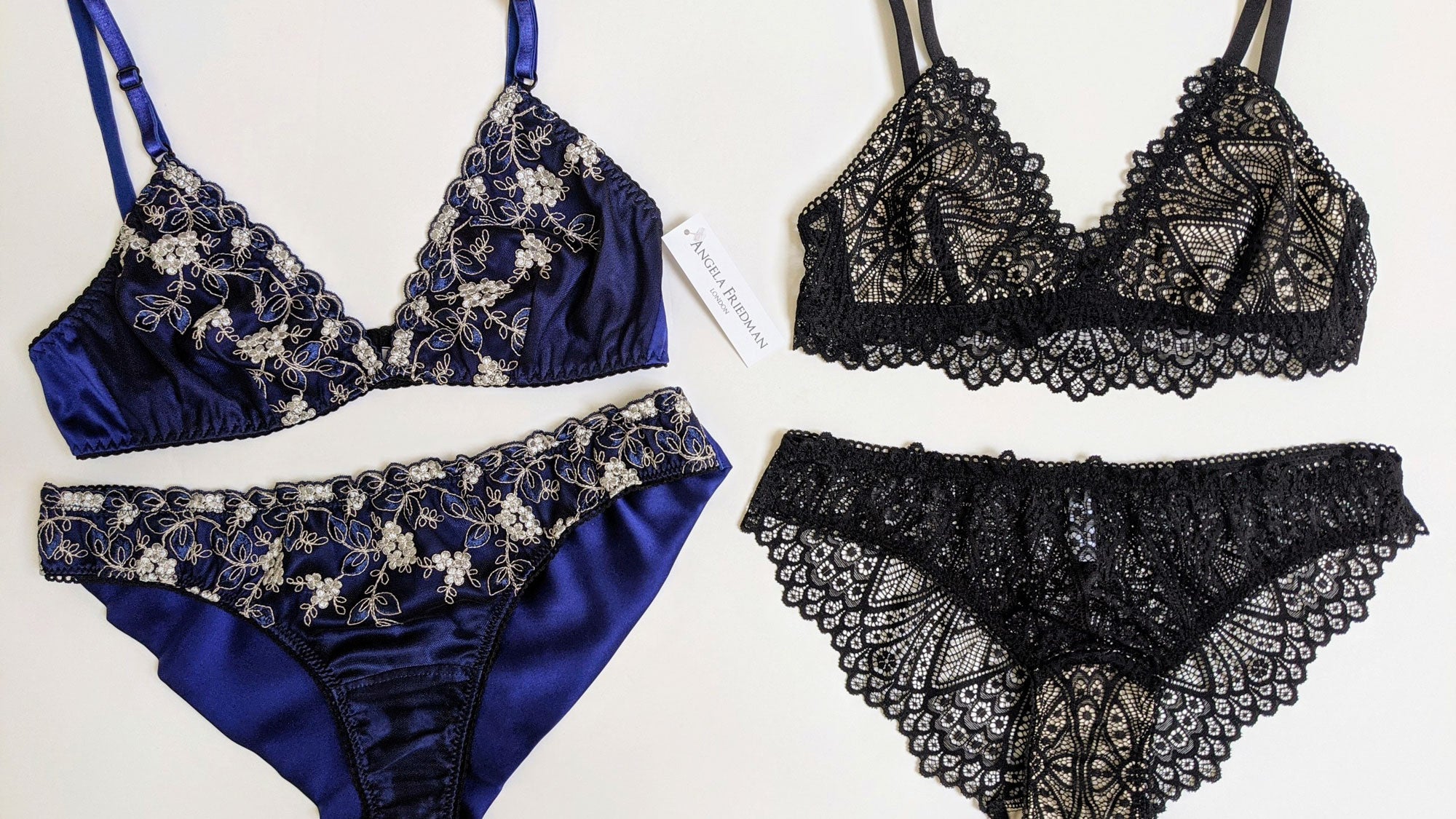 What's the difference between embroidered and lace lingerie?
Embroidered lingerie, lace lingerie... It's all the same right? Wrong! You might be surprised to learn that each of these descriptors refer to entirely different textiles, so learning the difference between them will help you to describe the design you're really looking for.
At Angela Friedman, we specialize in beautiful, handcrafted lingerie sets in a variety of materials like silk, French lace, and fine embroideries. From a distance, you might not be able to immediately tell the difference - but we're going to train your eye! If you have a tendency to love one or the other, we're going to help you learn to spot both embroidered lingerie and lace lingerie so that you can easily find more of what you love.

Can you tell which is embroidery and which is lace?
Lace and embroidery are unique textiles! The fabrics are created with different processes
The simplest explanation is that lace is made by intertwining threads to create an openwork pattern that has sheer and opaque parts to make up the design. By contrast, embroidery is a technique done onto finished fabric, by stitching designs onto a finished mesh, woven, or knitted fabric. In that sense, embroidery is applied to a textile, whereas lace is a textile.
For that reason, lace tends to have more of an allover feeling, whereas embroidery will be an applied technique on only a portion of the textile.

Here we are cutting lace for our Giselle range. The "eyelashes" on the scallops are hand cut to expose a pretty, frilly edge. You can see the lace is made from interwoven threads that create the textile itself.

The material used for our Wisteria range features purple floral and green leaf embroidery. The embroidered threads are applied along one edge of the pink tulle.
Examples of lace and embroidery
Think about this common type of embroidery: Monogramming. With a monogrammed handkerchief or towel, the initials are sewn onto the item as a separate process from the fabric itself. Embroidered lingerie features the same concept: the design is stitched onto (usually) a mesh fabric for a raised, opaque effect on some portions of the garment. In opposition, if you think of a lace tablecloth, you'll note that the lace is the intrinsic body of the entire textile.
So why does it even matter? After all, you can fall in love with either lace or embroidery or even both! But if you have a preference for one over the other, now you'll understand the language you're specifically looking for when you type in "lace lingerie" or "embroidered underwear sets" to a search box. Or better yet, you'll know which terms to suggest to others who may want to gift you with lingerie!
Can you spot the difference?
Pop quiz! Which of these textiles are embroidered and which are lace? Now you should have the clear understanding to be able to tell them apart:

Left to right: The Ruby knickers, Dahlia lingerie set, and Bougainvillea lingerie set all feature laces!

The Camellia robe and Camellia lingerie sets are all embroidered textiles.
Bonus round: Sometimes one technique can be made to mimic the other, such as embroideries that are created with a "lace look" like our Portia lingerie set that has an embroidered eyelash effect on the edges! This one may have tricked you at first glance. But if you look closer, you'll notice that the blue and black threads that create the floral design are applied separately onto the white mesh background, meaning that it's definitely an embroidery and not a lace.
Final recommendations
We hope this explanation of all things lace and embroidery has helped to answer your burning lingerie-related questions! With this newfound knowledge, you'll be ready to take your shopping to the next level with professional terminology and textile expertise. If you would like to learn more about lingerie-specific terminology, you can read up on our Lingerie Glossary to answer more questions.
Ready to upgrade your underwear drawer? Shop our curated selections of Lace Lingerie and Embroidered Lingerie for the finest in handmade luxury!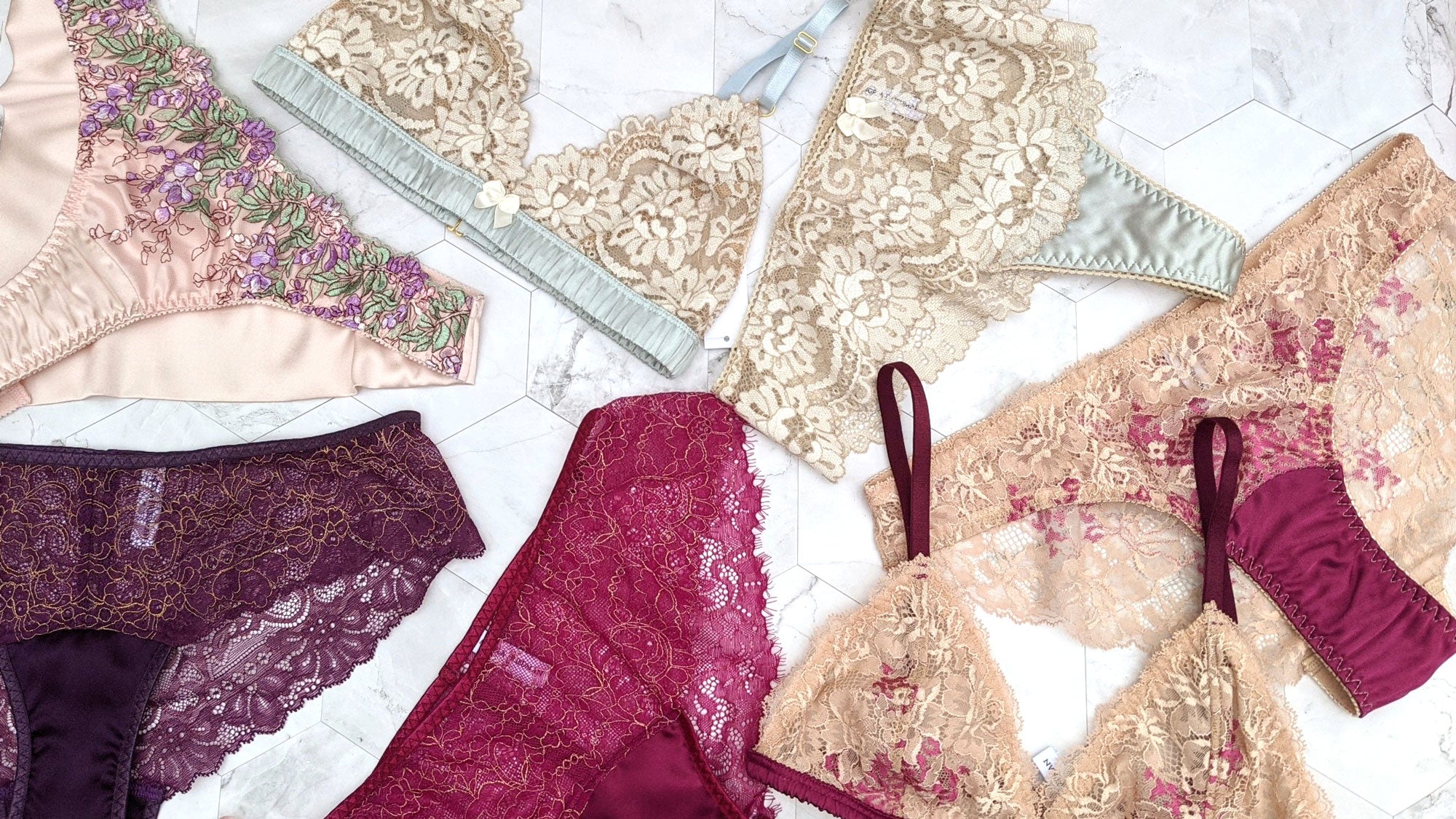 To celebrate 10 years of the brand, we're looking back at early inspiration, collections past, and some of our special achievements.