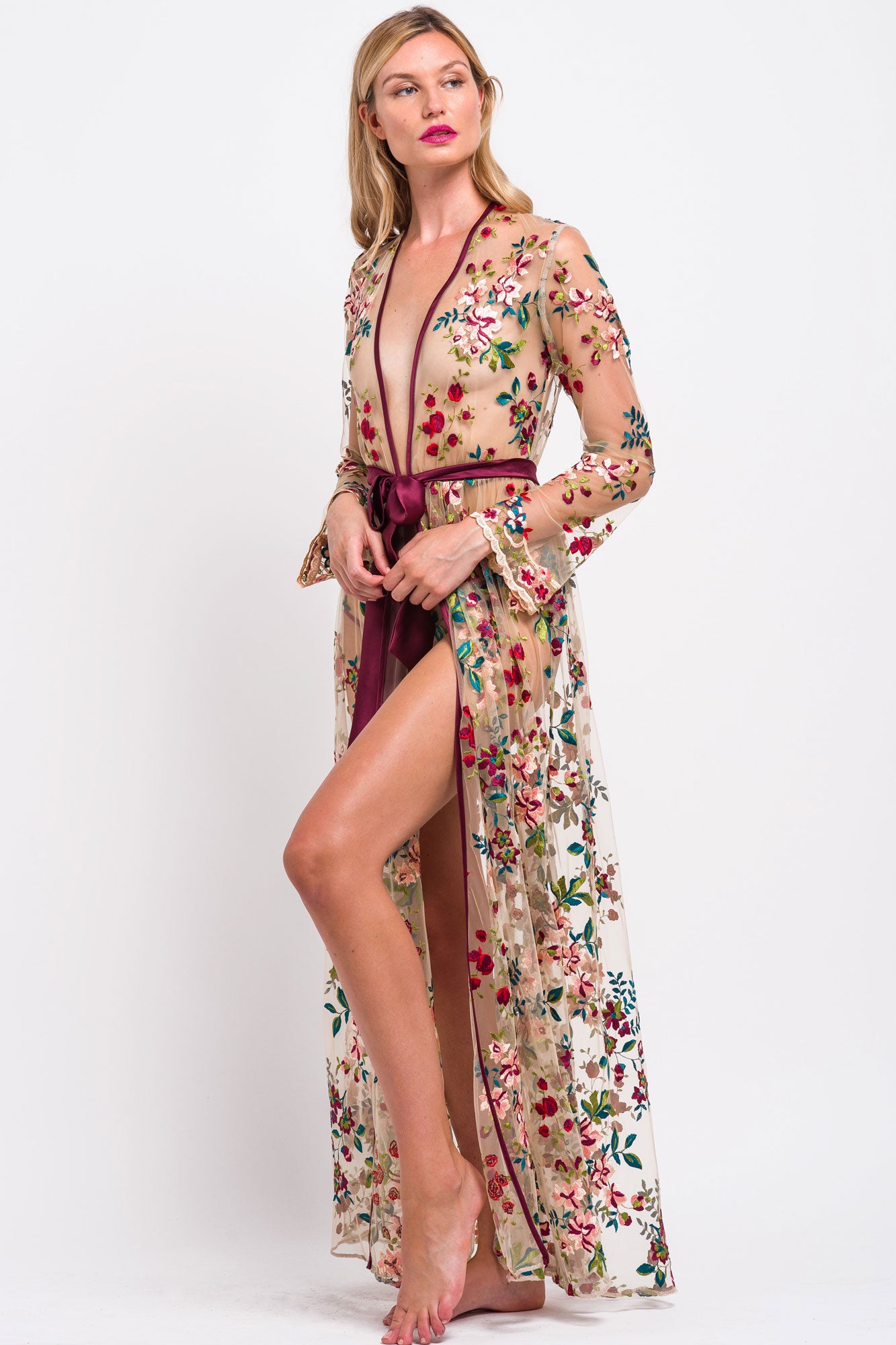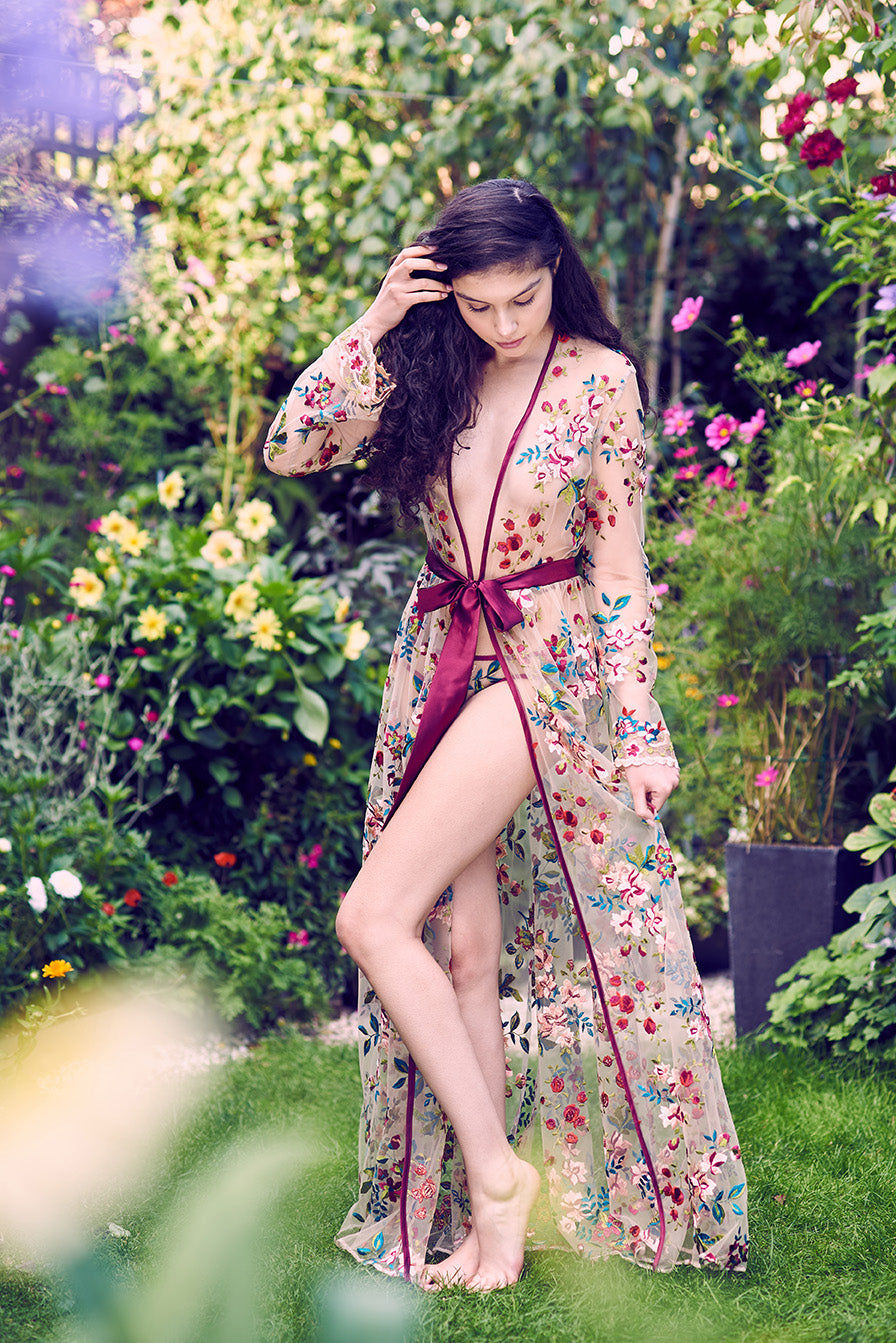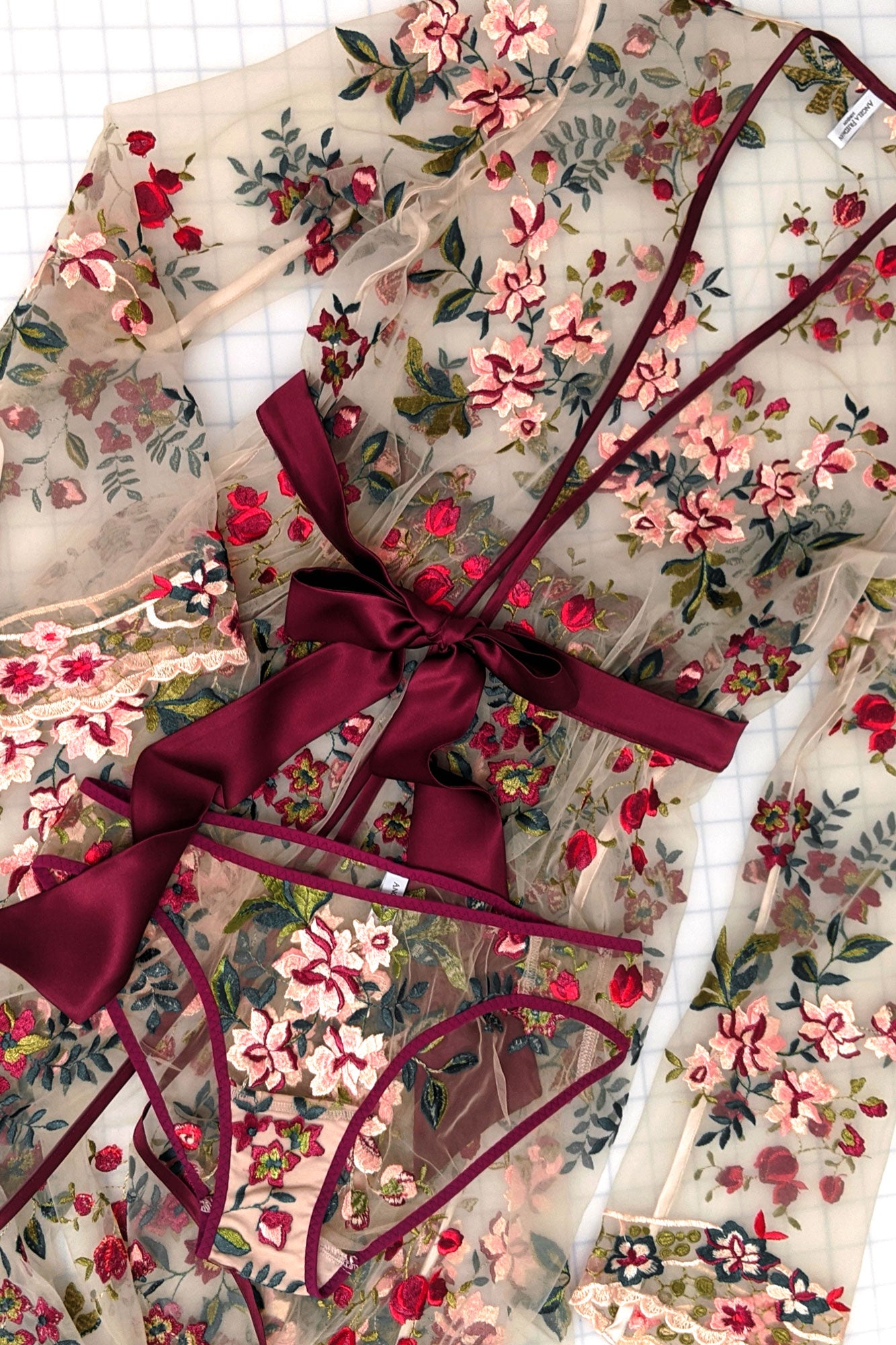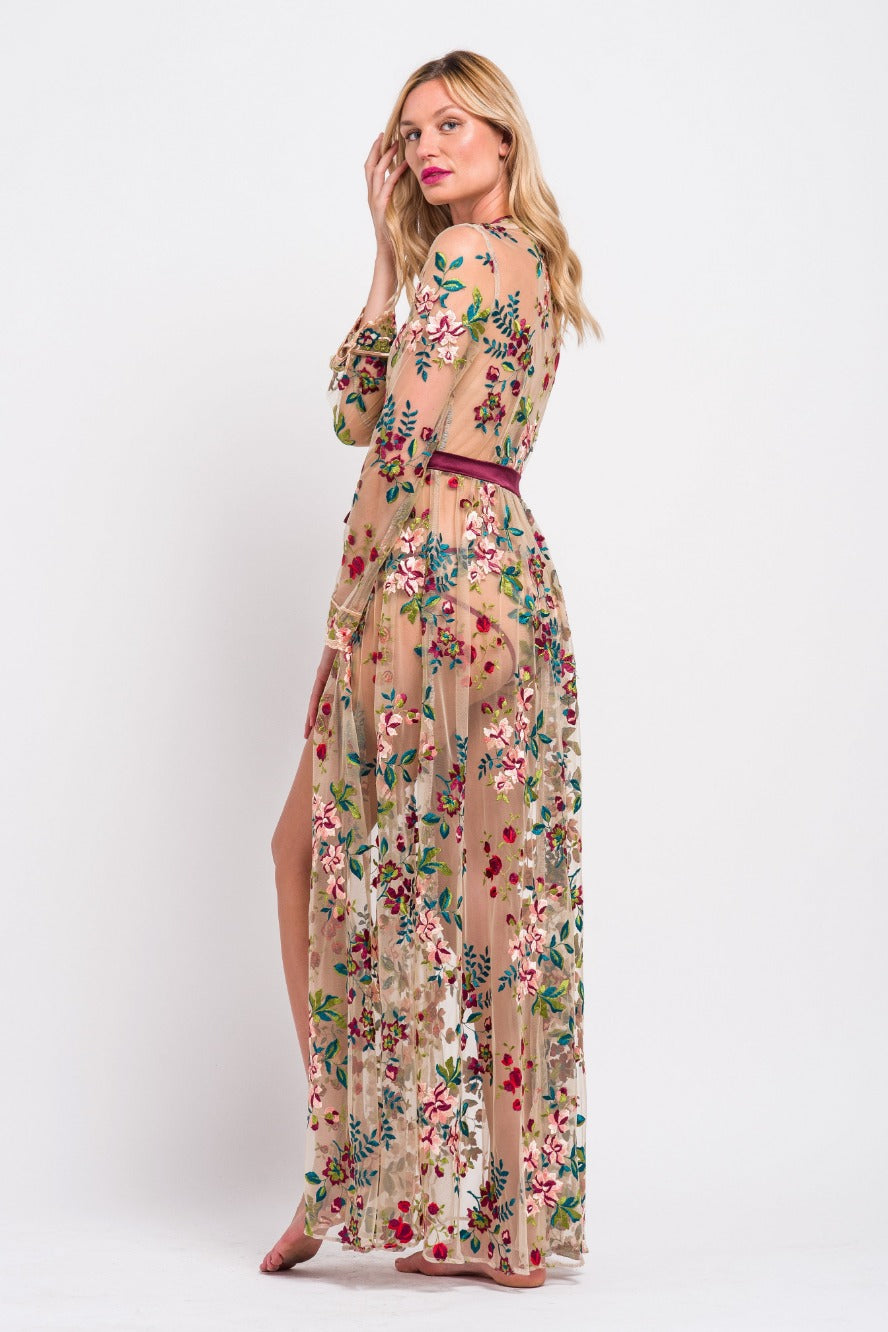 Camellia robe
Out of stock
Out of stock
Out of stock
Out of stock
Out of stock
Out of stock
Out of stock
Out of stock
Out of stock
Out of stock
Out of stock
Out of stock
Out of stock
Out of stock
Out of stock
Out of stock
Out of stock
Out of stock
Out of stock
Out of stock
Out of stock
Out of stock
Out of stock
Out of stock
Out of stock
Out of stock
Out of stock
Out of stock
Out of stock
Out of stock
Back by popular demand for a limited time only! If you previously missed out on this iconic dressing gown, now is your chance to indulge. Camellia is designed in a fanciful embroidered tulle that's delightfully sheer... It's the perfect pairing to a box of chocolates and a glass of champagne, for sweeping down an elegant marble staircase, or even for wearing on the red carpet.
This luxury dressing gown features multicolored flowers trailing down the body in hues of red, pink, turquoise, and green. To create it, we use couture sewing techniques: its mesh fabric is ultra soft to the touch, each piece is hand-cut for perfect pattern matching across the embroidery, and all of the seams are covered in 100% silk satin binding. You read that right: every seam is bound in silk for the gentlest feeling against your skin. It also features a sash waistband in red wine silk and a silk-bound hem.
Pair this luxe gown with the Camellia lingerie set for the perfect strip tease and grand reveal, or layer it over a silk slip for a bit more coverage. You're certain to be inspired by this piece, our most extravagant dressing gown to date!
Please note: Choose your size according to your natural waist measurement (the waistband does not stretch) and your length by height (the skirt will be floor length). The waistband sizes are: XS is 25.5", S is 27", M is 29", L is 31", XL is 33.5", and XXL is 36".
Due to its customization, this item may not be returned, exchanged, or cancelled, so contact us with any questions in advance. This style includes a luxury magnetic gift box for storage. Dry clean only, made in the UK. Models wear size S.
This design is in-stock and ready to ship.
Processing times:

In-stock: Lingerie items (bras and knickers) are in-stock and ready to ship. These items usually ship within 1 business day.

Sold out: Items that are sold out in your size will often be restocked in the future. For restock notifications, add your email address using the "notify me" button on these items. You can also request that any sold-out items be made for you by contacting us.

Made-to-order: Loungewear items (slips, robes, and some other specialty pieces) are made-to-order and require additional processing time, with a time estimate listed on the product page. These items are clearly noted by a "made-to-order" button instead of the usual "add to cart" button.

Shipping:

Standard transit time is 2-3 business days within the UK, 4-10 business days for Europe and the USA, and 2-4 weeks for the rest of the world, but these times may be longer due to customs or other shipping delays. If you're in a rush, we suggest contacting us for suggestions or buying a digital gift card.

We offer free tracked shipping for orders over £300 GBP / $370 USD / €350 EUR, applied automatically at checkout. For smaller orders, rates depend on the weight and shipping service. For full rates, visit our Shipping and Returns page.

Express orders:

Express shipping is via UPS for international orders and Royal Mail next day service for the UK. Express options generally take 1 day for the UK, 2-4 days for Europe, 3-6 days for the US and Canada, and 4-7 days for the rest of the world. Our rush shipping options do not include processing times. If you must have delivery by a specific date, please contact us prior to placing your order.

 

This is an abbreviated list of terms. For more information and to read the full terms and conditions, please visit our Shipping and Returns policies page.
Please scroll down to find multiple size charts for Angela Friedman lingerie, including our imperial size chart, our metric size chart, a guide on how to measure yourself, and a dress size chart:

Imperial measurements 

| | | | | | |
| --- | --- | --- | --- | --- | --- |
| Size | Bust | Underbust | Waist | High Hip | Low Hip |
| XS | 30-32" |  25-27" | 23-25" | 30-32" | 33-35" |
| S | 32-34" |  27-29" | 25-27" | 32-34" | 35-37" |
| M | 34-36" |  29-31" | 27-29" | 34-36" | 37-39" |
| L | 36-38" |  31-33" | 29-31" | 36-38" | 39-41" |
| XL | 38-40" |  33-35" | 31-33" | 38-40" | 41-43" |
| XXL* | 40-42" |  35-37" | 33-35" | 40-42" | 43-45" |

Metric measurements

| | | | | | |
| --- | --- | --- | --- | --- | --- |
| Size |  Bust | Underbust | Waist | High Hip | Low Hip |
| XS | 76-81cm | 63-69cm | 58-63cm | 76-81cm | 84-89cm |
| S | 81-86cm | 68-74cm | 63-69cm | 81-86cm | 89-94cm |
| M | 86-91cm | 74-79cm | 69-74cm | 86-91cm | 94-99cm |
| L | 91-96cm | 79-84cm | 74-79cm | 91-96cm | 99-104cm |
| XL | 96-101cm | 84-89cm | 79-84cm | 96-101cm | 104-109cm |
| XXL* | 101-106cm | 89-94cm | 84-89cm | 101-106cm | 109-115cm |

 

How to measure yourself:

Bust: Circumference around the fullest part of the chest - Not the same as bra size
Underbust: Circumference around the ribcage where the bra band sits
Waist: The smallest part of the natural waist, 1-2" above the navel
High hip: Circumference around the hip bones, where a low-rise waistband sits
Low hip: Circumference around the fullest part of the bottom, 7-9" below the waist

Dress size chart

| | | | |
| --- | --- | --- | --- |
| Size | US dress | UK dress | Bra size |
| XS | 0 | 6-8 | 30B / 30C |
| S | 2-4 | 10 | 32B / 32C |
| M | 6-8 | 12 | 34B / 34C |
| L | 10-12 | 14 | 36B / 36C |
| XL | 14 | 16 | 38B / 38C |
| XXL* | 16 | 18 | 40C / 40D |

 

Additional notes:

Bra size: Our bralettes are best suited to a B or C cup size, although many customers who wear A or D cups are also happy with the fit. If you wear a larger cup size, you may be prefer our custom size options or our bespoke DD+ bras.
*Sizes XL and XXL are currently available in limited styles whilst we work on a size expansion. View our current selections here: XL and XXL
If you fall in between sizes, we recommend selecting the larger size (except for silk ruffle panties, which have adjustable ties), especially for lounge wear. You'll want a bit of wearing ease for movement.
Looking for a gift, custom options, or need help choosing the right size? View our blog posts on gift advice or bespoke sizing, or contact us directly, and we'll assist you within 24 hours.
All Angela Friedman garments are ethically manufactured in England. This is our guarantee: No outsourcing to overseas factories, no sweatshop conditions, no cutting corners, and no unliveable wages - Ever. When you shop with us, you're not only indulging in beautiful lingerie, but you're supporting a small business and artisanal, handcrafted fashion.

Whether it's our lace underwear sets, pure silk lounge wear, or boudoir gifts and accessories, we believe in doing things right for our customers, staff, and the community. We pay living wages, support the local economy, and create sustainable and high-quality garments that will last for years, not just for seasons. We also use 100% renewable energy to manufacture our products, recycle all textile off-cuts, and provide off-sets for carbon-neutral delivery of every single order. To learn more, read our ethical manufacturing guarantee and learn about our eco-friendly business practices.
Choose options