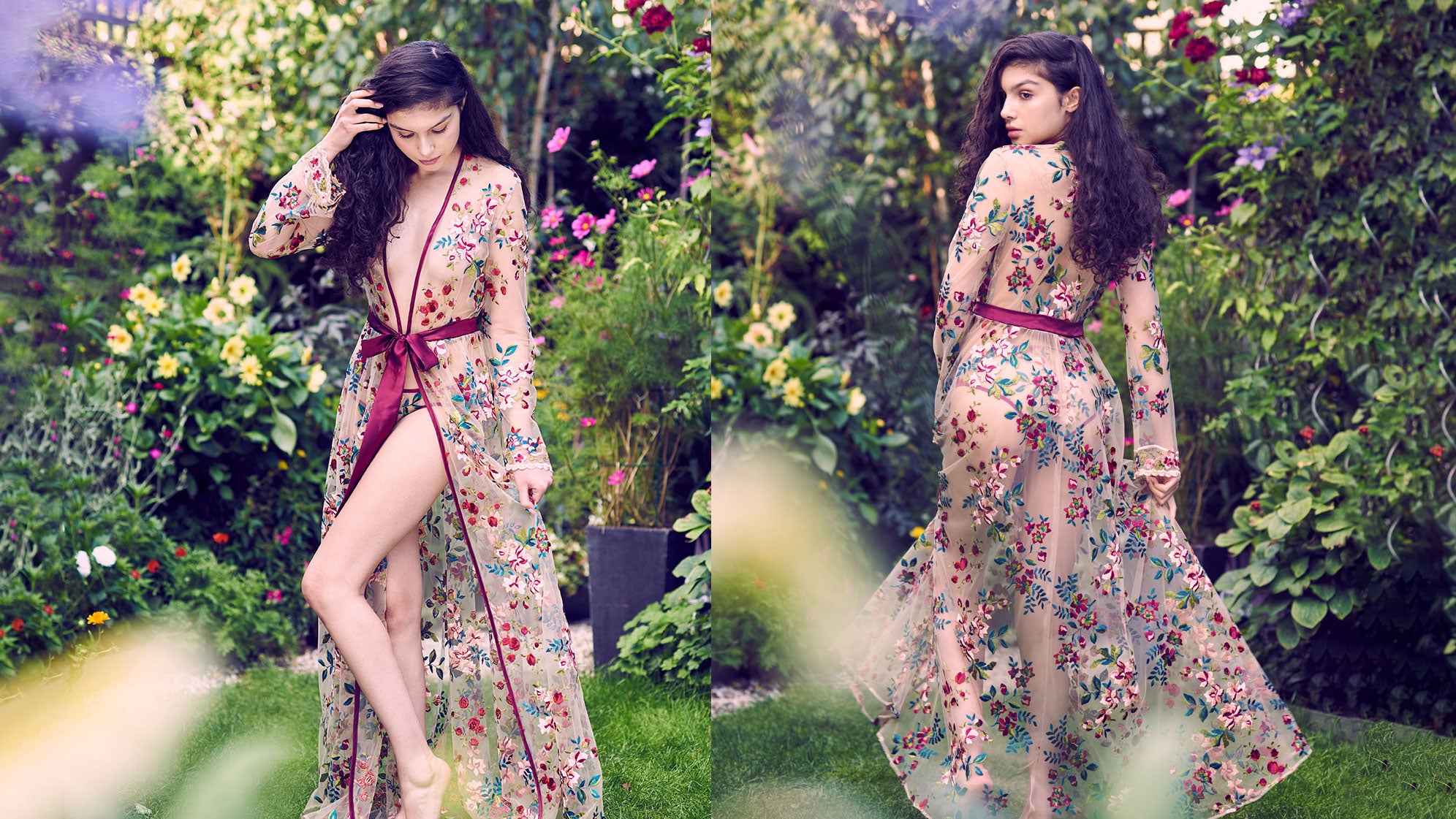 Camellia has returned!
Back by popular demand is our famed Camellia range, adorned from top to bottom in luxurious, soft embroidery of flowers, blossoms, and leafy vines... This range was a runaway success in our English Garden Collection and quickly became one of our bestselling lingerie sets of all time. After it sold out (multiple times!), so many customers asked us to bring it back that we decided to re-release it as part of our big Tenth Anniversary Collection.
Today we're highlighting these gorgeous Camellia designs, including a brand new bralette, high-waisted briefs, thong knickers, and our classic Camellia robe. With these new redesigns, we've brought back your old favorites but with a new twist: Ocean blue elastic trims and adjustable strappy knickers for more sizing options and easy lingerie gift giving.
The newly re-designed lingerie set includes a soft cup Camellia bralette with your choice of a strappy thong or high-waisted knickers. (Or better, yet, choose both for more wearing options!) The bralette features symmetrical floral embroideries, sheer mesh panels for a tattoo-effect over the skin, and ultra soft linings for your comfort. The deep ocean blue trims and elastic straps give it a modern feel, and the floral embroideries just barely cover the body for a sheer, daring effect.
The Camellia high-waisted panties are a brand new cut, designed to show off as much of this floral embroidery as possible. With beautiful flowers across both the front and the derriere, you'll feel like you're wearing a whole bouquet! They also have soft stretch mesh panels along the sides of the hips for a streamlined fit, as well as pure cotton linings on the gusset.
If minimalist undies are more your speed, try out the luxury Camellia thong. It features a pretty sprig of flowers over the front and soft sheer mesh across the back, with deep teal blue outlined edges and soft straps on the sides. The elastic straps are fully-adjustable with black metal hardware, making these easy to fit on a variety of body types -- and perfect for gifting!
Our breakdown would be wholly incomplete without featuring the iconic Camellia robe. This handcrafted garment is one of our bestselling pieces of the last 10 years, and it's easy to see why! Each robe features meters of stunning multicolored embroidery, with deep maroon silk edges and a silk sash belt that ties into a beautiful bow. It's made using couture techniques, including every seam being covered with pure silk binding, as well as the bound silk hem, for the ultimate in luxurious experiences. The Camellia robe is a lingerie collector's dream come true, with decadent sheer embroideries and all the softness you could dream of, along with the same ethical manufacturing guarantee that we offer on every Angela Friedman design.
This range is truly as good as it gets, and this robe will only be available for a limited time! Browse the Camellia range now: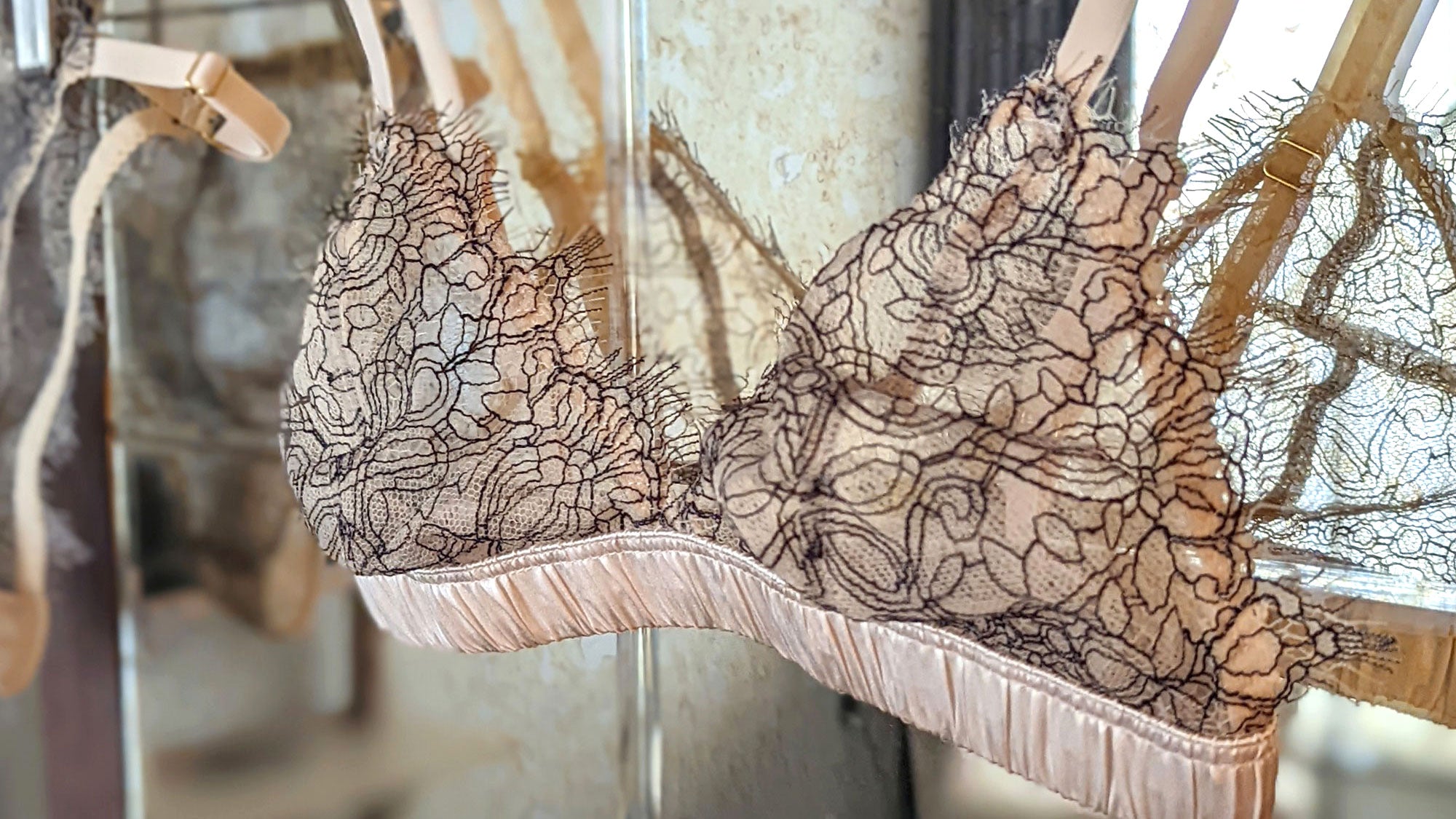 Our 2022 comprehensive guide to lingerie gift recommendations for everyone on your list.