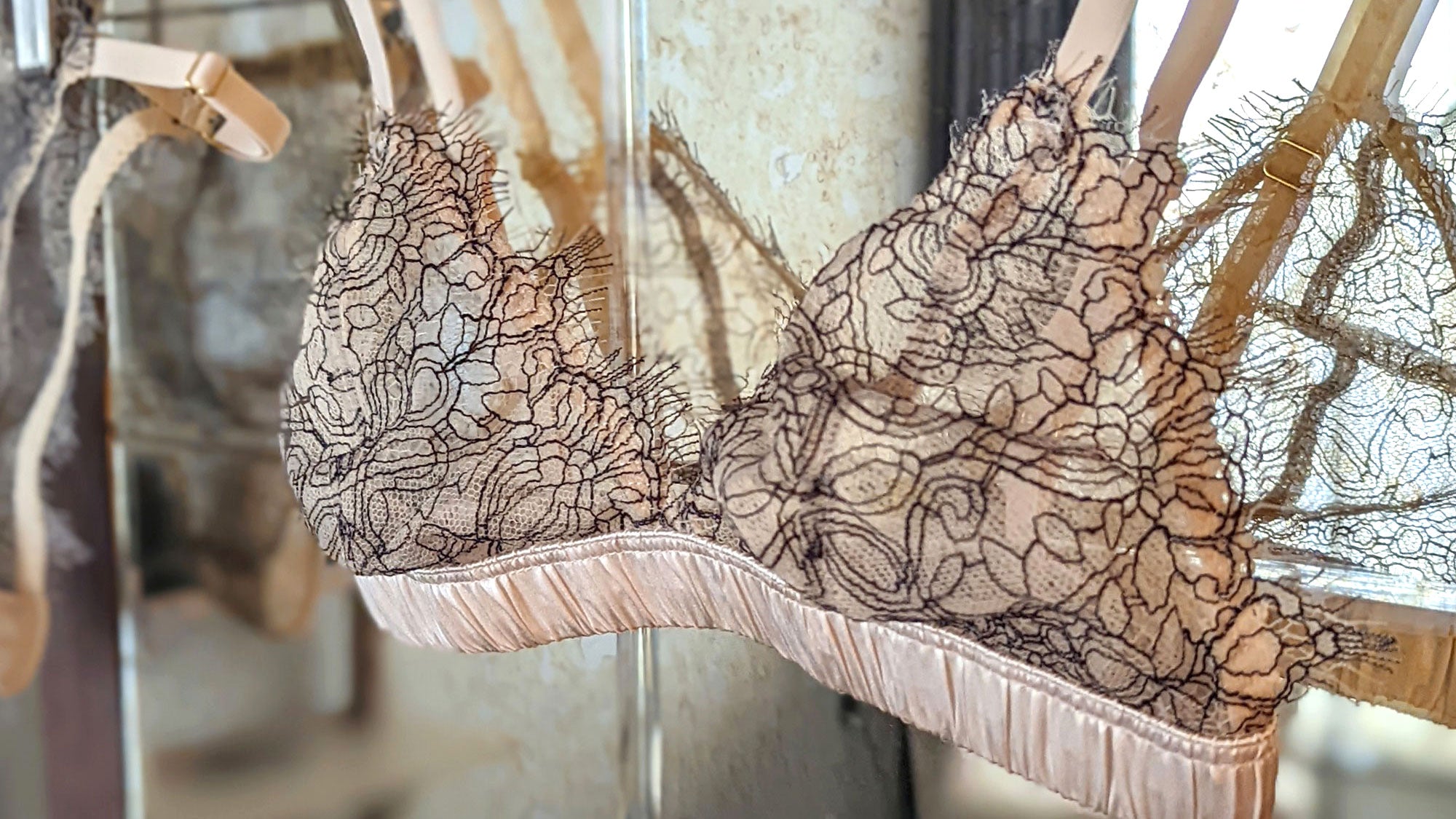 Are bralettes more comfortable than bras?
As you may already know, we absolutely love bralettes at Angela Friedman! But a lot of our customers ask us whether bralettes are right for them. We're here to answer your top questions about bras, such as "Will bralettes feel supportive enough for me?" And "What even is a bralette!?" And perhaps most importantly... "Are bralettes more comfortable than the bra I'm wearing now?" Because let's face it, comfort is probably the most important thing you're looking for in your underwear these days! Sure, style and pretty colors are great, but feeling good in your own skin is absolutely key.
What is a bralette? How does it differ from a bra?
First, let's go back to the basics. A bralette is an undergarment that covers the breasts and offers mild to moderate support. Unlike a bra, a bralette does not have an underwire, boning, push up pads, or extensive structure, and is likely less tight against the body, with a more relaxed overall fit. Think of a bralette like an underwire bra's more-chill cousin!
Bralettes offer a great, casual option for a style that is less restrictive than a regular bra, while still covering the nipples and giving light support throughout the day. Angela Friedman bralettes also offer a touch of luxury to your lingerie wardrobe, featuring 100% pure silk linings and French lace and embroidered trims, perfect for making you feel decadent and beautiful.
When and how can I wear a bralette?
You can wear your bralette in any way that you would wear an underwire bra. Both bras and bralettes give you an extra layer of nipple coverage and light breast support under your clothing. But you can also wear a bralette on its own as a pajama top or for casual at-home lounging.
Some bralettes that offer full coverage, like our Dahlia bralette, can even be worn as tops for an innerwear-as-outerwear look. You can also style a pretty bralette underneath a too-revealing blouse, showing off a peek of special lace across your décolletage or pretty straps under a low-back or semi-sheer top. Besides, if you've invested in some fabulous silk bralettes and lingerie sets, don't you want to show off at least a peek of the pretty things you're hiding underneath?

Wireless, comfortable bralettes in pastel silk, lace, and embroidery
Are bralettes more comfortable than bras?
We think that bralettes are absolutely the most comfortable option! There's a reason why bralette sales have boomed since Covid-19 lockdowns: When people began working from home, they quickly pivoted to more comfortable clothing, ditching their overly-structured bras, tight waistbands, and (especially!) high heels. Bralettes are flexible, stretchy, and offer plenty of movement ease.
Especially for smaller and medium-sized breasts, bralettes are ideal because they avoid any prodding underwires that can cut into your sternum or ribs and overly-tight fabrics that simply aren't needed for support. If you don't need all of that structure, then why suffer through poking wires and red marks from chafing elastics? Soft cup, wire-free bralettes are much less likely to cut into any fleshy areas or chafe against your delicate skin than underwire bras. This also makes them ideal for long travel days, when you have PMS symptoms or are feeling otherwise under the weather, or for wearing after injuries or surgery. (Talk to your doctor about the best undergarment options for you if you have a specific medical need.)
Of course we are all different, and these suggestions will depend on your individual fitting needs. Some may prefer a tighter or looser fit, more or less structure, and a certain silhouette over another, so you may need to experiment to find the perfect feeling for your body. You might also wear bralettes on some days and bras another, which leads us to the next important question:
How do I find the right size bralette?
Fortunately, bralette sizing is much simpler than underwire bra sizing, and it's also much more gift-friendly because the garment can easily stretch and adjust to the size of the wearer. Instead of using band sizes like 32, 34, 36 and cup sizes like B, C, D, bralettes use the simplified sizing of small, medium, large. Visit our fitting room and size charts to clarify which will be your best fit and learn how to measure yourself for a bralette.
As an example, our size medium bralette corresponds with bra sizes 34B and 34C. But because bralettes are stretchy, you could also wear our size medium as a sister size of 32D or even 32DD, or as a 36A cup. This offers much easier sizing options and less trial-and-error than traditional bra sizes that are highly specific. (To help you find the best fit, we also list the models' preferred bra sizes on each product page.)
Now, if you have a larger bust and wear cup sizes DD+, you may find yourself asking if bralettes are even an option, due to the additional size and weight of your breast tissue. (We do offer bespoke sizing options for large cup sizes for all of our bras!) It definitely depends on your individual build and on what you're looking for in a bra. Are you looking for a ton of support and uplift? Then no, a bralette probably won't give you what you're looking for. Are you looking for coverage and something pretty to wear for casual days or the boudoir? Then yes, go for it! Bear in mind that triangle style bralettes do not offer much coverage for side-boob, so if you wear a larger cup size, you may prefer other bralette styles that cover the underarm area to better hold in your breast tissue. 

A soft-cup, unwired Heather bralette, fitting size 32DD (medium)
Don't I need an underwire bra to prevent sagging?
It's time to debunk that age-old myth! We've all heard the urban legend that bras prevent breast sagging, but it simply isn't true. There is no medical consensus that demonstrates that wearing a bra (or conversely, not wearing one) has any effect on breast sagging at all. Period. End of sentence.
Your breast shape, size, and perkiness depend on a lot of factors, including genetics, pregnancy, weight, muscle mass, age, and medical conditions... But none of those have anything to do with whether you wear a bra or a bralette or a camisole or even nothing at all! So run free and enjoy topless days, or layer up and wear whatever bra you like best - None of it will affect or change your breast shape.
Final thoughts
Honey, we are living in the future, so it's your body and your rules! What feels best on your skin? What makes you feel fabulous? At Angela Friedman, we love our comfy bralettes and we want to share that love with you, but ultimately, it's your call!
As long as your bra or bralette fits you properly, it should be 100% comfortable and make you smile! The only time when a bra or bralette isn't ok is when it cuts in, hurts your skin, or makes you feel bad about yourself. Bralettes are a great option to explore for both comfort and style - regardless of your bra size or body type - but ultimately you'll be the one to decide if they're right for you!
Are you ready to shop for some gorgeous, new bralettes? Shop our complete collection of unwired bras, or go straight to our bestsellers for tried-and-true favorites that our customers adore!
The embroidered Wisteria bralette and lace Heather bralette by Angela Friedman
To celebrate 10 years of the brand, we're looking back at early inspiration, collections past, and some of our special achievements.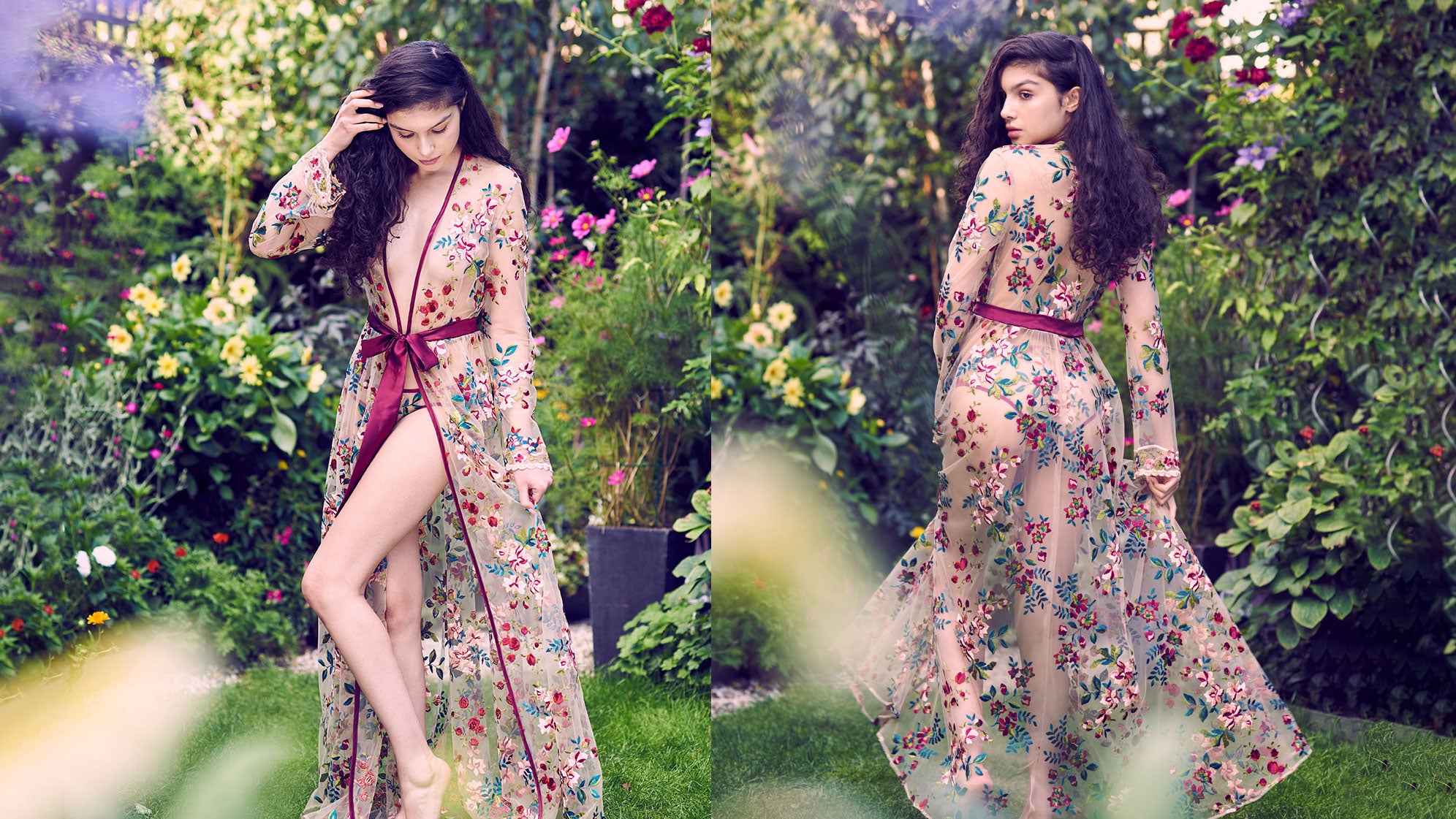 This luxury lingerie range has been newly redesigned and released, including the iconic Camellia robe that everyone's talking about.