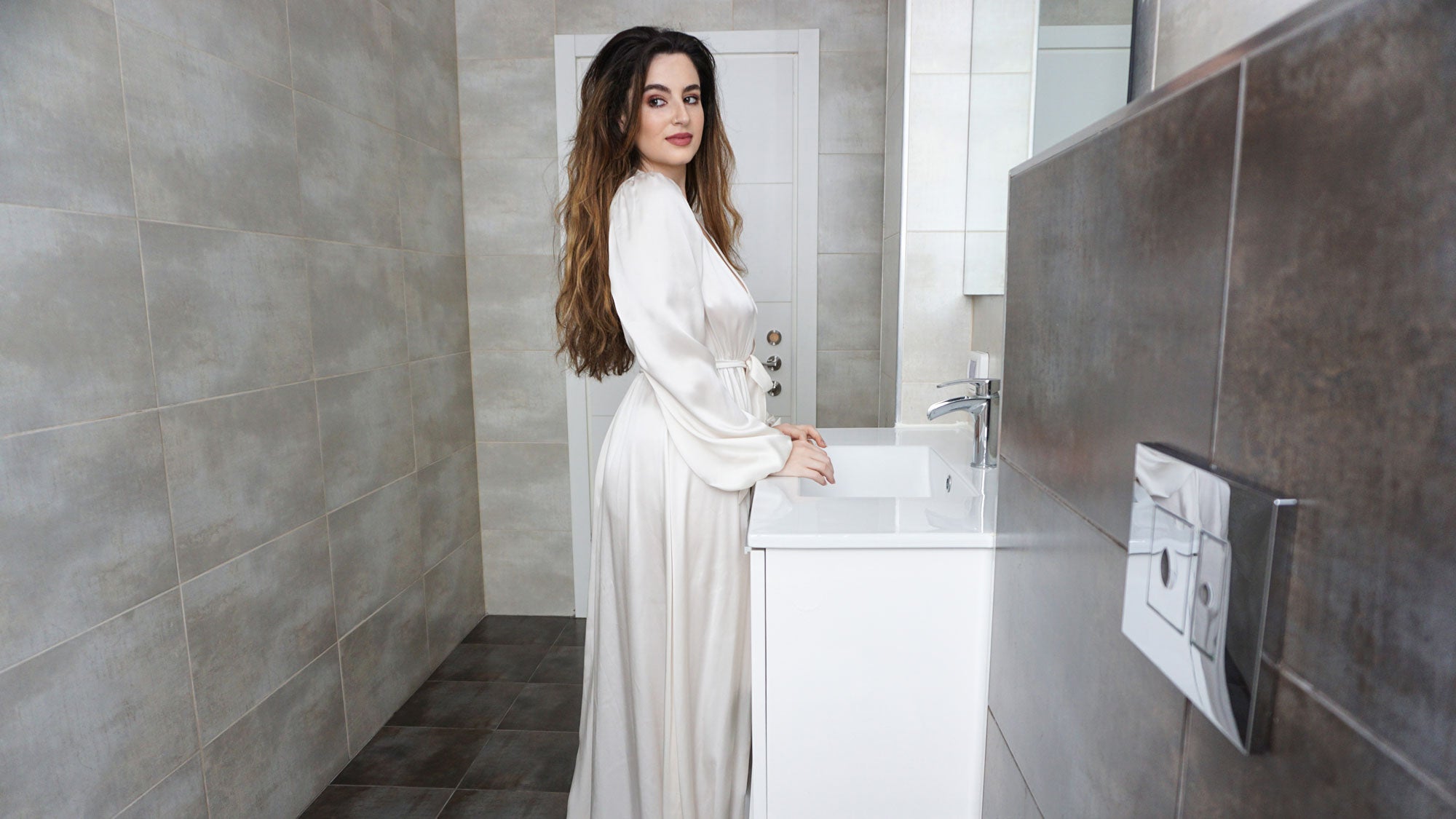 How to channel Old Hollywood glamour at home
The golden era of Hollywood from the 1920s to 1950s is a rich source of inspiration for fashion, hair, makeup, and interiors. From draped, bias cut gowns to extravagant robes, sparkling diamond and pearl jewelry to perfectly set curls and finger waves, the aesthetic continues to delight us to this day. 
Actresses like Vivien Leigh, Greta Garbo, and Jean Harlow radiated glamour in both their on-screen and off-screen style, with costume designers (often credited so evocatively as "Gowns by…") creating lavish looks to transport the viewer far away from humdrum everyday life.
The Hays Code, set up in the 1930s to censor the film industry for "morality" greatly reduced the visibility of some of the incredible lingerie and loungewear looks that appeared in films of the 20s. Thankfully, modern day practicalities needn't get in the way of living your best movie star life, and there's no Hays Code in your own home - so we've wrapped up some of the many ways you can bring Old Hollywood glamour to your everyday life.
Bias cut gowns
The beautifully slinky fit you see on gowns in Old Hollywood movies is created using a bias cut. This technique involves cutting the fabric diagonally to create a fluid drape over the body that adapts to curves and movement, and is harder to find nowadays due to the increased fabric usage and higher cost.
All Angela Friedman slips and nightgowns are created using bias cut silk, but the Lavinia gown uses it to maximum effect, with yards and yards of it falling to floor length. It can be made in both custom colors and lengths, making it ideal to double up as outerwear for a special event or black tie ball, accessorized with a faux fur wrap and vintage-inspired jewelry. Plus, there's the added bonus of being able to wear it for glamorous yet comfortable lounging at home afterwards!
Old Hollywood robes
A central part of all Old Hollywood glamour revolves around swooping entrances, preferably down ornate staircases, martini in hand, ready to devastate all in your path.
This is where the Simone robe is surprisingly practical (honestly, hear us out!) While voluminous layers of ruffles and feathers have room aplenty to sashay through the mansion of a leading lady, what if you live in a small apartment in the city? Or have a kitty who just thinks that loose, feather-decked sleeves are a brand new toy?
Without any compromise on the necessary glamour, Simone has beautifully luxe bishop sleeves finished with silk cuffs and bows instead of wider, open sleeves that would catch on everything you pass. The full length skirt still allows for plenty of swooping, just on a less unwieldy scale.
Feel like bringing out your inner femme fatale? Opt for black or red silk, paired with a classic red lipstick that any Hollywood vamp would envy.
For something more subdued, the luscious almond or ivory colorways just need a few diamonds or pearls to complete the look. These silk robes also would make for a beautifully luxurious way to start or end the day for a wedding, honeymoon, or anniversary.
Getting ready glamour
Whatever your outerwear look, you can still bring a dash of golden Hollywood glam to your getting-ready routine. Transfer your favorite bath oil into a vintage cut glass decanter, pour in luxuriant bubbles, and allow plenty of time to soak and unwind with a cocktail or mocktail before slipping into your silk robe for hair and makeup.
A dressing table in your boudoir definitely helps with this part – it's hard not to feel like Rita Hayworth while perched on a velvet stool in front of an illuminated mirror, applying your powder with a flourish! Youtube is a great resource for finding tutorials on specific hair or makeup styles to recreate, from Veronica Lake curls to finger waves, with styles for every hair length and type.
Bedtime
Your night time routine doesn't have to be boring either, even after a long day at the office.
Deck out your bed with throw pillows in velvet, fluffy mohair, over-the-top fringe, and tassels galore – all the better for lounging upon with an equally glamorous and perfectly-coiffed pet. For even more textural luxury, silk sheets are a quick shortcut to feeling lavish as you drift off for the sweetest of dreams, and silk pillowcases will keep your hair smooth and tangle-free, ready for those vintage-style waves.
When it's time for your beauty sleep, block out pesky morning sunlight with a pretty silk and lace sleep mask; this also makes a perfect gift for vintage-loving friends who travel frequently and want to add a little extra frou-frou joy to their in-flight rest.
As for nightwear (though it would never have made it past the Hays Code…) the daringly sheer lace of the Dentelle slip (pictured below, in either black or ivory) will bring out your inner 1920's starlet, with modern luxury finishing. Prefer something in silk? The Nicole slip and Renata slip are individually handcrafted in pure, bias cut silk, with a delicately appliquéd lace hem for a touch of sheerness.
Breakfast in bed
Nothing says you're the star of your own life quite like starting it with breakfast in bed. Source vintage china from antique stores or estate sales, and perch them atop a beautiful tray spread with all of your favorite treats. Everything just tastes better sipped from a floral teacup – especially when you're wearing a silk and lace cami and tap pants set like Heather, adorned with meticulously hand-cut lace.
The best part of a camisole is how versatile it is: pair it with a cardigan and  jeans or a pencil skirt to wear out into the modern world, or wear one underneath a sheer blouse for coverage that's meant to be seen.
Tap pants were incredibly popular in this era, and it's easy to recreate that look yourself either with a matching cami like Heather, or worn as lingerie with a double layered, 100% silk bralette like the Louisa, available in three different colors to match your outfit or your mood.
Ready to bring classic vintage style to your own wardrobe? Shop our Old Hollywood glamour edit to find all of the lingerie and loungewear pieces you need to create a beautiful bygone world in your own home.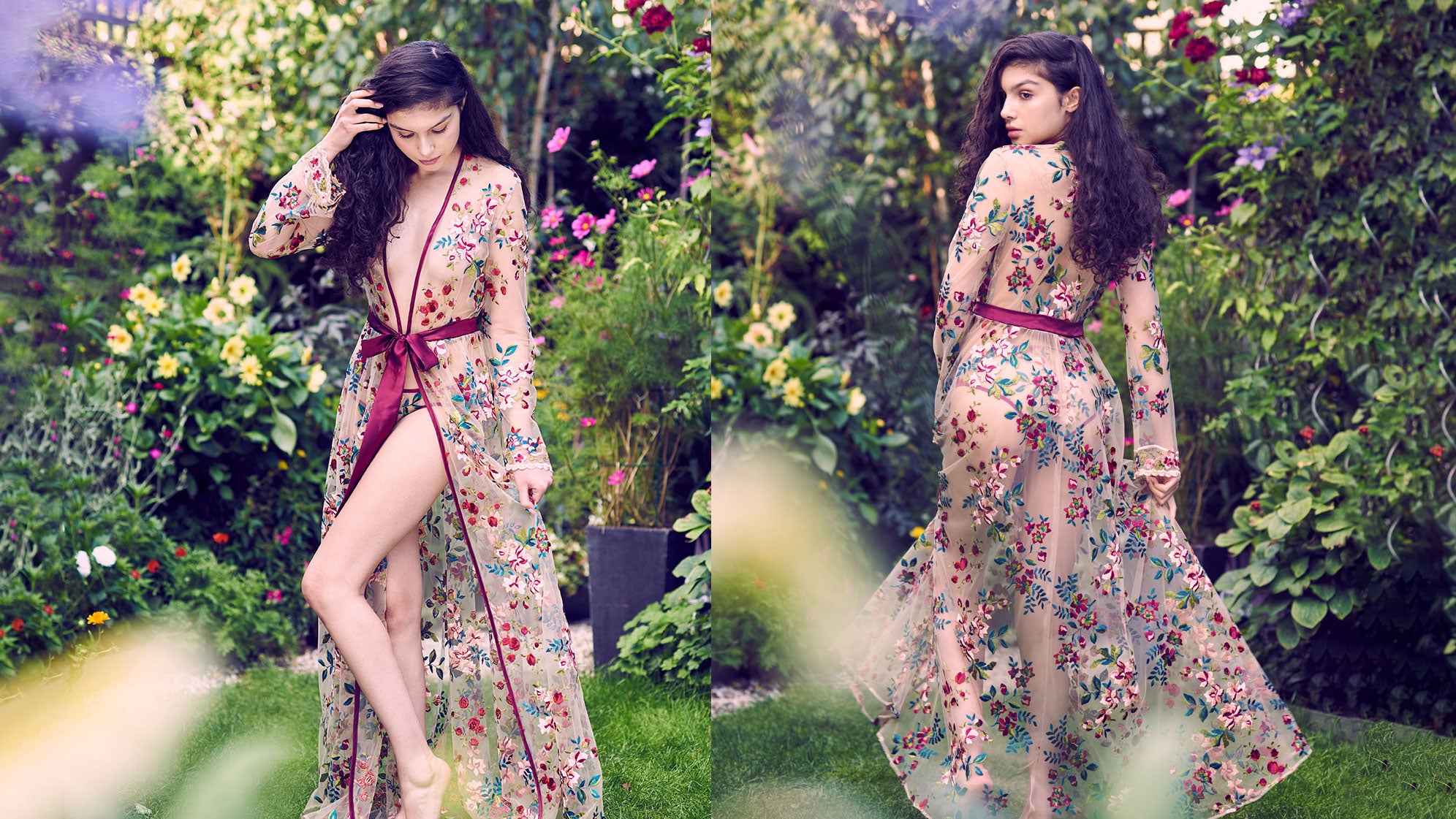 This luxury lingerie range has been newly redesigned and released, including the iconic Camellia robe that everyone's talking about.