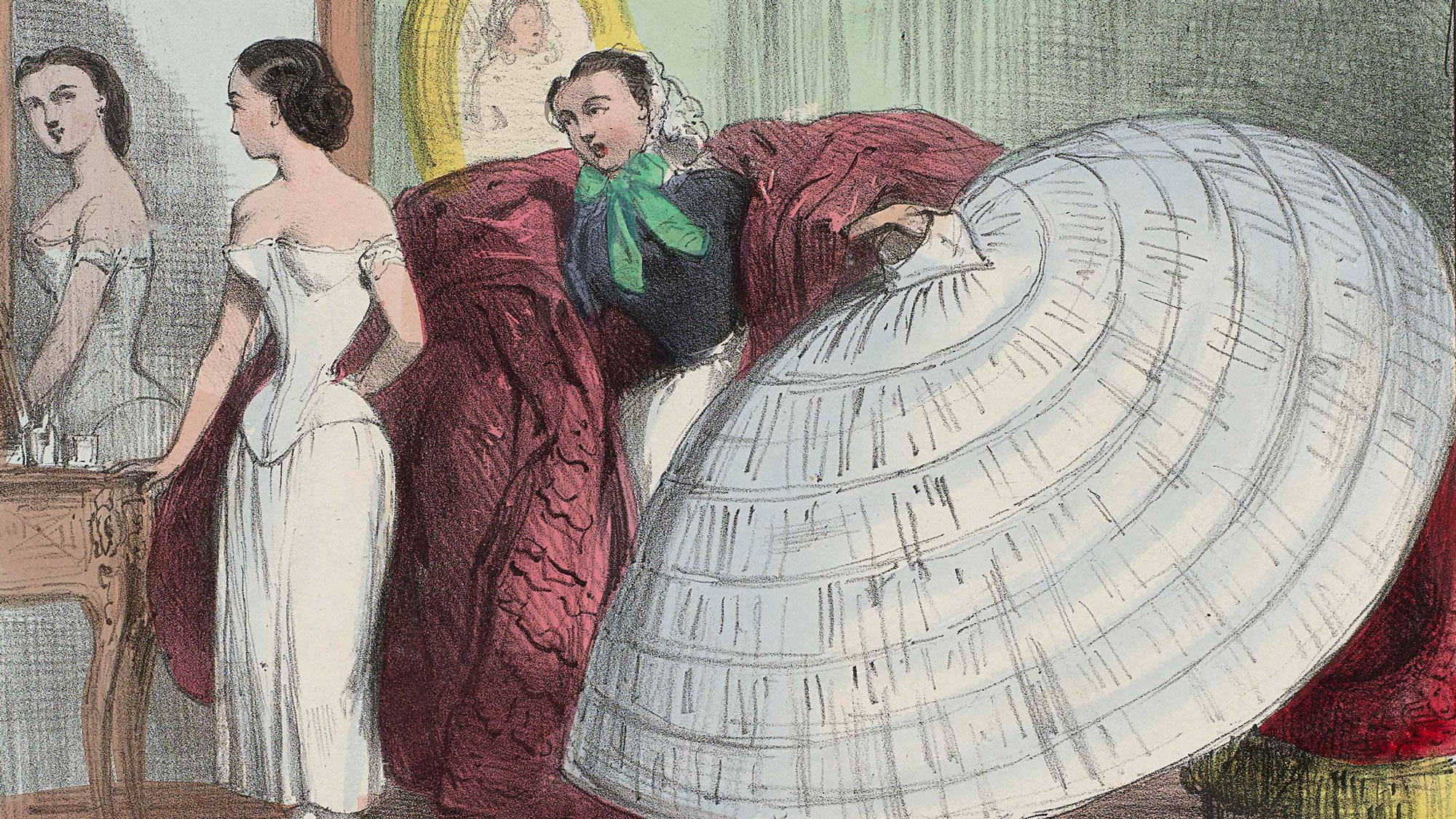 A (brief) history of lingerie
Throughout history, lingerie and undergarments have served a variety of purposes, from providing chest support for physical activity, to including decorative details for only the wearer to see, to shaping and enhancing various body types. The styles and materials available have evolved with every historical era, especially with changing attitudes towards comfort, sexuality, modesty, and gender roles. In this article, we will take a very brief look at the history of women's* undergarments in western society, from ancient times to the present.
*Today we have much more progressive and nuanced terminology for various gender identities than in the past. In the modern era, we may not care at all whether a certain garment is "supposed" to be worn according to one's assigned gender at birth. But in the past, this was often not the case. Therefore in this article we'll discuss gendered clothing in a fairly binary way for the periods in which that was largely considered the only option - However please do not take that as reflection on our modern beliefs. At Angela Friedman, we're pleased to live in a time and place where we can happily market lingerie to everyone who wishes to wear it!
Underwear in Prehistory and Ancient Times
The earliest records of undergarments were much more functional than fashionable, including simple loin cloths in animal skin that were worn by both men and women. In ancient Greece and Rome, women began to wear a kind of bandeau bra known as a strophium, which was effectively a band of linen or leather tied around the bust, offering some support and compression, rather like a modern breast-binder. Women also wore short under-tunics beneath their gowns, akin to layering a slip under a dress, allowing the underneath layer to be changed and washed more frequently than the outer.
The Coronation of the Winner mosaic features female athletes competing in undergarments. From 4th century AD Sicily, with image courtesy of Kenton Greening.
The Middle Ages and Renaissance
Progressing into the Middle Ages, the linen under-tunic evolved into a long chemise or shirt as an undergarment, made in undyed linen and later imported cotton (a fine luxury from Egypt!) These chemises would be visible at the neckline and wrists and would provide an opportunity for the upper classes to display fine lace or embroidery. You may be surprised to learn that no bottoms were worn by women as undergarments in this era! It was considered masculine and taboo for women to wear any bifurcated garments, so only petticoats (underskirts) and chemises would be worn against the skin.
An extant Italian linen chemise, embroidered extravagantly in silk and metallic threads, c. late 16th century. Courtesy of the Metropolitan Museum.
"Pairs of bodies" (an early form of corsets) began to appear in the 16th century, worn primarily for support rather than for the dramatic shaping that later corsets would provide. They were made of fabric or leather, stiffened with reeds, wood, and baleen, and laced firmly around the waist and bust, achieving a conical torso shape and providing a surprising amount of comfort and uplift even for large busts.
2 portraits of Queen Elizabeth I. Left, by Nicholas Hilliard c.1573-1575 with an elaborately embroidered chemise. Both this and right, by Johannes Corvus c.1575, show starched lace ruffs around the neck and wrists.
In the Renaissance period, women's undergarments became much more elaborate, just like their outer clothes. Soon, especially wealthier women were layering many fanciful petticoats and an early form of the hoopskirt called a farthingale, and padding their hips with bum-rolls for a more fashionable and dramatic silhouette. This is the era when undergarments really transitioned from function into fashion - and they have stayed firmly in that category since! Even the innermost layer of chemises soon featured enormous, heavily-starched, and frilled lace edges called ruffs, another opportunity to display one's wealth with these extremely costly and labor-intensive textiles.
The 18th and 19th Centuries
Through the 18th century, women's undergarments continued to dramatically shape the body's silhouette, especially with the introduction of stays (the newest iteration of what we would now consider to be a corset). These stays were boned with whalebone or flexible steel and included tight shoulder straps that would hold the wearer in a very upright posture, while also compressing the waist and lifting up the bosom. Continuing from previous eras, a white cotton or linen chemise was still worn as a primary undergarment beneath the stays, providing protection for the skin from any chafing and also being the most frequently laundered and changed item of clothing. To achieve the most en vogue fashion styles, wealthier women could wear panniers, structured cages to widen the silhouette at the sides of the hips, while lower status women simply layered multiple petticoats and skirts for warmth, modesty, and to mimic that fashionable silhouette.
Extant underpinnings c 1750-1780, courtesy of the LACMA collections.
In the 19th century, the corset continued in its popularity for all classes of women in western society, from simple homespun versions to the most elaborate designer garments in silk jacquard with frills and bows. By the middle of the century, more extreme silhouettes of very small waists and rounder breasts and hips became the fashion, partly achieved through padding the bust and hips, and partly through lacing the waist down firmly. While there were some fetishized examples of corsets with shockingly small waists, the average woman wouldn't have worn hers to such an extreme level of tightness, but rather with the intention of light compression of the torso with breast support, and with plenty of room to breathe! By the end of the 19th century, new materials such as rubber and elastic began to be used in corsets, making them more flexible and comfortable to wear - even for playing sports.
Victorian corsets, from left to right: Transitional corset c.1830-1840s, S&S brand British corset c.1880s, Warner brand American corset c.1890s. All photos courtesy of The Underpinnings Museum and Tigz Rice.
An advertisement for Swanbill corsets in London, c.1897.
Padded skirts, multiple petticoats, and ever-widening crinolines (hoopskirts) also continued in fashion throughout the 19th century. These skirts reached such vast proportions as to be regularly lampooned in the political cartoons of the day! By the last few decades of the century, the hoopskirt gave way to the bustle, another cage-like garment that extended only behind the wearer, giving the appearance of rather large hips and a cascading train effect. Less wealthy women would mimic these fashions in more practical ways, with small bum pads and multiple petticoats for added volume.
An advertisement for Sansflectum crinolines in London, c.1864.
Split drawers or "open drawers" were also being worn now. These undergarments were akin to pantalettes or long, loose shorts - except with one big difference… They were split through the crotch into two halves, completely open in the middle! This unique feature allowed wearers to lift their skirts and petticoats with both hands and still sit to use the toilet - without having to fuss with removing knickers. It may sound rather saucy now, but these were considered a perfectly modest garment for the era.
By the end of the century, a new type of loose-fitting pant also burst onto the scene, bloomers! They were named for their staunch advocate, women's rights activist and newspaper editor Amelia Bloomer. These were especially helpful for sporting activities as well as to provide a more practical alternative to the heavy petticoats and hoops of previous eras. However, such "masculine" garments were still largely considered taboo for women in this era, and it would be many more years before trousers were open to all genders in our society.
The Early 20th Century
At the turn of the 20th century, women's undergarments began to change significantly again, with more political and social freedom for their wearers. Many women such as suffragettes and newly-employed young urban women found the undergarments of the past to be too restrictive and unnecessary for their new, modern lives. The corset was still in use, but it became shorter and less restrictive, now appearing more like a modern girdle with garter straps to clip onto the wearer's stockings. (Pantyhose had not yet been invented, so stockings still required some kind of strap or garter to hold them up.)
Early 20th century undergarments, left to right: Cotton "combinations" c.1900, silk habotai split drawers c.1910, silk georgette petticoat c.1910s, Lafayette brand figured silk corset c.1910s. All photos courtesy of The Underpinnings Museum and Tigz Rice.
1914 saw the introduction of the brassiere by Mary Phelps Jacob. Early versions of these bralettes were designed as a more comfortable alternative to the corset, with lightweight fabrics, soft cups and straps that supported the breasts without compressing the entire torso. These brassieres didn't yet include stretch fabrics or underwires, as they hadn't yet been invented.
1920s undergarments: 2 silk and chantilly lace slips and 1 pair of silk underwear, all by Madame Watrigant in Brussels. A silk ribbon suspender belt by Luxia in France. All items c.1920-1930, courtesy of the Rijksmuseum.
But this early step towards modern lingerie was a big one: From now on, womens' lingerie was divided vertically into tops (bras) and bottoms (knickers), with other functional garments around the midsection according to specific style needs, like girdles or garter belts to hold up stockings. By this era, the modern style slip was also being worn over bras and knickers for warmth, opacity, and to protect outer dresses from body sweat. The slip was a clear evolution from earlier linen chemises, but by the 20th century it was made of lightweight silk, cotton, and later new exciting textiles like rayon, nylon, and polyester.
The Mid-20th Century
By the 1940s, women's undergarments had again become more practical and functional, as women continued to enter the workforce and needed clothing that was comfortable, durable, and easy to launder. Simple cotton undies and no-frill bras became common, and nylon and silk stockings were all the rage. Due to rationing during the Second World War, sometimes it was impossible to acquire these prized silk and nylon undergarments, and therefore some women drew lines down the backs of their bare legs to mimic the look of wearing seamed stockings.
Extant brassieres from the 1930s and 1940s. Left 3 from the Museum of Rotterdam. Right, a Kestos bra from the Rijksmuseum. All images courtesy of the Europeana online archive.
In the 1950s, the hourglass figure came back into fashion with the debut of the New Look, and women began wearing pointed bullet bras and firm girdles around the waist, paired with large fluffy petticoats to achieve the desired shape. You might compare this to earlier periods like the Renaissance and Victorian eras, when large skirts and small waists gave a dramatic silhouette and hinted at a woman's wealth, as surely she couldn't be expected to do any manual labor in such extravagant clothing. However, the 1960s feminist movement provided a backlash against these restrictive undergarments again, just as had happened 50 years earlier, and more comfortable and natural styles prevailed. Simple bralettes and bikini briefs became popular, underwear styles that would look remarkably familiar to our modern eyes!
The Late 20th Century and Beyond
In the second half of the 20th century, undergarments began to evolve again- but this time, less due to social and political changes, and more due to new technologies and manufacturing techniques. Lycra and spandex were invented, offering unprecedented stretch and support in textile garments, making comfort a new "must" for bras and underwear.
Modern bras by large cup size specialist Harlow & Fox, showing 30DD and 38DD bra sizes.
A greater interest in proper fitting for different body types and cup sizes was born, with more brands expanding to offer plus sizes, petites and talls, large cup and small band options, mastectomy bras, and more. By the turn of the century, fun colors and prints became the norm unlike earlier eras of neutral tones lingerie, along with fashion-forward design details that were meant to be seen. Push-up bras and thongs were introduced to create more dramatic, sexy silhouettes and offer options to avoid visible panty lines under fitted clothing.
Today, undies come in a wide variety of styles and materials, from basic cotton briefs to strappy, sexy negligees, to the exquisitely handcrafted 100% silk loungewear and lingerie that we offer at Angela Friedman.
Modern lingerie brands, from left to right: 2010 Jean Paul Gaultier for La Perla, 2013 Chromat, 2017 Pillowbook, 2022 Hervé By Céline Marie. All photos courtesy of The Underpinnings Museum and Tigz Rice.
But perhaps the biggest revolution in underwear in the early 21st century has been the addition of androgynous styles, marketing with gender-free language, and encouraging customers to wear what they want without having to fit into a narrow definition of gender or femininity. Now you'll frequently find styles like "boy shorts" marketed to everyone, details like sheer lace insets on boxer briefs, and advertising campaigns that include all genders wearing what was once termed "women's lingerie." There have been major upsets in the traditional industry of "sex sells" for lingerie and even industry giants have begun including a bit more diversity in their models and sizing. Of course the lingerie industry still has a very long way to go to truly include everyone, but these early signs of progress shouldn't be ignored.
No one knows exactly what will come in the remainder of the 21st century for lingerie and fashion - but we can definitely expect more innovation, more diversity and inclusion, and probably some surprises, as well!